Termessos (Turkey) – a detailed description with a photo. Interesting Facts about Termessos and location on the map.
Termessos (Turkey)
Termessos is an ancient city in Turkey, 38 km from Antalya. Built by on the steep slope of Mount Gulluk surrounded by pine forests at a height 1050 meters above sea level. Termessos is one of the most preserved ancient cities of Turkey and the most prominent archaeological sites located in Antalya.
Story
It is believed that Termessos founded solimi. In the 4th century BC the city was captured by the Persians. In 333 BC Alexander Macedonian tried to take Termessos, but the siege was delayed. Unwilling bear the loss of Alexander lifted the siege.
Termessos
Termessos reached its highest peak in Roman and Hellenistic period. In the 2nd century BC, our city competed with the Lycian Union. AT 1 century BC, Termessos became part of the Roman Empire. With the Romans he had wide autonomy right up to create his own laws. In the 3rd century AD a strong earthquake destroyed the aqueduct and caused the decline of the city. By the 5th century, Termessos was completely abandoned.
Sights of Termessos
The ancient Termessos is surprisingly well preserved. Here you can see the magnificent roman theater, the numerous ruins of the ancient buildings and temples.
A narrow and winding road leads to the ruins of Termessos from the entrance to the national park. This path was built in the 2nd century AD and in antiquity was the main road to the city. Until our time preserved large boulders that were building material.
Theater
The theater is the main attraction of Termessos. it a magnificent ancient structure located east of the center ancient city and is surrounded by picturesque ridges of the Taurus Mountains. The theater was built in the Hellenistic period and is a masterpiece ancient greek architecture.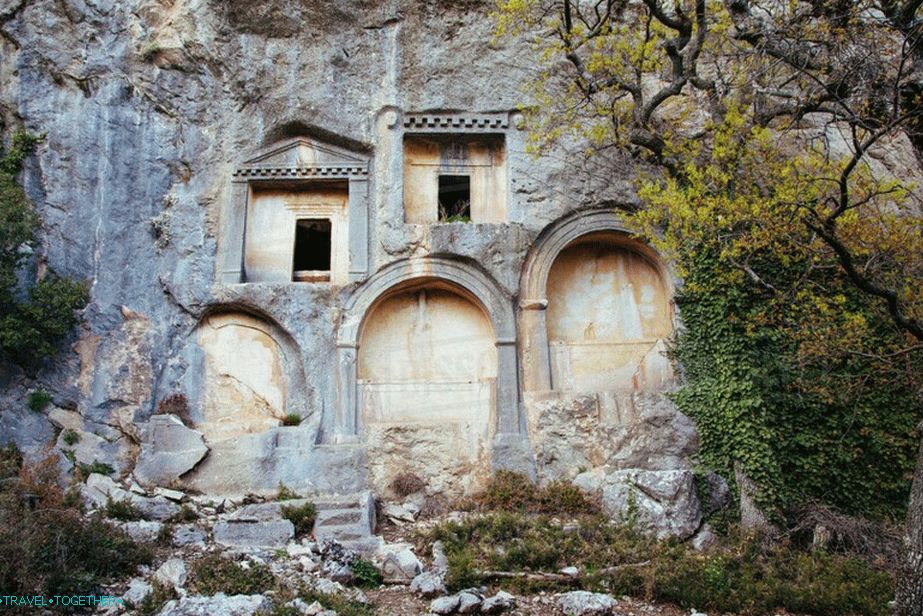 Rocky tombs
Other sights of Termessos:
Buleterium is an ancient administrative building, one of the most well preserved in Termessos.
Two lines of city walls with remains of an aqueduct.
Terme, kolonadnaya street and agora (market square in Antiquities).
On the territory of Termessos six temples were found. Five located in the agora area. The ruins of the sixth are at the entrance to city.
Ancient necropolis with rocky tombs.
Termessos
Interesting Facts:
The ancient theater could accommodate more than 4 thousand spectators.
The great Alexander of Macedon never took Termessos.
Termessos was an ally of Rome, so the Senate approved it. independent status.
Video
Termessos on the map of Turkey