Want to get away from the harsh winter? Then welcome to main resorts of Turkey.
This article will tell:
What is the weather in February in Turkey, the water temperature and of air.
Which resort to choose for a holiday?
What is worth considering, going here winter.
The price of tours and self on the Turkish resorts in February 2020
Features of the weather, water temperature and air
For us, February is associated with severe frosts and snow, however, we understand that such weather conditions are not everywhere. For example, if we are talking about Turkey, this month there is exactly such you will not meet. On average, the daily air temperature here is kept at marks + 10 ° C, but in some resorts the thermometer reaches and up to + 16 ° C. As for water temperature, it is stable. remains no lower than + 15 ° C. At night, of course, quite fresh, often temperature drops to + 5 ° C.
In the middle of winter, the climatic conditions at the main resorts will be such as:
Weather in Turkey in February 2020
Resort
Happy
At night
Water temperature
Istanbul
+ 7 … 8 ° C
+ 5 … 6 ° C
+ 17 ° C
Alanya
+ 15… 17 ° C
+ 6 … 9 ° C
+ 17 ° C
Kemer
+ 13… 15 ° C
+ 5 … 6 ° C
+ 16 ° C
Marmaris
+ 13… 15 ° C
+ 5 … 6 ° C
+ 16 ° C
Side
+ 13… 15 ° C
+ 10 … 11 ° C
+ 17 ° C
Antalya
+ 14… 16 ° C
+ 6… 8 ° C
+ 17 ° C
NOTE:
Hot weather in February is not worth it.
The average air temperature remains at marks 7 – 16 degrees of heat, and it all depends on the resort.
Despite the fact that the water is warmer air, about a beach holiday still thinking early.
Precipitation is characteristic of February weather.
See also: Weather in Turkey by months
Want to know where the cheapest tours are?
Where are the cheapest tours: 10 rules for buying a tour →
Turkey in February: where better to go?
Turkey waits for tourists all year round, so the main thing for any vacationer – to decide where to go, because resorts in the country more than enough.
Recommended: Where is the best place to relax in Turkey?
Istanbul in February
This month in Istanbul you will not be able to enjoy the sun and dry weather. At this time there is an off season. Compared to January the number of rainy days is reduced to 10, but the probability that snow falls — it increases. But still temperature indicators remain with a plus mark.
Weather in Istanbul in February 2020
Happy
At night
Water temperature
+ 7 … 8 ° C
+ 5 … 6 ° C
+ 5 … 6 ° C
Things to do
Since the February weather does not have a beach holiday, it's time to devote your free hours to shopping. Istanbul is considered unofficial capital of european shopping. Concerning Be sure to visit the area of ​​Laleli, the Grand Bazaar and the Egyptian bazaar.
After acquiring a mass of necessary and unnecessary things, it is necessary to need to eat. It's worth going to Beyoglu district or on the Eminenu embankment.
What to see
Well, what a vacation without inspection of the main attractions, the benefit of them in abundance:
Blue Mosque.
Sophia Cathedral.
Topkapi Palace.
Galata Tower.
Museum of Innocence.
Museum of Turkish and Islamic Art.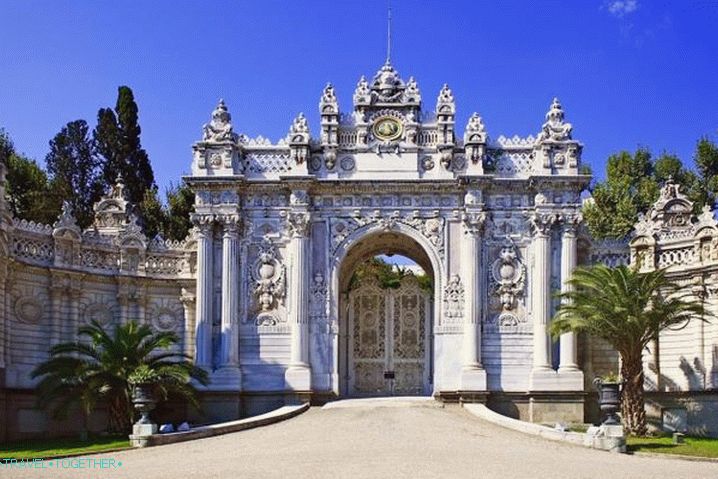 Alanya in February
The weather conditions of Alanya at this time recall our spring: the temperature of the air during the day warms up to + 17 ° C, so long walks are already becoming more attractive.
Weather in Alanya in February 2020
Happy
At night
Water temperature
+ 15… 17 ° C
+ 6 … 9 ° C
+ 17 ° C
Things to do
In Alanya, you should spend time shopping, because there are lots of shops, shopping centers and boutiques. The first place to go for shopping is Ataturk Boulevard or East Bazaar.
If you do not leave all the money in local stores, it is worth try national cuisine in a cafe on the waterfront.
What to see
From local attractions, the most interesting can name:
Tower Kyzyl-Kul.
Byzantine fortress Ich-Kale.
Ethnographical museum.
Damlatas cave.
Cave lovers.
Kemer in February
In winter, the temperature at the resort sharply declines and stops at a mark of 14-16 ° C heat, besides rains – rather frequent guests in February. It is believed that at this time there is nothing to do, but in fact it is not quite so. Yes rainfall there really is, but they don't go every day and have short term.
Weather in Kemer in February 2020
Happy
At night
Water temperature
+ 13… 15 ° C
+ 5 … 6 ° C
+ 16 ° C
What to see
The sights of the resort are mainly natural. the beauties and ruins of ancient buildings. In the northern part of Kemer Yoruk park is located, where you can get acquainted with the life of nomads. AT The ruins of the port deserve special attention the city of Phaselis. Olympos Mountain has another ruins – cities Olympos
Marmaris in February
Winter in Marmaris is quite mild. The days are still warm, and here in the evening is fresh. Precipitation is not uncommon, but sunny days too pleased.
Weather in Marmaris in February 2020
Happy
At night
Water temperature
+ 13… 15 ° C
+ 5 … 6 ° C
+ 16 ° C
Since the resort is quite comfortable temperature, it's time take a walk, especially as historical monuments and natural there is plenty of beauty here.
What is worth seeing:
Marmaris Museum.
Fortress of Marmaris.
Cleopatra Island.
Dalyan Island.
Spit Kyz-Kumu.
Side in February
Side will meet tourists with rainy weather. But the air temperature promises to be warm, in particular during the daytime. Read also:
Weather in Side in February 2020
Happy
At night
Water temperature
+ 13… 15 ° C
+ 10 … 11 ° C
+ 17 ° C
Things to do
In Side, it is unlikely to go on successful shopping, as there are few stores and prices are high. But you can go to search for the perfect restaurant where you will enjoy seafood cooked in the best traditions of local national cuisine.
What to see
The excursion program in Side is quite rich. Here you can see a lot of interesting things:
City Agora.
Aqueduct.
Fountain Nymphaeum.
Waterfall Manavgat.
Side Museum.
Aspendos.
Where it is better to rest at this time with the child?
Little travelers will not be bored in Turkey either, because there are lots of interesting places where there will be something to be surprised even for adults.
Istanbul for children
The capital boasts a variety of places to relax with children. The most popular ones are:
A park of miniatures where you can see120 popular attractions of the country in a reduced form.
Aquariums TurquaZoo and Forum. On the territory of the latter there is still Dinosaur Park
Toy Museum, which collected a collection of 4000 Expantation.
Dolphinarium.
Alanya for children
This resort is the best for families with children. Everywhere everything is adapted especially for small vacationers: baby menu, game rooms, animation, etc.
Dolphinarium "Sialanya" will be an excellent alternative to the usual walks by the sea, especially since it is still located around a park with attractions.
Kemer for children
Not far from the park called "Yoruk" there is a park complex "Moonlight", where for the youngest guests of the resort operates kids club and dolphinarium. While the children are having fun, adults can Spend time in the pool, on the tennis court or in the restaurant.
In addition, it is worth going to Tekirov, where "Ecopark" in which a large number of reptiles live (more than 360 thousand).
And if you go to Goynuk village, you can get to the park Dinosaurs, where extinct dinosaurs quite look like real ones.
Marmaris for children
Children will be happy to spend time in the aqua park Aqua Dream, where They will be able to roll on the slides. Adults, by the way, too can test their courage on the extreme slides.
In addition, the resort has a lot of playgrounds and entertainment areas.
Side for children
In February, as we have already found out, you do not particularly swim, so need to look for what would occupy the little travelers. In the very there is no city of entertainment for children, except the animation in the hotel. But 15 km from Side there is a Green canyon, which is interesting to visit little tourists.
Should I go on holiday to Turkey in the winter?
If a beach holiday for you is not in the first place, you can Feel free to go in February. Yes, the air is not so warming up, as in high season, but still the winter is not so clearly is felt. This is a great time to meet local beauty and cultural heritage of the country.
See also: How many fly to Turkey from Moscow?
What to consider, going to the resorts of Turkey in February
For those who crave a beach holiday, let's say right away – February is not the month when you should go to Turkey.
Despite the fact that this month is considered winter, going on holiday to Kemer, you are completely at risk of burning, because even during this period the sun is not so safe there. Therefore worth grab sunscreen with you.
The weather in the resorts is mostly rainy, so the umbrella in a suitcase – this is not a luxury.
Rest at this time will be the most productive, since passive beach rest will be replaced by active pastime in during the inspection of the most interesting sights.
See also: Where to go to rest in the winter of 2020
Prices for holidays in Turkey in February 2020
For those who are too tired of frost and snowfall, and very wants to escape to where it's warm, it's time to pack your bags. But first find out what prices are waiting for you at the main resorts country.
Prices for tours to Turkey in February 2020
Resort
Number of stars in the hotel (hotel)
Price
7 days
10 days
Istanbul
3 *
from 53 000 rub.
from 60 000 rub.
Alanya
3 *
from 32 000 rub.
from 34 000 rub.
Kemer
3 *
from 42 000 rub.
from 46 000 rub.
Marmaris
3 *
from 36 000 rub.
from 39 000 rub.
Side
3 *
from 38 000 rub.
from 42 000 rub.
Prefer independent rest? Then check out prices.
Prices for independent holidays in Turkey in February 2020
Resort
Airfare (one way)
Price of hotel room (night)
Apartment rental price (per day)
Istanbul
from 8 730 rub.
from 1 471 rub.
from 2 066 rub.
Alanya
from 13,502 rubles.
from 1 499 rub.
from 2 410 rub.
Kemer
from 8 730 rub.
from 877 rub.
from 2 754 rub.
Marmaris
from 12 103 rub.
from 1 275 rub.
from 1 299 rub.
Side
from 8 730 rub.
from 859 rub.
from 2 754 rub.
Recommended: How much is the ticket to Turkey "all inclusive" in 2020
Weather in Antalya in May 2020
Weather in Kemer in May 2020
Phuket Weather April 2020
Weather in Phuket in January 2020
Weather in Phuket in February 2020
Phuket Weather May 2020
Phuket Weather March 2020
Weather in Thailand in May 2020