Cappadocia (Turkey) – detailed information with photos. Main Cappadocia attractions with a description.
Cappadocia (Turkey)
Cappadocia is a region in Turkey in Central Anatolia. This is an area with unique geological structure and natural features, rich historical and cultural heritage. Cappadocia is one of most unusual and beautiful places in Turkey with a fabulous moon landscape, over which dozens of aerial balls, stunning underground cities, cave churches and houses, carved right into the rocks.
Geography and climate
Best time to visit
Practical information
Story
How to get there
Shopping and shopping
Food and drink
sights
Video
Maps and guides
Comments and reviews
Geography and climate
Cappadocia is located almost in the center of the Anatolian the peninsula. One of the most interesting natural features of this The region is an unusual relief. This plateau was once lava valley between the volcanoes Erciyes, Melendiz and Hassan. After volcanic activity on the surface formed a layer of tuff, which under the influence of erosion has turned into unusual geological formations of the most bizarre forms.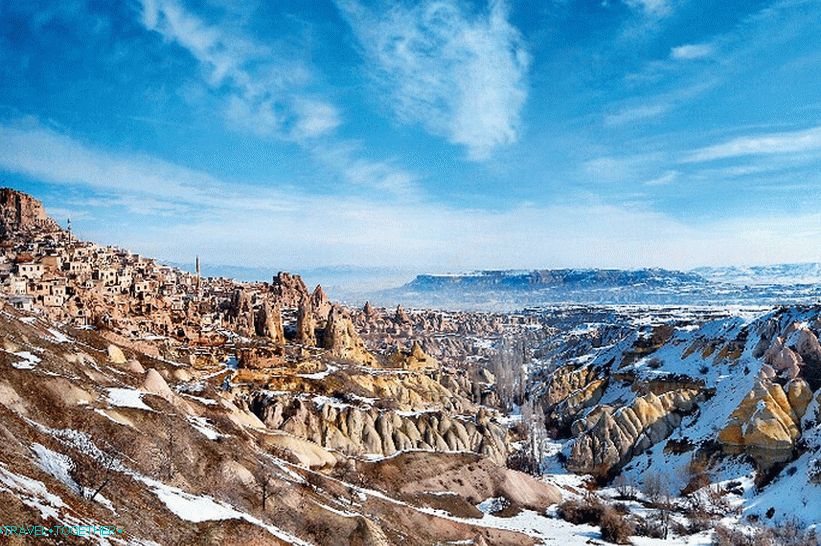 Winter in Cappadocia
The climate of Cappadocia is moderately continental. Summer is hot and dry with cool nights. Winter is quite cold with frequent frosts. AT Some nights the temperature on the plateau can drop to – 15 ° C.
Distance from Cappadocia to some cities in Turkey: Kayseri – 70 km, Ankara – 305 km, Istanbul – 757 km, Antalya – 541 km, Izmir – 777 km, Bursa – 679 km, Konya – 238 km.
Landscape Cappadocia
Best time to visit
The best time to come to Cappadocia is May and September, when the most comfortable weather. Summer is hot in the afternoon.
Practical information
The currency is Turkish Lira.
The language is Turkish.
Visa – for up to 60 days it is enough to have a passport whose actions are more than four months from the date of entry into Turkey
Time – UTC +2, in summer +3.
Story
The first mention of the area called Cappadocia date back to the 6th century BC, when in this territory dominated by the Persians. Ancient Persian name of the Haspaduya region can be translated as "the land of beautiful horses."
Another point of view: the name of the area comes from the Hittite katta peda, which means "the area below the capital."
Cappadocia at night
Cappadocia was settled in the period of the ancient Hittites (more than 2000 years BC). Later, Moshi, Cimmerians and Persians settled here. In the 4th century BC The region was conquered by Alexander the Great. AT this period is the assimilation of the local population with Hellenistic culture. Later, these lands began to belong Roman empire.
Cappadocia
After the collapse of the Roman Empire, Cappadocia becomes part of Byzantium. The Turks conquered the region in the 11th century. This led to Islamization of the population. Interestingly, until the mid-20th century Cappadocian language originated from Karaman dialect.
How to get there
The nearest airport is Kayseri (about an hour's drive from center of the region). To get to Cappadocia you can also use the air ports of Konya and Ankara. Approximate time en route to Cappadocia by bus from some cities in Turkey: Istanbul – 12 hours, Ankara – 5 hours, Bursa – 11 hours, Izmir – 12 hours, Konya – 4 hours, Antalya – 9 hours.
Airy balls in cappadocia
Shopping and shopping
The most popular purchases and souvenirs in Cappadocia: ceramics from Avanos, carpets, wines, onyx products, evil eye amulets ("blue eye ") jewelry.
Airy balls in cappadocia
Food and drink
Traditional food: mantı (dumplings served with yoghurt or garlic sauce), testi kebap (meat with vegetables in clay jug), pastirmali kuru fasulye (beans in a spicy sauce). Also Cappadocia is famous for its wines, sweets and dried fruit.
sights
Cappadocia is an extremely interesting place where you can enjoy exploring ancient cave towns and wonderful natural sights, look at dozens of aerial balloons at dawn or fly them yourself, ride along picturesque surroundings on quad bikes or horses.
We recommend to book one of the many cave hotels. in the vicinity of Goreme.
Goreme
Goreme is a small village almost in the center of fabulous landscapes of cappadocia. Considered one of the most beautiful places in Turkey, where the famous cave houses are built in the rocks. Most famous the tourist attraction of Goreme (and the symbol of Cappadocia) are balloons that rise every morning over the valley. To enjoy this spectacle, you need to get up at dawn and walk to nearest viewing platform. The cost of flights varies from 150 up to 180 euros per person.
Airy balls in Goreme
Not far from Goreme is an interesting open-air museum. sky, which is a UNESCO World Heritage Site. is he is an ancient Byzantine monastery with rocky churches that have fabulous frescoes.
Kaimakly
Kaymakly – one of the largest underground cities of Cappadocia. Such settlements began to appear here in the Bronze Age. Specifically, this city belongs mostly to the early Byzantium. Here lived Christians who were hiding from the Arabs and Persians. Kaimakly has eight levels and is a maze. underground tunnels and rooms. For tourists open four level
Zelve
The rock monastery in Zelva – an open-air museum, which is an ancient Christian complex founded in 9 century.
Derinkuyu
Derinkuyu – an ancient underground city, the largest building of such type in cappadocia. Used as a shelter by the first Christians. It is an interlacing of tunnels with a lot of underground residential and business premises.
Chavushin
Cavusin (Çavusin) – a small picturesque village with beautiful ancient Byzantine churches where beautiful frescoes Church of sv. John the Baptist, located here, considered the oldest in Cappadocia.
Pashabag
Pashabag – one of the most famous natural Attractions Cappadocia. Fancy mushroom rocks, which created erosion, seem to be something unreal.
Video
Maps and guides
Route Map Goreme Map Cappadocia Map
Cappadocia on the map of Turkey