Belgium – the most detailed information about the country with a photo. Sights, cities of Belgium, climate, geography, population and culture.
Belgium (n. België, fr. Belgique, it. Belgien)
Belgium is a small country in North-Western Europe. The official name is the Kingdom of Belgium. Country bordered by The Netherlands in the north, with Germany in the east, with Luxembourg on southeast, with france in the south and west, and also washed by the waters North Sea. Belgium is a constitutional monarchy, a member European Union, UN and NATO. This is one of the most secure and stable countries in the world, which is also a political center of Europe.
Belgium blends the charm of the past with the modern culture and innovation. This country has the richest cultural and historical heritage: from charming medieval towns, castles and monuments of sacred architecture to modern buildings, magnificent museums and shopping galleries. Belgium is a jewel of Europe with hundreds of impressive places that preserved the charm of the Middle Ages and the charm of nature.
Flag of belgium
Useful information
Geography and nature
Climate
Best time to visit
Story
Administrative division
Population
Transport
Cities of Belgium
sights
Accommodation
Kitchen
Useful information about Belgium
The population is 11.4 million people.
Area – 30 528 km².
Currency – Euro (€).
In Belgium, as many as three official languages ​​are recognized: Dutch, German and French.
Time – Central European (UTC +1, summer +2).
Visa – Schengen.
Car traffic is right hand.
The electrical network voltage is 230 V / 50 Hz.
The predominant religion is Catholicism (75% of the total believers). Although most modern Belgians do not religious.
Belgium is a very safe country, except perhaps some areas of Brussels and the port Antwerp.
Geography and nature
Belgium does not have much geographic diversity, which is not surprisingly, looking at its small size. Country has almost homogeneous relief, climate, flora and fauna. Most of Belgium is plain and lowland. Although in geographically, there are three areas:
Coastal Plain or Low Belgium – Sand Lowlands or plains with a height above sea level up to 100 m.
Central plateau or middle Belgium – plains between valleys rivers Sambra and Meuse with a height above sea level of 100 – 200 m. This the region is almost completely changed by economic activity person Most of it is occupied by arable land and meadows.
The Ardennes Highlands or Belgium High – Hilly the area south of the Maas and Sambre valleys with a height above sea level 200 – 500 m. This is a region of low mountains covered with forest and small villages.
Belgian provinces
Belgium has a flora and fauna typical of Western Europe. In the forests that are most extensive in the Ardennes, you can meet boars, fallow deer, roe deer, hares, squirrels. In the swampy Many birds live in the area: pheasants, ducks, partridges.
Ardennes forests
Climate
Belgium has a temperate maritime climate, typical of most parts of Western Europe. It is characterized by mild and rainy winter. with rare negative temperatures. Summer is pretty here cool and often rainy.
Best time to visit
The best time to visit Belgium is the period from April to September. Also very atmospheric here during the Christmas period. In winter, despite positive temperatures, it is rather damp and it's windy.
Charming Brugge
Story
In ancient times, the territory of modern Belgium was inhabited by the Celtic the Belga tribe, from which, in fact, the name originated of the state. In the 1st century BC. the country was conquered by the romans and incorporated into the province of Gallia. In the 5th century AD (after the fall Roman Empire) Belgian lands conquered Franks. Most Middle Ages Belgium was part of the Duchy Burgundy.
In the 15th century, Burgundy became part of the Holy Roman Empire. WITH 1556 to 1713 Belgium was ruled by Spain. At 18 century the country again became part of the Holy Roman Empire. From 1792 to 1815 Belgium was part of France. Then some time belonged to the Netherlands. In 1830 there was a Belgian the revolution after which the independent Belgian was formed kingdom.
Ghent
In the 19th century, Belgium was neutral. In this period here the industry develops and the economy grows. Most terrible scars in the 20th century left Belgium First World War. Most of the country was the scene of hostilities. Highly the history of the town of Ypres, in which it was first used, is tragic sending gas, and the city itself was completely destroyed. During World War II Belgium was occupied by German by the troops.
Administrative division
Belgium has a very interesting administrative and territorial division. First, the country's territory is divided into three of the region: Flanders in the north, Dutch-speaking, bilingual the capital (Brussels) and French-speaking Wallonia in the south, which includes a small German-speaking area.
Antwerp
Flanders consists of five provinces: Antwerp, Limburg, East Flanders, West Flanders, Flemish Brabant
Wallonia also includes five provinces: Hainaut, Liege, Luxembourg, Namur, Walloon Brabant.
Secondly, Belgium is divided into three linguistic communities: Flemish, French and German.
Population
Belgium is a densely populated and highly urbanized country. 97% population lives in cities. Most common religion is Christianity (mainly Belgians – Catholics). The official languages ​​are Dutch, French and Deutsch. Language is a complex and sensitive subject in Belgium, which is subject to the "principle of territoriality." The root of this is that the Belgians are a nation consisting of different ethnic cultures. Historically, in Flanders they speak Dutch, in Wallonia – in French, and in Eupen-Malmedy – in German. Therefore insist on speak French in Flanders or Dutch in Wallonia will be offensive.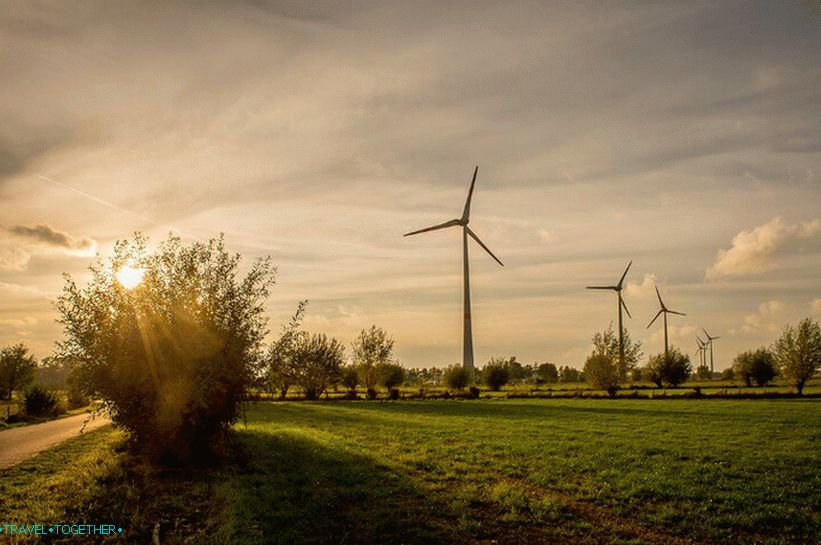 Wind turbines in Belgium – a typical element of landscapes
Some national features of the Belgians:
The Belgians are very tolerant and liberal.
The Belgians are not very religious.
Modesty is considered a positive quality in this country. Bragging – negative.
Belgians are strictly personal privacy of life.
Sarcasm, irony and some cynicism are common traits. for this nation.
Transport
The main airport of Belgium is the air port of Brussels. is he located not in the capital itself, but outside the city. Get to the center Brussels from the airport is possible by train (traffic interval 15 min) and STIB buses No. 12 or 21. Other airports are located in Charleroi, Antwerp and Liege.
Belgium has regular train connections with all Western European countries. Easy to get here by train from Rotterdam, The Hague, Cologne, Paris, Amsterdam, Lyon, London, Lille, Frankfurt am Main. Also through the territory of Belgium are the main European highways.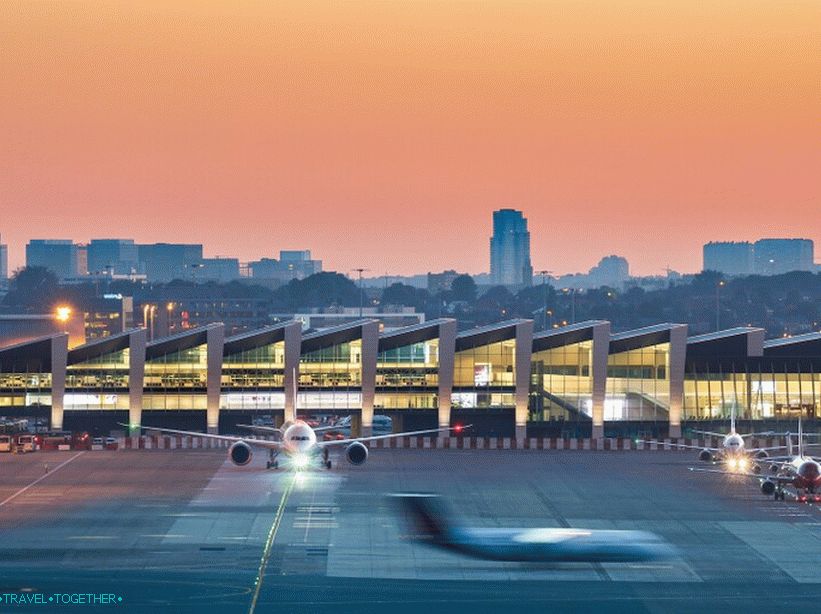 Brussels airport
Belgium is a relatively small country to cross. just a couple of hours. Public transport here is fast and convenient. Between the cities run comfortable buses and the trains.
Cities of Belgium
Belgium has a very high level of urbanization and just a huge number of cities on such a small territory.
Brussels
Brussels is the bilingual capital of Belgium and the unofficial capital The EU. Today it is one of the most multicultural cities in Europe with magnificent historical center, a huge number of museums and other interesting places.
Cities of Flanders:
Antwerp is the second largest city in Belgium and one of largest European ports. Famous for the huge gothic cathedral and what Rubens did here.
Beringen is a historical center for coal mining.
Bruges is one of the richest medieval cities in northeastern Europe, nicknamed "Venice of the North" because of the canals and romantic atmosphere.
Gent – in the past one of the largest cities in Europe, which is a mixture of Antwerp and Bruges. It has a cozy medieval center with canals, magnificent sacral monuments and an impressive castle.
Leuven is a small historical city in which there is one of the oldest universities in Europe.
Lier is a charming Flemish city with a Gothic cathedral and narrow medieval streets.
Mechelen is an important medieval city with an impressive medieval cathedral, famous for its school of carillons.
Tongeren is the oldest city in Belgium.
Brugge
A great tourist destination is the valley of the river. Maas. This is a great opportunity to enjoy a quiet Belgian the province, visit the pretty old towns and admire beautiful nature.
Cities of Wallonia:
Charleroi is the largest city of Wallonia, an important industrial and economic center of Belgium.
Dinan – a small beautiful town on the river Meuse with an ancient cathedral and a citadel on a rocky cliff.
Liege is the cultural center of Wallonia. This is a magnificent multi-faceted a city that has an eclectic mix of architecture from the middle centuries to modern times, many museums and exciting nightlife. a life.
Tournai is one of the oldest cities in Belgium.
Namur is the capital of Wallonia with an impressive historical center.
Mons is a stunning historic city known as Walloon Bruges.
Dinan
Sights of Belgium
Grand Place Brussels
Grand Place (fr. Grand Place) or Grote Markt (n. De Grote Markt) is a magnificent historic square in Brussels included in UNESCO World Heritage Site List and Surrounded By Beautiful historical buildings of the 14th and 17th centuries. In her architectural ensemble stands out a stunning medieval town hall – a gothic masterpiece architecture.
In August, the Grand Place is decorated with a floral carpet measuring 75 by 24. meters, consisting of more than 700,000 begonias.
Bell tower Belfort in Bruges
The Belfort Belfry and the canals in Bruges are the main symbols of this. old trading city. The belfry was built in the 13th century and has 83 meters high. This is a magnificent structure in the Gothic style, which is the architectural dominant of the historic center. The Bruges canals are a symbol of the shopping past and the heyday of this charming city. These waterways penetrate almost the whole historical center, and bridges and old houses right on the water make your stay so atmospheric.
Church of sv. Petra in Leuven
Church of sv. Petra in Leuven – a magnificent religious a structure built in the 15th century in the style of the Brabant gothic. It is located on the Market Square (Grote Markt) and is an object UNESCO World Heritage Site. The building has a low bell tower, which was never completed.
Town Hall in Leuven
The town hall in Leuven is definitely one of the most beautiful. historic buildings in belgium. This architectural monument dates from 15 century and is a masterpiece of the late Brabant Gothic.
Gravenstein in Ghent
Gravensten in Ghent is an impressive fortress that is The only medieval castle in Flanders. This residence Flanders graphs was built in the 12th century and preserved almost in perfect condition, being one of the best structures of this type in Europe. Gravensten located in the center the old city of Ghent, beautifully towering over the roofs of the old houses and a maze of medieval streets.
Cathedral of sv. Bavona in Ghent
Cathedral of sv. Bavona in Ghent is one of the best examples of sacral architecture in Belgium. It is an impressive gothic church with Romanesque crypt includes magnificent works of the religious arts, ancient tombs and beautiful wall paintings.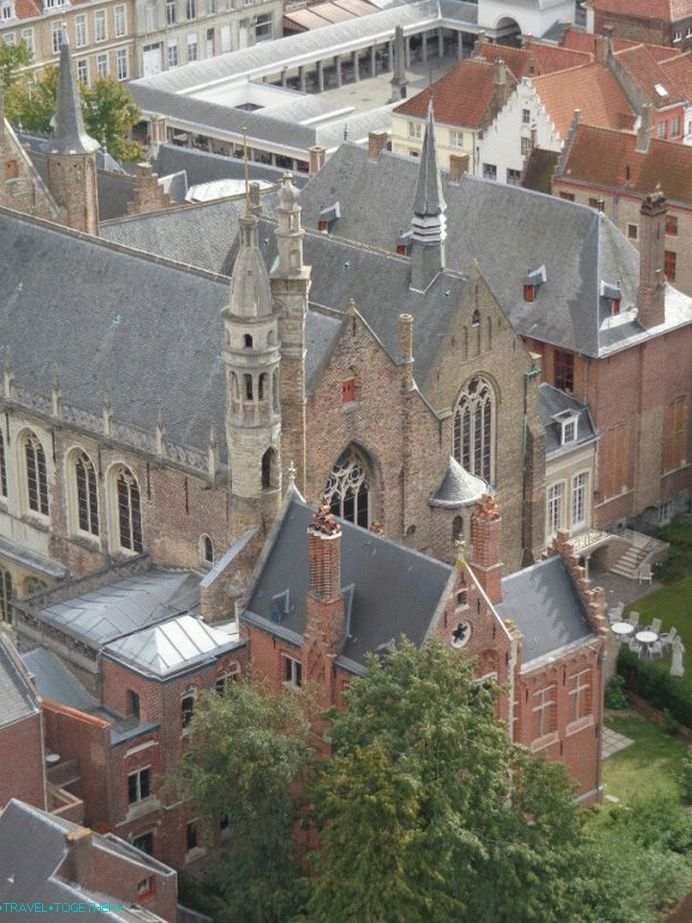 Holy Basilica blood in brugge
The Basilica of the Holy Blood in Bruges is impressive with a combination of romance and Late Gothic architecture. This church keeps precious Christian relic – a drop of the blood of Christ.
Grand Place Antwerp
Grand Place in Antwerp – a wonderful historical square with beautiful architectural ensemble consisting of old merchants houses, behind which is the bulk of the impressive gothic cathedral. This is one of the most beautiful old market squares in Western Europe.
Old town in Mons
The old town in Mons is a delightful historic center. Him the heart is the charming Grand Place, decorated buildings of the 15th and 18th centuries, over which the imposing bell tower listed as a World Heritage Site UNESCO.
Waterloo
Waterloo – a place known for what happened last major battle of Napoleon Bonaparte's army. Artificial hill with a memorial sculpture of a lion on top marks the end of an era Napoleonic wars.
Accommodation
There are many good hotels in Belgium for every taste and budget. Hotel or a guest house can be found even in a small town. If start Search in advance, then you can book great options. Generally However, the cost of a room in a Belgian hotel is somewhat higher than in average for Europe. Also the price of the season affects tourist popularity of a particular place.
The best option on the price-quality scale are apartment hotels.
Kitchen
Belgium is a country that understands food and can become a great gastronomic adventure.
Popular traditional dishes:
Mussels – mussels in white wine.
Balletjes – meatballs with french fries served with tomato sauce or sauce from Liege. By the way, the Belgians claim that french fries (french in french) are their invention.
Frikadellen met krieken – cherry meatballs the sauce.
Stoemp – mashed potatoes with carrots, sausages and bacon.
Stoofvlees – beef stew with fries.
Witloof met kaassaus – ham with bechamel sauce and potato mashed potatoes.
Konijn met pruimen – rabbit in beer.
Famous waffles – Gaufres de Bruxelles or Gaufres de Liège.
Frikadellen metkrieken
Belgium has a rich brewing tradition and offers incredible variety of beer. Belgian beer is excellent quality and is considered one of the best in the world. Country is home for several major producers of foamy drink – Stella Artois, Duvel, Leffe, Jupiler, Hoegaarden.
Video
Belgium on the map