Six months while we lived in Thailand, I periodically took pictures all kinds of cars, bikes, people on bikes, public transport. AND Now I want to share these photos with you. Therefore, in this There are few words and almost only one photo.
The content of the article
1 Public transport
2 Old cars
3 Modern cars
4 Unusual to us
5 Motobike
Public transport
I have already laid out something in my articles. But that's okay if I repeat, let everything be in one place. As a rule, for movements serve tuk-tuki (varieties of motorcycles with a sidecar), Sang-teo (pick-ups, where there are benches in the back), something like mini buses (can be made based on anything), and ordinary buses from old (short distances) to new and comfortable (between cities). In some cities tuk-tuks or sang-theo may look different, so made based on other aggregates. About public transport I wrote here again – Bangkok Metro, Bangkok bus stations, Bangkok railway stations
Buses
For short distances, small buses run, often old ones. In addition, some of them have air conditioning. Also such buses are used for movement within the city, but there are also modern. Sometimes, on some routes go minivans. Between cities, long distances run comfortable buses with air conditioning and toilet (often double-decker), where there is a vip, 1st and 2nd grade Classes do not differ significantly – width seat, power, speed of movement and the presence of a toilet.

Short distance buses

Public Transport in Bangkok

Double-decker buses

Some buses are painted

First class on the bus
Minibuses, sang-theo
Sang-theo – it is covered pickups, inside which made the seat. It is the most popular form of transport in the city, and the closest suburbs. You can also walk more and more units, in the form of trucks, where the body is converted to passengers. Usually the fare is about 20 baht (20p) inside the city, or slightly higher, if further.

Sang-theo in Chiang Mai

Minibas in Phuket
Tuk-tuk in Thailand
Tuk-tuki are usually made on the basis of a motorcycle with a sidecar. Only the stroller is not on the side, but in the back or front. Mostly on them Tourists move as it is the most expensive form of transport. A knock-knock can also be in the form of a small car. The fare is from 100 baht (100r), as you are bargaining.

Tuk-tuk in Chiang Mai

Tuk-tuk dashboard

Upside-down tuk-tuki

Tuk-tuk sometimes shines at night

Tuk-tuk in the form of a car
Mototaxi
There are not everywhere, but also often. Usually transported to a short distance of 1-2 passengers and cost 50 baht (50 rubles).

Mototaxi on Phuket
Old cars
For some reason I have a special love for old cars (for Russians this does not apply). But not to those who were at the beginning of the past. century, but rather in its second half. One of the favorite – Ford Mustang 60s. Of course, in Tae I did not see him, but something similar It was. Moreover, I do not know any names or characteristics, just me I like to look at them.

Red Mercedes Convertible

It seems American

Hippie Mobile in Chiang Mai

I love yellow wagons

It seems too American

Beetles in chiang mai a lot

War machine

Something yellow and old

Taxi in Pai

Thai ambulance

Astin Cooper in Bangkok

I want myself the same
Modern cars
Since Thailand has many farmers, workers, as well as roads tracks are unpaved, then the most popular cars here are pickups. When i first came to the vegetable market, I immediately thought that our summer residents, but collective farmers would envy the Thais. On the toyota driving around—

Toyota Hilux – one of the most popular cars.

Pickups in Thailand

Pickups overload on the most …
Unusual to us
In Thailand, as probably in any other country, there are various means of transportation, not peculiar to our country. What is this for tourists, something for the locals.

Agitation machines – drive and broadcast

Wooden machines in Pai

Small cars for little people

Transportation to Chiang Saen

Cafe Machine in Chiang Mai

How to go in a cage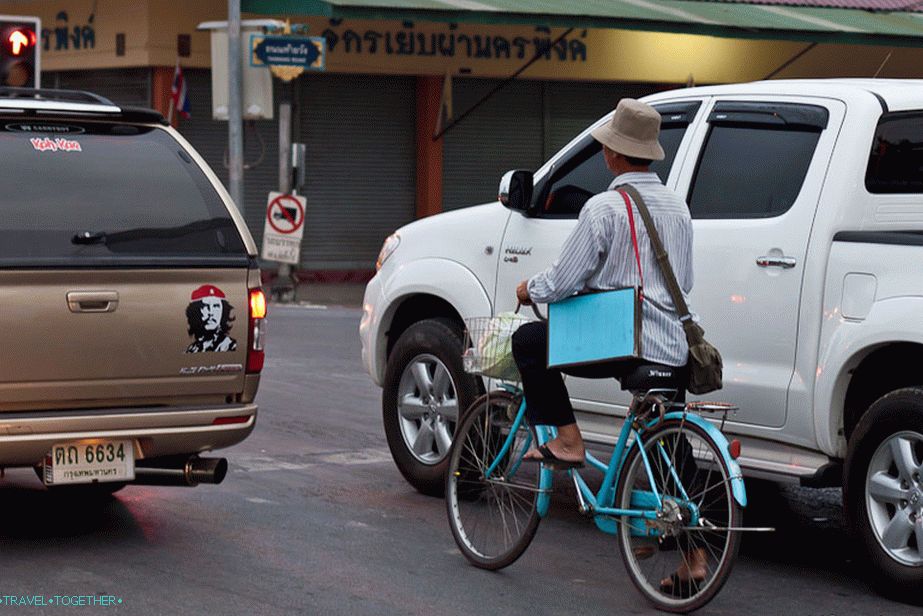 And someone rides a bike

Rickshaw tired

Mobile ATM in Bangkok

Already probably not a mobile bar
Motobike
The most popular way to move. First week in Chiang Mai we wondered where the sidewalks, where the pedestrians … So that's all just therefore, there is no need to walk when there is a bike. And how they drive there is A separate song, for 3-4 people, with bags and trunks. Sometimes even the driver is not visible behind things.

4 people on one bike – the usual thing

Bike with a stroller

The guy in the stroller doesn't even steam

And why is she so tall?

Fruit macaron – bike and stroller

For products only on the bike

Thais on bike

Tricycle

What a handsome man!
P.S. If anyone knows the name of the cars, I will be happy to sign. And then how to search for them in pictures I have no idea

Life hacking 1 – how to buy a good insurance
Choosing insurance is now unrealistically difficult, therefore, to help everyone travelers, I make a rating. To do this, constantly monitor forums, I study insurance contracts and use insurance by myself.
Insurance Rating
Life hacking 2 – how to find a hotel 20% cheaper
First, choose a hotel on Booking. They have a good base offers, but the prices are NOT the best! The same hotel is often possible find 20% cheaper in other systems through the RoomGuru service.
Discount hotels