Cyprus in May? Of course yes! What could be better than an inexpensive tour and sparing sun in the country that "bites" and burns in the summer?
In general, were-seen-tell. We decided to relax in Cyprus in May spontaneously and booked a ticket (to Protaras) for just a couple weeks before departure. A tour for two for 7 days in four on half board cost 65 thousand rubles.
Content
What about the weather?
Tour prices
Resorts
A selection of good hotels
What to see?
Reviews – tourists and mine
Do I need a visa to Cyprus?
Russians owners of the current multi-Schengen – immediately green light. If not, make an electronic pro-visa. She is is issued free of charge through the website of the consulate for 1-2 business days and sent by mail. there is condition: departure to Cyprus from Russia and without transfers. Such simplified visa allows you to be on the island of no more than 90 days
Beach holidays in Cyprus – the weather in May
Every Mediterranean country talks about its sunny days, which are more than three hundred a year, are a typical "trick". Not I can speak for all the months, but the weather in Cyprus in May pleases. The season for walking here starts in April, and for swimming … In theories – in June, in practice – people dive in the spring, in May holidays.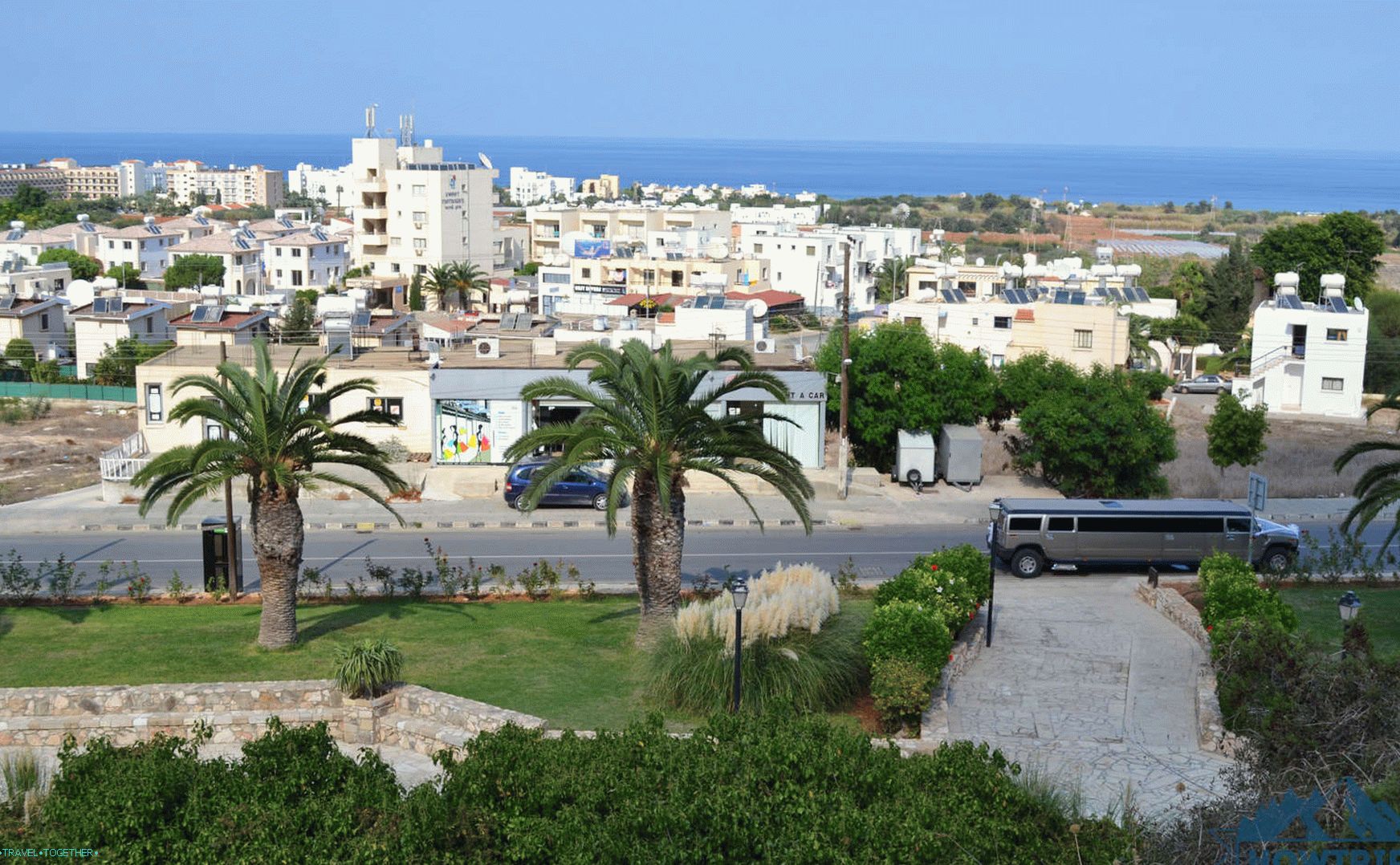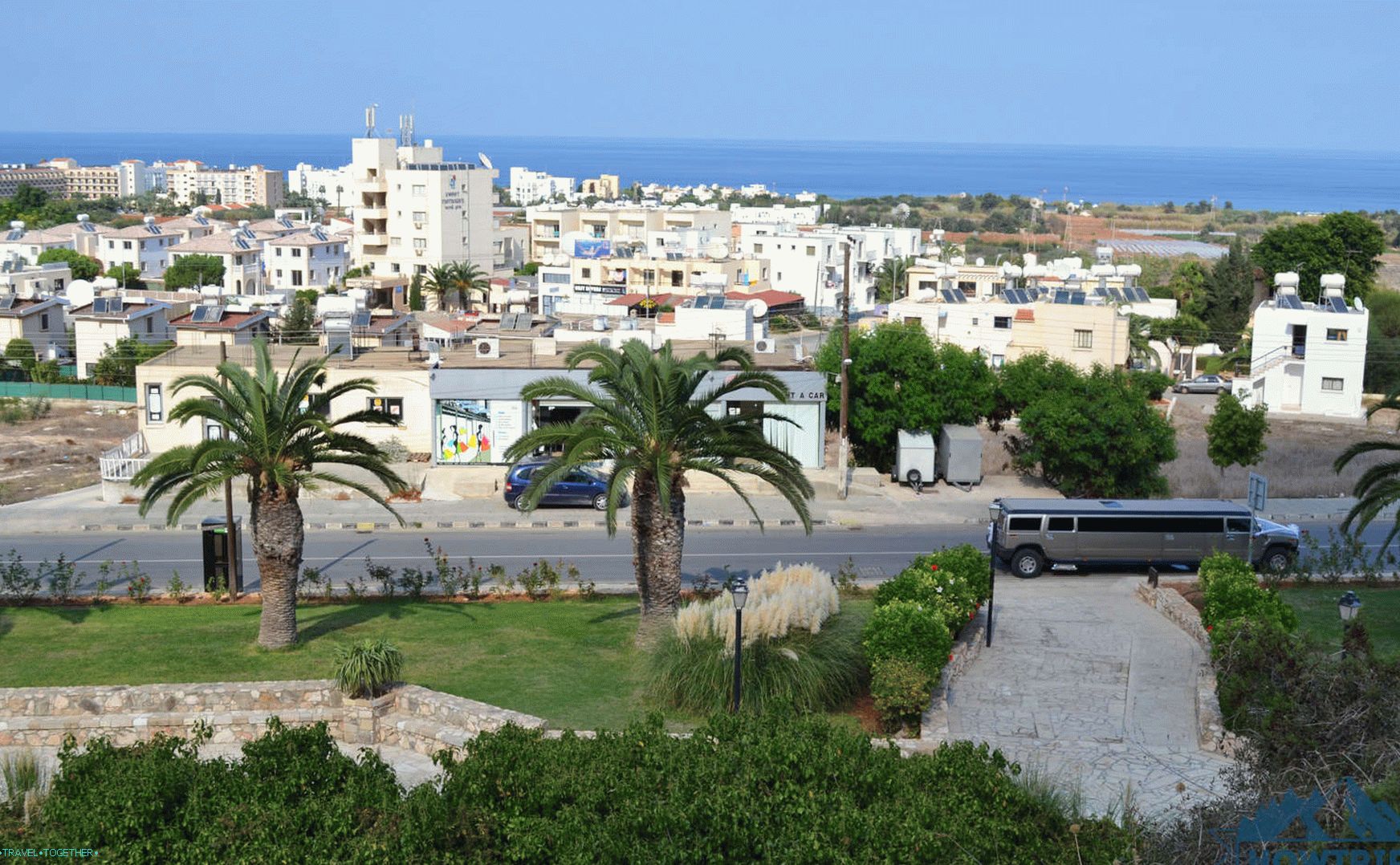 Water and air temperature in Cyprus
During the day, the island warms up to + 27 ° C and more, it feels hot, but still tolerable. In the evening the degrees fall to +23. Resorts in Cyprus slightly different in performance: maximum the heat will be in Protaras and Ayia Napa, but in Paphos air temperature is 2-3 degrees lower.
The year is not necessary for the year, and the May weather may fail – slight precipitation and clouds occur. For evening walks It is useful to put in a suitcase something warmer than a swimsuit.
Can I swim? You can, in early May sea temperature above + 20 ° C. Our compatriots, especially with northern regions, boldly storming the waves. But more comfortable closer to the end of the month when the water warms up to + 23 ° C.
Average water and air temperature in Cyprus in May:
| | | |
| --- | --- | --- |
| | Outside, ° C | In the sea, ° C |
| Protaras | +27 | +22 ,5 |
| Ayia Napa | +27 | +22,5 |
| Larnaca | +27 | +22 |
| Limassol | +27 | +22 |
| Pathos | +25 | +22 |
Prices for tours to Cyprus in May – 2019
We search and book tours online, on aggregators. Just because that it is convenient, they collect offers immediately from all major tour operators and do not break the brain creepy search engine? Anticipating the question about prices, I will note – services display them directly from the tour operator:
Travelata
Level.Travel
Onlinetours
✓ Cyprus in May 2019 costs at least 40,000 rubles for two. These are the cheapest trips for a week to hotels of 2-3 stars with mediocre reviews.
✓ Tour for 14 days – why not? ? – not critical more expensive, from 60 000 rubles for two people.
✓ All inclusive on the island does not match the asking price – from 62,000 rubles to a three-star, Turkey is better.
✓ Family tour to Cyprus in May (parents and 1 child) – from 58,000 thousand in 7 days.
Cyprus on May holidays
In short – everything is difficult. Cyprus in May holidays 2019 worth from 55,000 rubles a week for two. That is, even the most "lousy" hotels (and these are waiting for the specified amount) take off on ten -15 thousand rubles in comparison with the prices for tours in the middle of May. It's a shame, but such are the peak dates, it will not save even earlier booking
TO ипр или Турция >>
Cyprus resorts – where better to relax in May?
Cyprus, though it seems small, has a length of 240 km. This and the mountainous terrain determines its weather. Temperature waters in the north of the island will only warm in mid-May, but air temperature will not vary much.
Where better to rest in Cyprus in May? Let's start with the already mentioned Protaras and Ayia Napa. These areas are characterized by long sandy coastline. Cyprus is very rocky, you make sure walking along the boardwalk, so comfortable beaches here in price
PROTARAS
Resort number 1 for families with children. Fig Three Bay (Fig Tree Bay), on My opinion is a must-see. White sand, turquoise net water and, actually, fig palms. In summer, the embankment stretching along the coast, crammed with walking – Protaras is very popular.
The city itself is small and calm. There are a lot of taverns on any taste, several sights and zones for babies. For € 23 You can look at the show of dancing fountains. In my opinion, it too raspiaareno. A dinner ticket costs € 38 euros, but I'm going to can be ordered on the spot.
AYIA NAPA
For bright night parties. Bars, clubs and other activities abound here. We visited Senior Frog's twice (Protaras and Ayia Napa are located nearby) – a great place not to overflow even at the end of the season.
Top beaches are Nissi Beach and Landa Beach. Can rent bicycles and go to Cape Cavo Greco, about 8 km from the city. In May, get there so get way, in June the sun bakes much, and it is worth going by bus # 101 for € 1.5 or rented car.
Larnaca
They come here for a budget holiday. The town is calm, relax pensioners and families with children. The sand on the beach is gray. Typical resort measured life with cafes, walks and shops, but and have something to see. The main point of attraction for young people – diving. Another advantage of the city, in addition to prices for recreation – location The airport is only 25 km away.
LIMASSOL
One of the largest cities in Cyprus. Beaches, shopping, food, wine, nightlife, children's entertainment, attractions – here there is everything. The sand on the beach is volcanic gray, in some places uncritical pebbles. Beach with eucalyptus grove Dasudi – in favorites from tourists.
PATHOS
Less tourists – more history? Fly to Cyprus at the end of May? Consider Paphos. Rocky shores and heaps attractions, interesting locations from the ancient era. Season on Paphos inflames a bit later, just in June. May is better here to go for tourist and educational purposes. If you fly to Larnaka, be prepared for a long transfer through the entire Isle.
Where is warmer in Cyprus in May? Choose Ayia Napa and that near. КBy the way, Protaras is located 20 minutes from the rave city, but prices for rest are lower here. It's easy to get to the clubs. bus for € 3.
| | |
| --- | --- |
| | In 2019, the price of flights from Moscow to Cyprus round-trip start at 12,000 rubles. Где покупать авиабилеты >> иsome tips on smart searching for them – read our separate article. |
The best hotels of Cyprus – top 9
Our selection consists not only of five star hotels by transcendental amount. We tried to consider all categories, and in some choose the best of the worst?
AYIA NAPA
4 * Marismare Callisto Holiday Village – Family Aparthotel (rooms with kitchen), not new, shabby, but for the money – 10 of 10. The bonus is the first line, its own beach, although not the most scenic, and 20 minutes walk to the cool Nissi Beach. Tour price: from 60 000 rubles (breakfast and dinner)
5 * Atlantica So White Club Resort – located 100 meters from famous beach of Ayia Napa – Landa Beach. Stylish modern with territory and beach bar (a rarity for Cyprus). True, the loungers on coast paid, because public beach. Food – on the top five. Price of the tour: from 80 000 rubles (breakfast)
3 * Anesis – reliable treshka, in the city center, but not noisy. 10minutes to the beach, 10 – to amusement park. Adequate cost even in Season, good reviews. Tourists mark the updated numbers and normal nutrition. Of the minuses – no entertainment at all children. Tour price: from 60 000 rubles (breakfast and dinner)
PROTARAS
4 * Tsokkos Anastasia Beach – the hotel where we rested. Located on the first line, but as such there is no beach, only a small sandy area, convenient entry into the sea. Sunbathed on territory (swimming pool and green lawn with sun beds). Near there shop, bike rental and bus stop. 
You can walk walk along the beach to Phoenix Beach (15 minutes), or to Fig Three Bay (the best beach in Protaras, walking 25 minutes). Tour price: from 75 000 rubles (breakfast and dinner)
3 * Mandalena Hotel Apartments – basic hotel apartments. Very good if you need to go economically: cook at home (supermarket in 20 minutes), rent a car and watch everything the beauty of Cyprus. 25 minutes walk to the beach. Tour price: from 40,000 rubles (without power)
LIMASSOL
Blue Crane Apts – super-budget apartments, "shabby", but with advantageous location. Near shops, the sea across the road. Beach excellent, with white sand and a gentle entrance. Tour price: from 45 000 rubles (without power)
4 * Atlantica Miramare Beach – on the first line, free sun beds. The beach is not the best, there are two pools, a park nearby and animation for children. Price of the tour: from 70 000 rubles (breakfast)
PAPHOS and LARNACA
3 * Flamingo Beach Hotel – located in Larnaca itself (there is still tourist zone, "wilderness"), nice treshka without frills. Nearby Mackenzie beach, good for the city. Tour price: from 50 000 rubles (breakfast)
4 * Tsokkos Ascos Coral Beach Hotel – Hotel in Paphos, the only minus is a rocky entrance to the water, walk to the sandy Coralia Beach takes 10 minutes. The rest is all on the level, the network Tsokkos is responsible for quality. Tour price: from 65,000 rubles (breakfast and dinner)
Sights of Cyprus – what to do in May?
In case the weather let you down one of the days, prepare for yourself plan "B". Cyprus in May – the best time for unhurried tourist outings. I advise you to do them yourself. Tour operators, as a rule, overestimate the prices of excursions, and all runs on the run. If you have the right – take the car, not will regret. Great deals from RentalCars. Service scans dozens of offers and offers the best. Minicar can take from 3000 rubles per day, gasoline will be added to this amount, € 1.15 per liter, insurance and deposit.
What to do in Cyprus in May? One of the options – water walk. The cheapest in Protaras is € 10. Transparent bottom boat goes to Cavo Greco and then along the coast to ghost town of Famagusta. You can only see it through binoculars.
| | |
| --- | --- |
| | And if not through binoculars? To Northern Cyprus – for 5 hours and € 140 for four |
| | |
| --- | --- |
| | The guide knows best: Cape Cavo Greco – in 3 hours and € 100 for four |
Take a trip to Nicosia. The most attractive part of it is atmospheric. Old city. By the way, it is the capital of the state. From Larnaca here can be reached by plane or by bus for 5 euros. Or:
| | |
| --- | --- |
| | Tour from Ayia Napa: Nicosia with a guide – for 6 hours and € 199 for four |
Do not ignore Paphos. If you didn't know, here was born Aphrodite. On the shore of the bay they love to spend cozy wedding. the ceremony. Cyprus is also famous for its Orthodox heritage. Guided tour temples cost about 40 euros. Diving lovers – the road to Larnaca, watch the sunken ferry. The price of the dive begins from 90 euros.
Reviews about Cyprus in May 2018 – is it worth it to go?
The reviews about Cyprus in May are mostly positive. Most heated debates are devoted to the weather. Someone swam, and someone got waves and wind. In general, the disputants agree that the sea in Cyprus May reaches + 20 ° C … + 21 ° C. If you are worried about this: choose hotels with indoor pools or where there is heating open.
The sun in Cyprus in May did not offend anyone. Therefore, tan to you for sure secured. Despite the differences regarding water temperature, tourists were satisfied with the rest, including with children.
What is good holiday in Cyprus in May?
– Prices for tours are markedly lower than during the season. Beach and hotels half empty
– You can swim. By the end of May at sea – all 23.
– This is a comfortable period for families with children. The sun doesn't bake the water warmed up, at the end of spring the island turns green, there is a lot of market fruits.
I do not know what Cyprus might like, but just in case Additional material – where else is good in May?

Turkey (similar climate)
Tunisia (for a change)
Italy (unusual, yes?)
UAE (who is hotter)
и другие 5 стран >>