✓ Plan: fly to Vietnam in December 2019 to meet 2020 with a slight tan on the face and complete harmony in the soul. ✓Parse: joy, prepared by the country for tourists. Where to catch wave, bask in the sun and take a full shower in the rain in last month of the year?
Content
Where to look for tours?
Weather
Beach resorts rating
Holiday rates
New Year in Vietnam
What to see?
The best hotels recommended by tourists
Beach vacation on the sea in Vietnam – is it worth it to go?
Vietnam is a delicate matter. The country is full of interesting things: the ancient buildings, caves, rice fields. And sandy beaches, about which Europe can only see unrealizable dreams. Of the main disadvantages: rainy seasons and waves conquering the hearts of surfers, but not swimmers.
Should I go to Vietnam in December? What are the chances of staying dry on land and get wet in the sea? The odds are great if you know where to go!
➢ South: Ho Chi Minh City (Saigon), Phu Quoc Island, Phan Thiet, Mui Ne, Vung Tau. December is a dry season here, temperatures tend to to + 30 ° C. In addition to Nha Trang, in which it pours to the very New Year
➢ Center: Danang, Hue, Hoi An. Peak in december Doge is already behind, but water can still be very decent; in January it's much nicer here
➢ North of Vietnam: Hanoi, Halong. Dry but cold and overcast. In winter, daytime temperatures are around + 20 ° C. Great for sights, bad for the beach
Swim and sunbathe – the path definitely lies to the south! Tours good in the north. In the central part without a raincoat in December is better do not meddle.
Where to look for cheap tours online?
Save travel for some countries (and Vietnam in their including!) really when buying a tour:
Travelata
Level.Travel
Onlinetours
Sites that we use ourselves and we advise you – burning vouchers, great deals from different operators here.
Prices for tours to Vietnam in December in 2019 for 7 days start with 70,000 rubles for two. For 14 days – from 105 000 rubles (includes flight, accommodation in 2 *). Weekly tour "all included "- from 95 thousand.
December weather in Vietnam resorts
SPA in one of the hotels in Vietnam – The bottle temple in Dalat from ceramics
A holiday in Vietnam in December is most pleasant in the southern regions. What surprises to expect from the weather at the popular resorts under the New year?
✓ Ho Chi Minh or Saigon (common) – point the beginning or end of many journeys in Vietnam. Don't go here for beaches that are losing heavily on the general background. But here good shopping and lots of colorful places for walking. Average air temperature in December + 31 ° С
✓ MUI ne and located 20 km Phan Thiet – have a similar climate. Thermometer bar in December does not fall below + 30 ° С. However, on the surface of the sea restless. Entertainment will have to select the appropriate: surfing, windsurfing. People with a non-extreme temperament better to sunbathe by the pool?
✓ Phu Quoc – the beginning of winter on the island begins high season. It's hot, + 30 ° С, but there is no stuffiness, which in May is quite annoying tourists. Water + 29 ° С, no waves
✓ Nha Trang – in December is unlikely to please the clear sky and docile sea. At the beginning of the month, it rains by January it becomes drier, but storms still happen. But the prices are much lower! So doubt away – in the main beach town of the country and on shore do not get bored. Temperature condition: + 25 ° С
✓ Vung Tau – the oil center of Vietnam, near from Ho Chi Minh City. It's hot here, too, dry. The sea is most often at this time of year. with a wave of muddy water
The rest of Vietnam is cold in December for a beach holiday. In the central regions, the daytime temperature is about + 24 ° С, at night + 20 ° С. It is fresher in the north: up to + 12 ° С.
| | |
| --- | --- |
| | Season in Vietnam: Where and when to go? >> |
Vietnam Water Temperature in December
Sea and beach in Nha Trang
Sea in Vietnam is cupable in December along the entire southern coast. Is that fresh in Nha Trang: + 25 ° C. In Fukuoka, where warmer in total, the water temperature is + 29 ° C. In the center about + 24 ° С. In the north not above + 21 ° С.
Sea temperature is not the only indicator opportunities to swim near the Vietnamese coast. Many tourists are discouraged by the fact that despite the warmth, do not enter the water – the waves. The most calm, from this point of view, is considered the coast. Fukuoka.
Air temperature in Vietnam in December
The worst weather in Vietnam in December is + 18 ° С. And then in the north, and that is not always. This is where the concept of cold is very far from Russian! A center at this time of year may be flooded, but even if suddenly you have to swim from the hotel to the restaurant, hypothermia does not come: + 25 ° C outside.
The hottest air temperature in Vietnam in December is in the south: + 31 ° C.
Where better to go in Vietnam in December? Resorts Rating
View from the Ferris Wheel Park Winperl
Which resort is better to go – it is definitely difficult to say. Different trip objectives affect location. Our rating answers request a beach holiday. Where is warmer in Vietnam in December, no storms, but there is where to go have fun:
Phu Quoc Island Hot, but not sultry weather, clear sea, excellent cuisine (for lovers of the gifts of the ocean). Still here is cheap and interesting diving, designed for all categories of divers: from beginners to experienced athletes. The only "but" for Russian tourists is difficult to access: direct flights to the island There is no Moscow or from other domestic cities – only charters in composition of the tour. But the package offers are also quite small (and those what is, dear: from 92,000 rubles a week for two in 3 * without power)
Mui Ne Tourist village may seem boring lovers of vibrant nightlife. But then they go there: hang on the beach, poitit. Catch a special silence, which is not in large cities. In the morning the sea is calm, in the evening rises wave
Phan Thiet In travel agencies, the town is recommended as ideal. family option. But the opinion is ambiguous. 100% fit if you are family of kiters, but for those who want to relax with children preschool age may be a little uncomfortable
Many beaches in Müyne-Phan Thiet are "occupied" by schools. windsurfing. In December, they have high season. Parachute novices, "armed" with sharp-edged boards, unable to cope with equipment, fly on peaceful tourists, which is fraught with injuries for the latter. To protect yourself, it is better to go sunbathing in area of beaches near the Blue Ocean Resort and Saigon Mui Ne. There calmer
Nha Trang. Despite the fact that there is still a wet season, the temperature and air and the sea allow you to swim (although, of course, on amateur: at + 25 ° C, not everyone will get into the water). Find yourself a lesson in Absolutely inclement weather is also not such a problem. Nha Trang – a full-fledged city with all the ensuing consequences: a cafe, attractions, shopping. Well, no one canceled discounts?
Nha Trang and Phan Thiet
Boats in the amusement park Vinpearl – Goddess made from colors
Both cities are popular with Russian tourists. Here can be explained in Russian in almost any public place, presented hotels of different levels, relatively developed infrastructure (by Vietnamese standards). And yet where is better in Vietnam in December: Nha Trang or Phan Thiet? For clarity, we compared the resorts on several criteria.
Weather

About rains in Nyanchag has already been said. Plus, nice for walks, but not for beach temperature. And the storm. Waves up to 2-3 meters are not every day, but guarantees that these will not happen in your vacation – none!

Phan Thiet is warmer, sunny, the sea is calmer. Best rest, if you want to sunbathe-swim – here.

Cultural program

Where to go to plunge into the rhythm of an Asian city? To roam through the streets, go to a cheap but insanely delicious cafes, ride on a moped, throwing out of my head all the knowledge of the rules of the road. Nha Trang – atmospheric, authentic, Asian. Despite the fact that Vietnamese are Russian-speaking here, and the chances of being in the company compatriots almost 100%.

Phan Thiet is quieter, smaller and more touristy. Due to the large number Kiters here special tusovochny spirit. But according to the parameters of interest places to visit it loses to Nha Trang.

Cost of

Where better to relax in Vietnam in December from a financial point view?

Here the palm leaves Nha Trang. The season "wet" The reputation of the resort at this time of year. Prices for tours are cheaper than in Phan Thiet, for 3-5 thousand rubles (67000 vs 75500 – week for two).
Искать туры >>
Prices for holidays in Vietnam
Fruits cheap in Vietnam
Prices in Vietnam in December for most items delight. The most expensive part of the holiday – flight ticket to Vietnam. Search for profitable We recommend flights on:
It is better to subscribe. Or check the options manually in daily mode. The average cost in December is 42,000 rubles. per person round-trip from Moscow to Ho Chi Minh. In Nha Trang – 44,500 rubles. Although on separate dates you can find tickets for 30 thousand and even slightly lower. Phu Quoc – 54,000 rubles.
It is logical that it is cheaper to fly to Vietnam in early December at least 10 thousand.
Inexpensive to eat on any resort. Local cuisine is the most affordable: about 150 rubles for lunch from the first to the second. European – more expensive: in the region of 1500 rubles for two for dinner with alcohol in a restaurant. The cheapest fruits, vegetables and seafood (and the best in quality) – on markets.
Rent a moped – about $ 5 per day.
According to the rules of the road, driving a scooter Vietnam can only driver with international category rights A. In practice, the rules of the road are not observed here. Employees of the local traffic police when checking need to pay a "fine". After a little bargaining, it will be about 500,000 dong (∼1400 rubles).
| | |
| --- | --- |
| | December: Where else to go on New Year's Eve? >> |
Prices for tours to Vietnam in December (New Year)
New Year's travel – rather expensive pleasure, outside depending on the direction. Tours to Vietnam at the end of December going up almost 2 times. Including December 31 – January 1:
➢ Nha Trang: price for rest from 127000 rubles for 14 days at 2 * for two
➢ Phan Thiet and Muine: from 113,000 rubles, also 2-3 stars, 2 weeks double occupancy
➢ Phu Quoc: tour price from 144,000 rubles
Two-week all-inclusive trips to Vietnam in December with the seizure of New Year's Eve begins with a mark of 200,000 rubles (Muine).
Узнать цены на ваши даты >>
New Year in Vietnam 2019
New Year in Vietnam can develop in two scenarios:
Holiday at the hotel
Independent cultural (or not very cultural?) program
In tourist places, like Mui Ne and Fukuoka, better trust the hotel and light together with the neighbors. Tables most often set right on the beach. A Christmas tree can also be dressed up here. AT Obligations include national songs and dances. Champagne, Sea surf attached.
In Nha Trang it is good to go to a party, according to interests. There are no city celebrations, no salutes. Dvizhuha will be:
✓ Restaurant-club Sailing Club – in 2018 the entrance was 300,000 Dong 850 rubles (the figure is unlikely to change much in 2019). One free drink included
✓ Louisiane Brewhouse Pool Bar – price for the last year: 980000 dong ∼ 2800 rubles. 3-course dinner and a glass the blame
✓ Crazy Kim Bar – youth party, cocktails, beer. Restaurant-bar-nightclub. Concurrently English school. Really crazy! For the entrance to the New Year will need to pay in around 500,000 Dong ∼ 1400 rubles
Vietnam sights – what to do in December?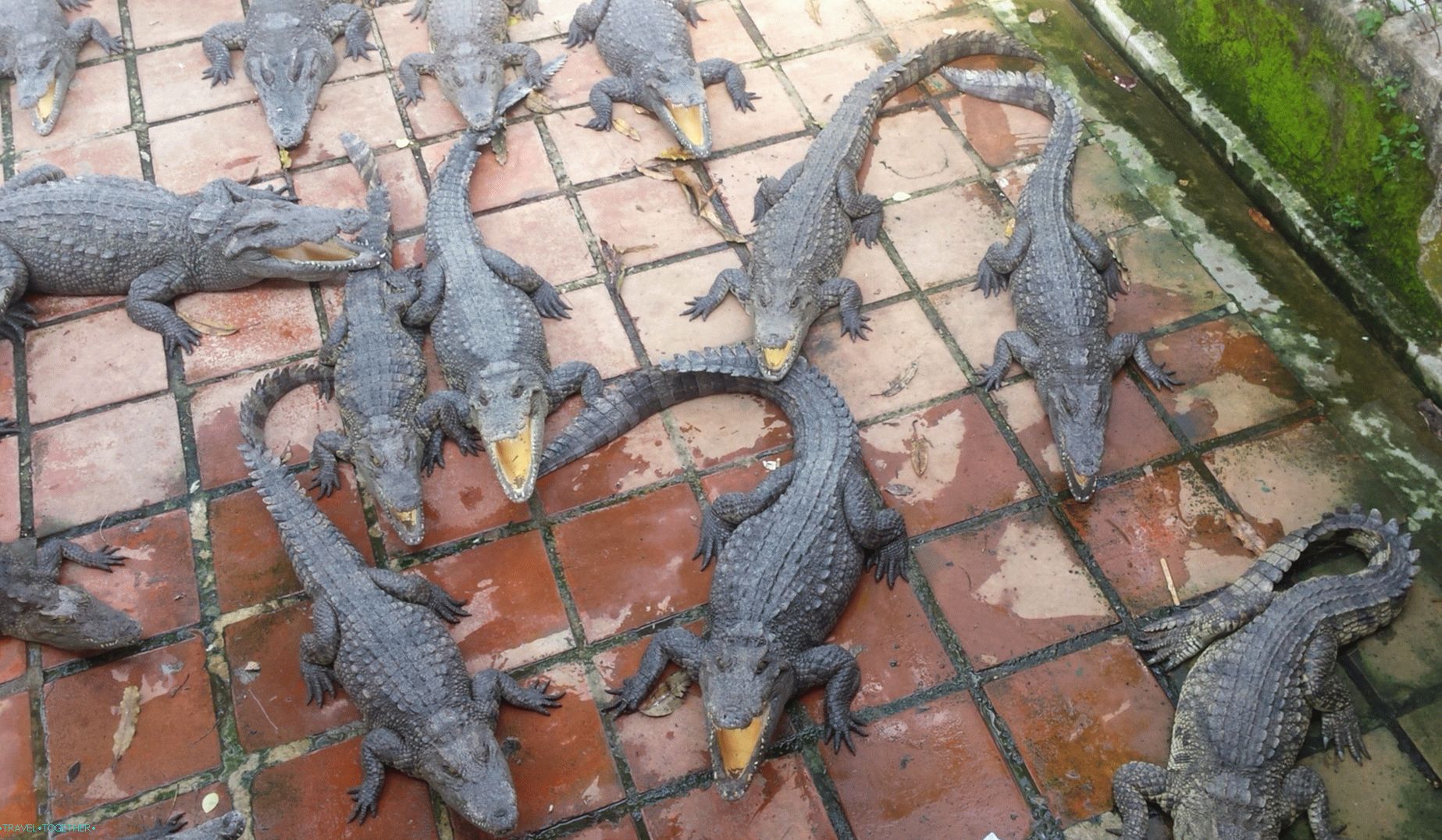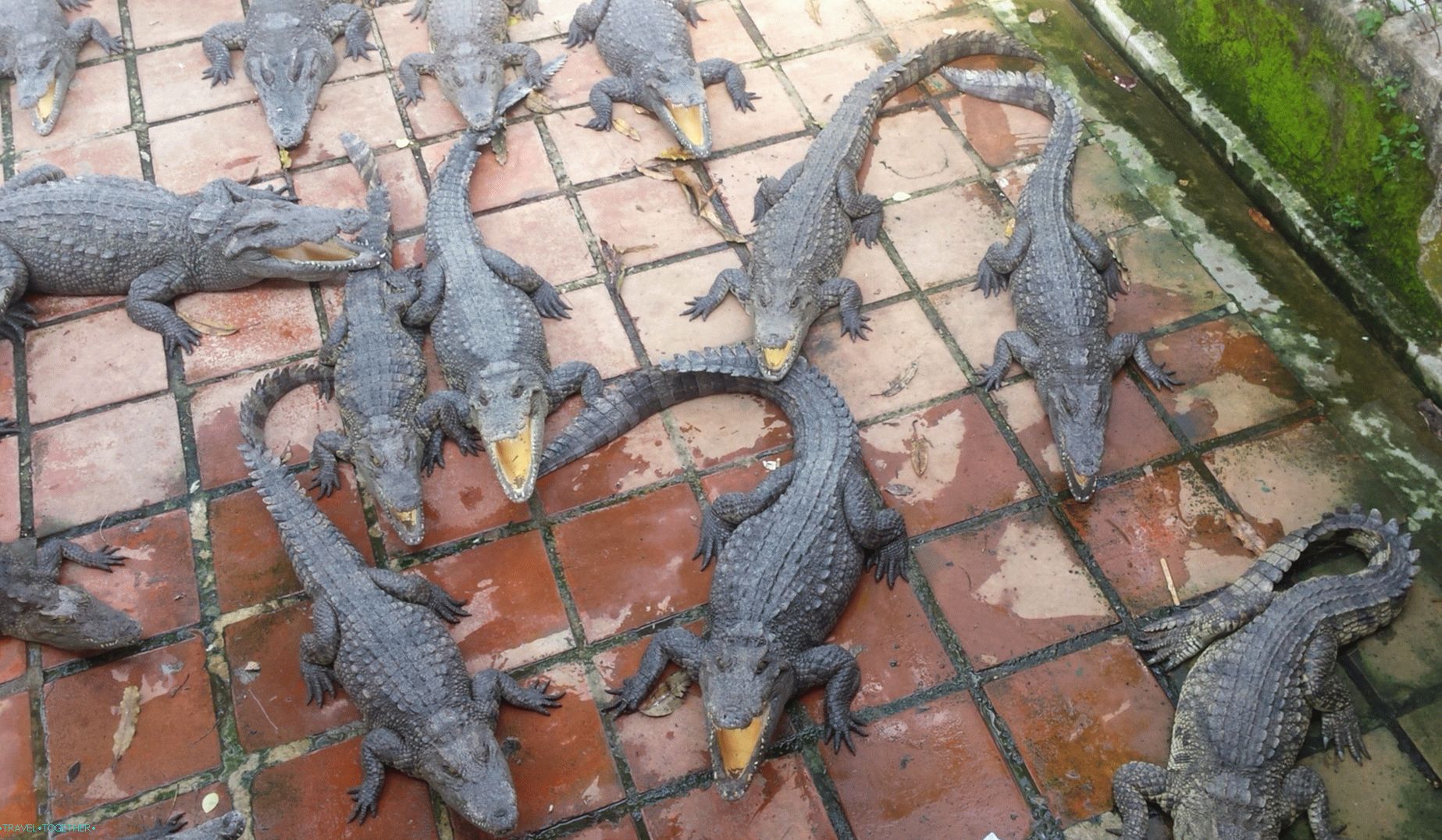 Want to see little crocodiles?
If in terms of beach holiday December weather narrows the list places, the choice of what to see in Vietnam in winter is quite varied.
➢ Phong Nha Ke Bang (Phongnya Kebang) National Park. A unique natural place – not without reason is UNESCO included in the list World Heritage sites. Underground caves (one of which – Han San Dung – the largest in the world), underground galleries, underground lakes and rivers (one of which is the longest). Who dreamed to be in the gnome kingdom? You here

Entrance to the park 30000 dong (∼85 rubles). Excursions to the caves are paid separately (from 770000 Dong for the cave ∼ 2200 rubles). Located in the province of Quangbin the one that separates the center from the north of Vietnam
➢ Another natural must-visit is in the north of the country: Halong Bay. Islands from Avatar, caves. In the summer included swimming in emerald sea. Can I swim in December? No for that cool, about + 20 ° С. The cost of excursions varies from $ 15 to $ 250 (two days)
➢ In addition to the miraculous, there are very interesting places in Vietnam, created by humans. Guest House Hang Nga (Crazy House). goodbye reality, long live full sur! A house that is completely different on house. To spend the night in the company of giant mushrooms will cost at least at 4300 rubles for two. Located in Dalat (and no rain under the roof is not terrible!)
➢ Cu Chi Tunnels – a reminder of the times of American repression. They dug them almost by hand, the length of almost 200 km. Cost of visits: $ 5. Located in Ho Chi Minh City
Part of the tour through the tunnels involves moving around narrow holes, on the surface of your way through a small hole in the ground. Those who have even the slightest hint of claustrophobia better not to go. Funeral thoughts are alive and well shaken nerves!
➢ Khai Dinh Tomb is an ancient place with a corresponding the atmosphere. Price: $ 4. Located near Hue
➢ What to do in Vietnam in December with a child? A park Entertainment Winperl (Vinpearl Land) – located in Nha Trang. Input Full day ticket:
adults – 800 000 dong (∼2300 rubles)
children (up to 1 m 40 cm) – 700000 dong (∼2000 rubles)
baby up to 1 meter – free
The best hotels in Vietnam according to the reviews of tourists
The choice of hotel is a responsible event. We collected reviews tourists visiting Vietnam and here are some real ones for the price but pleasant places to stay:
3 * Ngoc Bich Bungalow – Location: Mui Ne. Hotel for self booking, cost of a night for a double room in December – from $ 55. Breakfast included
3 * Bao Quynh Bungalow – Location: Mui Ne. Cost – from $ 56, with breakfast
3 * Hanoi Golden Hotel – location: Nha Trang. Not a bad option for trips by tour, the price for which – for 10 days for two – from 80 000 rubles
5 * Vinpearl Nha Trang Resort – location: Nha Trang. According to some tourists, the best hotel in Vietnam. Cost: and here about discounts in numbers! In December, from 125,000 rubles for a ticket to two for a week, which is in season, even with early booking, costs from 200,000 rubles!
Vietnam in December – reviews of tourists
Where to rest in Vietnam during the end of November-New Year holidays? A person who has visited the country will ask to clarify: how relax? Reviews about Vietnam in December allow you to come to conclusions:
✓ Which resort to choose for a beach holiday? Phu Quoc
✓ In terms of attractions interesting center of Vietnam. But in December is the weather! .. The reviews of the tourists here are completely consistent with forecasts: rain, rain, storm
✓ Nha Trang will disappoint those who hope to deceive the seasons and swim in the first winter month. Chances are very small
✓ Muine and nearby Phan Thiet is the most optimal. decision by criteria: price-quality-weather
Remember that when you stay in Vietnam longer than 15 days is needed visa. You can get it in Russia or upon arrival.