Beach vacation in October is the nominal name of the holiday since the times of our grandmothers. The combination "velvet season" caresses the ear, protects the budget and makes it easier to see the countries from the inside, not stumbling over other tourists.
Content
Rest without a visa
Top 5 low-cost destinations
Turkey | Tunisia | Spain | Greece | Cyprus
Where else can you relax?
Israel | UAE | Thailand | Vietnam | Russia
Vacation with children
Weather in resorts
Resort map
Where can I go to sea without a visa?
Planning where to go to the sea in October without a visa, first turn, determine the budget and duration of rest, for locations weight.
Distant directions where it's hot all year round:
Thailand
Vietnam
Maldives
Dominicana
Close recreation options without a visa, where warm all month:
Turkey
Tunisia
Cyprus (electronic)
UAE
Israel
Until mid-October you can swim: in Sochi (Adler), plus visa Greece (Crete and Rhodes) and Spain (Costa Blanca and Mallorca).
Where to look for tours?
If September is the preparation for closing the season, and the benefits visible mainly in the weather, then October is the last meeting beach resorts and tourists before the new season. So, the most low prices for holidays and not yet cooled sea are looking for in October.
And where, in fact, look? On the online aggregators! First of all, convenient, and secondly, their search method for all tour operators is not immediately miss any burning tour or special offer:
Onlinetours
Level.Travel
Travelata
Drive in the necessary dates, study the minimum prices and with the help Filter customize options for your wishes.
Where is an inexpensive beach holiday in October?
Reviews on where to rest in the fall abroad, never do without countries such as Turkey, Tunisia, Cyprus, Greece and Spain. After all, this is 1) not far; 2) inexpensive; 3) a large number tours and charters.
If you have no idea where to go in October 2019 at sea, choose from the proposed – get a swim (but at certain resorts, so read on ↓).
Turkey
You can make an early booking, but you can wait for "flaming" trips to Turkey, they will definitely be, as well as to Greece. Compare what's better?
October holidays abroad at all inclusive is still good in Turkey Less people, more food and lounges; the sun does not burn, but warms; Excursions – cheap and stressless. Minus, judging by the reviews – early sunset, from 18:00 promise darkness.
Beach holidays in October, we recommend to spend on the coast Mediterranean (in the Aegean is already "winter"). Even at the end of October water temperature is kept at + 24 ° C. In the air – from + 22 ° C to + 26 ° C. The weather is wonderful, but it is worth remembering that in the second half intermittent rain is possible.
Where is the best? Sandy beaches with a gentle entrance – in Alanya and Side. Kemer – pebble, but very green and mountainous. Antalya – resort city for noisy companies; Belek – the concentration of expensive and quality hotels.
Prices for holidays in Turkey in October 2019 for all inclusive – from 35 000 rubles for two for a week (departure from Moscow).
Найти тур >>
Tunisia
Where to go to the sea in October without a visa and cheap? Tunisia is in case Turkey is fed up, but it needs some hot water and "all inclusive". But still have to take a more modest Buffet.
Tunisia in October wins all Mediterranean countries for account location in Africa. The average temperature of the sea and air on throughout the month – around + 25 ° C. Rains are rare but after the 20s numbers can storm. Comfortable for the weather – on the island of Djerba, and cheaper – in Sousse and Monastir; in Mahdia and Hammamet – perfect beaches.
Rest on the sand in Tunisia is good, but even cooler – to travel on historical and natural sights that summer impossible because of the scorching heat. And do not think to come from there without visiting Sahara: October is the most suitable month for a trip to the desert (with indecently reduced price tag).
Trips to Tunisia in October for all inclusive cost from 50 000 rubles for two for 7 days.
Найти тур >>
Greece
Our trip to Rhodes (by reference – all the most useful)
Multi-holiday in Greece in October to prices for any taste, and entertainment, and beaches – in Crete and Rhodes. Ideally Complete the holidays by the middle of the month, otherwise you can get wet.
In early October, the water temperature in the region of + 23 ° C, swim will go; on the street the sun warms to + 25 ° C. Rains happen under end.
Both islands are a storehouse of Greek history and soul, on each kilometer hiding landmark. Therefore, a beach holiday in October in Greece must be combined with the inspection of the territory – car is the best option here (book in advance on Myrentacar). Although the prices of excursions are reduced to the limit, not everywhere typed people.
Crete has a wider choice of resorts: Malia and Chersonissos romantic Chania and Rethymnon, cozy and homely Agia Nikolaos and Bali – especially in the off-season, when already soulful locals are not busy with tourists? On Rhodes, give preference to the eastern the coast – Faliraki, Lindos, the city of Rhodes itself.
In Greece, in October, an inexpensive beach holiday – from 40,000 rubles for 7-day vouchers for two people.
Найти тур >>
Cyprus
Where to go in October 2019 to the sea, so that without weather surprises? Ours are in Cyprus. They love this island for the opportunity to fly without a visa abroad (issued in 1-2 days). At the same time you get European service, clean beaches and excellent climate.
Water in the sea is warmer than in Spain or Greece – all + 25 ° C, and here it burns 330 days a year (in October, the air temperature is + 27 ° C). Locals claim to bathe until December! The rains begin with mid-November: in the fall, at sea and on land, the weather is comfortable.
Resorts for vacation: Ayia Napa, Protaras, Limassol (classic beach), Paphos (look for the wide Coral Bay beach, which is in season occupied by tourists), Polis (wooded national parks).
Prices for holidays in Cyprus – from 42 000 rubles for two for 7 nights. All inclusive – from 75,000 (departure from Moscow).
Найти тур >>
Spain
Ice cream in Barcelona and we, if you look at the photo on right ?
Holidays at sea in Europe have a place to be, especially in October and especially budget. One of the most affordable options is the coast. Catalonia Profitable charters fly to Barcelona (as you 8000 round-trip ticket?), and the Spanish visa is the most acceptable from the whole Schengen family for 2019.
But! The concept of "warm sea", whatever one may say, applies to the peak tourist season – in the summer. In the midst of autumn, the water temperature is around + 23 ° C, the air sometimes heats up to + 26 ° C – and all this is only about the resorts of the Costa Blanca (Alicante and Benidorm) and Majorca. At the beginning October is less windy and rainy (compared to Costa Brava and Costa Dorada).
To the question where it is better to rest, if the plans for the whole month: Tenerife, Gran Canaria, Fuerteventura – in a word, the Canary Islands. Awesome nature, and + 24 ° C for bathing sounds more pleasant.
Spain in October for a week – from 55 000 rubles for 2 person. Beach holidays on the islands – from 60 000.
Найти тур >>
Although we used to fly to Spain – to Barcelona – on their own. And at the junction of the seasons, for example, in May or October, when everything is cheaper. Here are our articles to help organize journey:

About the best search engines tickets
Pro Airbnb service, where you can rent an apartment in any country
Lloret de mar
My 7 day trip to Lloret de Mar
Before resenting – and why is it here about Lloret de Mar, if Costa Brava season? – just read what tours in October are at a resort can be caught for 20,000 rubles FOR TWO (if you wait until last). Yes, with a visa, but with it the costs are small.
Life is not dying out yet, but there is already no turmoil, there are picturesque coves and comfortable wide beaches. Where, as reviews say, bathe, but "walruses". Don't hang out and swim? Then – Barcelona is an hour away. bus ride. If you are light on the rise (and there is a visa), be sure to bring Lloret to spontaneous vacation plans for 2019!
Как я ездил at Ллорет >>
Where else to rest in October at sea?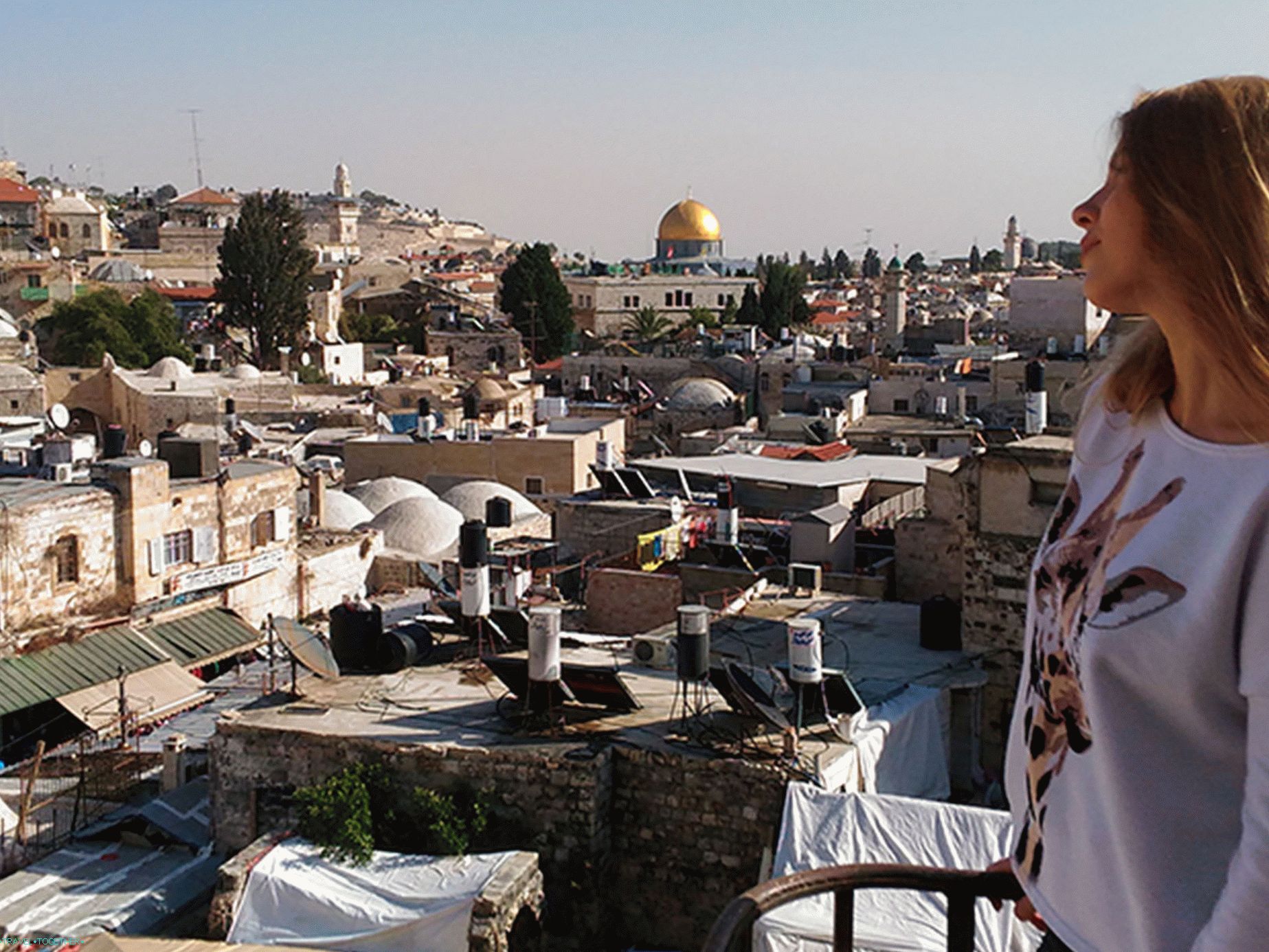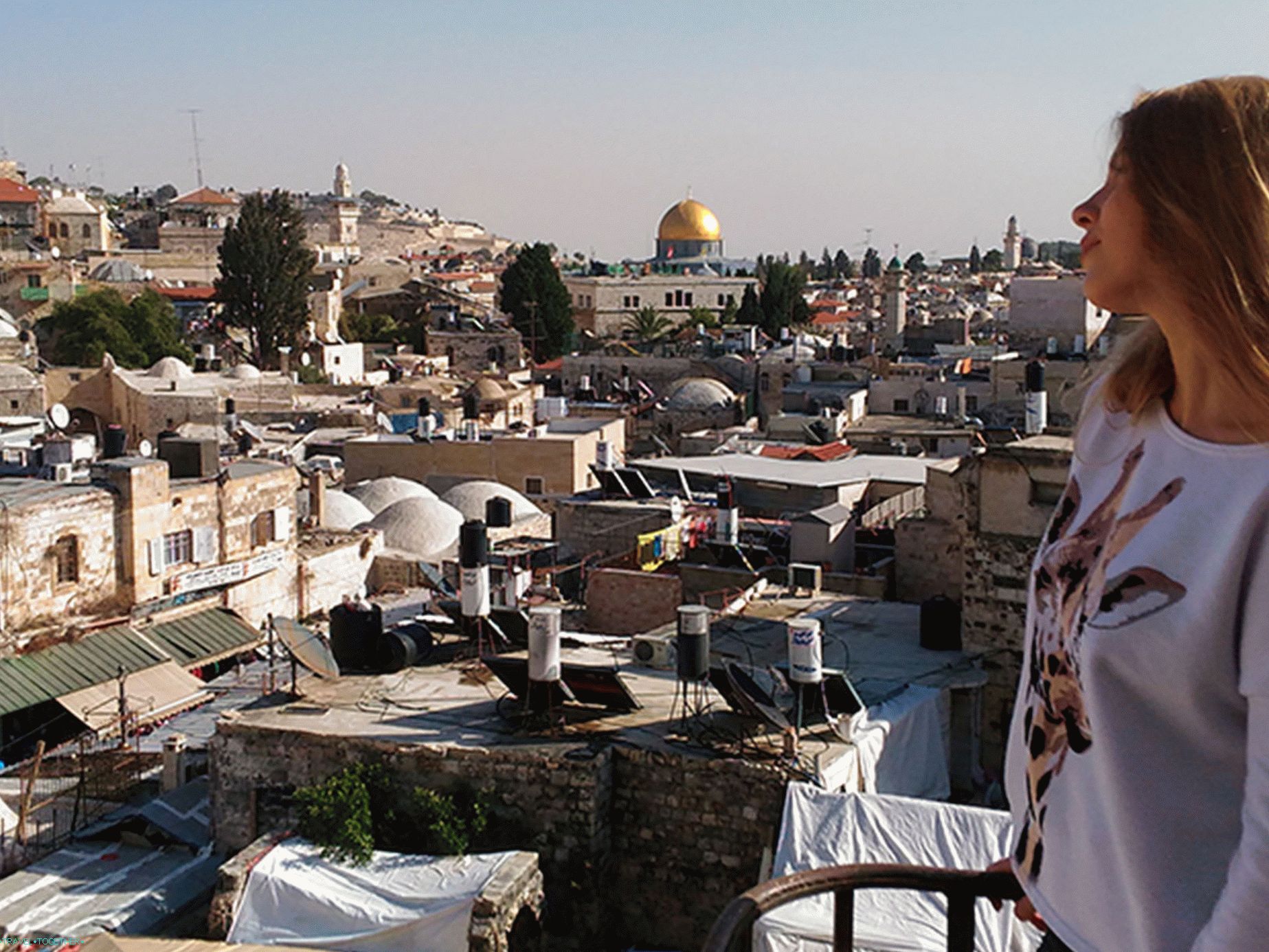 Jerusalem, view of the Dome of the Rock
About cheap in October, we finished, but the options for travel to the sun is still there. The fish, as they say, are looking for where it's deeper, where is better – in reviews of popular countries for a beach holiday New directions are constantly marked.
Catch a brief (as they could) cheat sheet for additional resorts, where it is not just possible, but you need to swim in the sea in October – it straight fresh milk!
Israel
| | |
| --- | --- |
| | In the 2019th of October in Israel will be issued well, very festive. First, from the evening of October 8 until the evening of the 9th, the Day of Judgment passes: everything is closed, and even the airport. Secondly, from 13 to 20 October local celebrate Sukkot – build in their yard / by the road / anywhere huts and periodically spend time there. Talk, eat, sleep – all in memory of the wandering of the Jews. |
Israel guarantees a beach holiday in October – enough season broke out. The only thing you can think about is the price. Permits not the cheapest but acceptable (more on that below). Flights (if in the first place is an excursion, it is easier to drive independently track in advance – sales are not small.
The average temperature on the Mediterranean coast – + 27 ° C, water temperature – + 26 ° C. In Tel Aviv, tourists are not particularly decreases (+ we, 4 tourists, arriving in the middle of the month :)), for a quiet holiday on the sea, consider the nearest resorts – Ashkelon or Ashdod. The beaches are equipped, it is possible and with children; developed transport the system – all of the Israeli treasures of UNESCO in access.
An interesting option – the area of Jerusalem, quietly visit Bethlehem and sunbathe on the Dead Sea (it is in Israel in October is a good everywhere, and here + 30 ° C) – improve both the soul and the body. Besides the weather in the depths of Israel allows you to enjoy walks.
We did go to Israel in October. Bought in Tel Aviv (it was hot), we lived in Jerusalem (and it's cooler here), we looked Bethlehem and the Dead Sea.

Airline search on Aviasales – cost 11,000 rubles round-trip per person from Moscow; accommodation booked on Airbnb – for a cozy apartment in TA and Jerusalem for 7000 rubles / night four. In Israel, cool!
Eilat in October
For a traditional beach holiday in Israel – in Eilat. People too a lot, but the sea (which is Red) is beautiful and diverse underwater world! The beaches here are often pebbly, under water – sand.
Plus Eilat is that it is located on the sea, which, in contrast from the Mediterranean, calmly like a boaden – you can swim and dive and floundering in the water, not nailed by a huge wave to the shore.
Prices for tours to Israel in October (in Eilat) – from 85,000 rubles for two for 7 nights.
Найти тур >>
UAE
Our trip to Dubai (the link – a bunch of goodies)
Another country where you can go in the fall for the summer weather – United Arab Emirates. For ridiculous terms, she turned herself from the desert to precious sparkling resort, arts center and the most daring incarnations of human thought.
Desert snowboarding, the world's largest theme park attractions and aquarium, ski complex, its own Louvre, mountains and a rare variety of honey, and the hotels here are like separate states: they have everything, and each is unique.
Any emirate at the end of October will be even more enjoyable. weather: air temperature drops to + 33 ° C, and water to + 31 ° C. The greenest "beach" Emirates – Ras al-Khaimah, Fujairah and Sharjah. Reviews agree that Fujairah is cooler, and for the UAE – this is a plus.
Sea vacation in October in the UAE will be at least 60 000 rubles (tour for 7 days for two).
Найти тур >>
Thailand
Provinces Krabi is the most beautiful place in Thailand, in our opinion
In Asia, everyone is accustomed to fly in the winter, unreasonably referring to rain season. Remember: watering from May to November, respectively October is gradually declining.
Attempts to swim in October will be crowned with varying success on Phuket, Krabi and Pattaya. Variable success means before lunch maybe heat, then for an hour or two it will charge a tropical downpour, and then again the sun. The water after this weather drop is cloudy, and there may be jellyfish, but it is really warm – + 29 ° C. Average air temperature is also + 29 ° C.
In general, if you really need a holiday in Thailand in October, as they say, there is no time to explain – look at the prices and fly! Nothing bad will happen, it will just be periods wet and unusual from the lack of tourists.
The cost of tours to Tai – from 70 000 rubles for 10 days by the sea on two.
Найти тур >>
Vietnam
Much better to do with a trip to Vietnam in October – however, guess with a part of the country will still have to. In the south it is advised: Phu Quoc Island (authentic, picturesque and still wild), Fanrang (very quiet place – for lovers of holidays in the pose of a star on the beach), Mui Ne (more active and cheerful).
The advantages of these areas are quieter than in Tae; the sea is the same + 29 ° C. Try to choose a time closer to the end of the month and not look north in spite of vacation reviews: in October the weather may be warm, but typhoons are unexpected and preferring to move from the Philippines to the north of the country.
A 10-day trip to Vietnam at this time of the year costs from 90,000 rubles for two.
Найти тур >>
Crimea, Sochi, Anapa
Black Sea and the rise of Rose Farm
Russian companies can also compete with visa-free countries. locations If in the summer period it is more profitable to fly abroad, then in the fall no less interesting travel to our resorts.
In Sochi and Adler, water until October 15 is still up to + 21 ° C … + 23 ° C; вthe end drops to + 17 ° C. On the street + 20 ° C, and walking, in general, nice. Boxwood groves, tea plantations, gorges, modern parks and Olympic facilities, promenades with yachts. Sochi – picturesque subtropical value in Russia.
Look for species of the South European coast in the Crimea: wild atmospheric villages, canyons, historical monuments, sandy beaches of Azov seas and pebbled black. In the Crimea in October, the sea is not profitable: + 18 ° C … + 20 ° C. Yalta and Feodosia districts according to the weather most comfortable.
Another resort where you can go cheaply without leaving Russia – Anapa. The main difference from the first two characters – long sandy beaches. But, alas, this is clearly not the place where the beach October vacation will be a top priority. Sea temperature, in average, + 16 ° C.
Rounds on the Russian coast begin from 30 000 rubles in a week in October for two.
Найти тур >>
Holidays with children in October – where can I go?
The whole family is not always able to climb into the October Sea freshness – so write down where to go on holiday with children in October 2019th.
В Tunisia е — это Хаммамет и Махдия найти тур >>
В Турции — Сиде и Алания найти тур >>
В Израиле — Эйлат найти тур >>
And in the UAE – Sharjah, Fujairah and Ras Al Khaimah (but you don't care выберете Дубай:) ) найти тур >>
By the way, one more non-proprietary country on the sea, where you can go in October for a family vacation – Albania. In 2019 she Approved vacation without a visa until October 31. The beaches are clean, quiet, open space sand and heated to + 22 ° C sea. Вот авиабилеты >> и отели>>
As for Cyprus, this is one of the best holiday destinations. с ребенком на море (в Айя-Напе и Протарасе) найти тур >>
With a good budget – exotic Mauritius. Island where better rest in October – this time reminds spring, everything it smells sweet, but there is no strong heat. Ocean temperature + 23 ° C … + 25 ° C найти тур >>
| | |
| --- | --- |
| | All seasons: Where to go to sea with a child in 2019? >> |
Weather in popular resorts in October
| | | |
| --- | --- | --- |
| | Average air temperature during the day, ° С | Average water temperature, ° С |
| Turkey | + 24 … + 26 | +26 |
| Тунис | + 24 … + 26 | +25 |
| Greece | + 20 … + 23 | +22 |
| Cyprus | + 24 … + 26 | +26 |
| Montenegro | + 20 … + 23 | +21 |
| Spain (Mallorca) | + 20 … + 23 | +23 |
| Italy (Sicily) | + 20 … + 23 | +22 |
| Krasnodar region | + 20 … + 23 | +21 |
| UAE | + 32 … + 35 | +30 |
| Israel (Mediterranean) | + 25 … + 28 | +27 |
| Jordan | + 25 … + 28 | +26 |
| Egypt | + 26 … + 29 | +28 |
| Thailand | +30 | +29 |
| Vietnam | +30 | +29 |
| Indonesia (Bali) | +30 | +28 |
Map of resorts in October