Initially, the goal was to get to Victoria Peak, but before I wanted to look at the world's longest escalator, he's there next is completely, in the sense in the same direction as the top. Length 800 meters! It is listed in the Guinness Book of Records, which in general is not is amazing. I can not say that the spectacle is very exciting, but if you are close, I recommend to go, you can combine with visiting something, for example, with the same peak.
The content of the article
1 Longest escalator in the world
2 Escalator hours
3 On the map
The longest escalator in the world
Street escalator (Central-Mid-Levels Escalator), as I have said not quite a sight, but I personally liked it. It's great, you go around, you look around, life is boiling around, people they are in a hurry to work and on business, tourists idly walk in the windows filipinki dishes washed. An exciting process, I tell you, to go up through the city and consider everything, stopping only to take a photo and go to another level of the escalator. He is not entirely 800 meters, and the total in parts is considered, there are about 20 sections. A great way to peek into the back streets, patios, in real life.
If not rush the action can be stretched by stopping have breakfast in some cafe, of which abound along the way. But you can quickly climb, pofotkat and back, the rise will take only 20 minutes True, you will have to go back on foot, but more on that below. in the information block.

Street Escalator Central – Mid-Levels Escalator

Street escalator without steps

Parallel to the escalator is a street in the form of a staircase.

Parallel to the escalator is a street in the form of a staircase.

We go and see what is happening around

Around ordinary life flows

Belishko is dried, ordinary people live here

Great place to store toys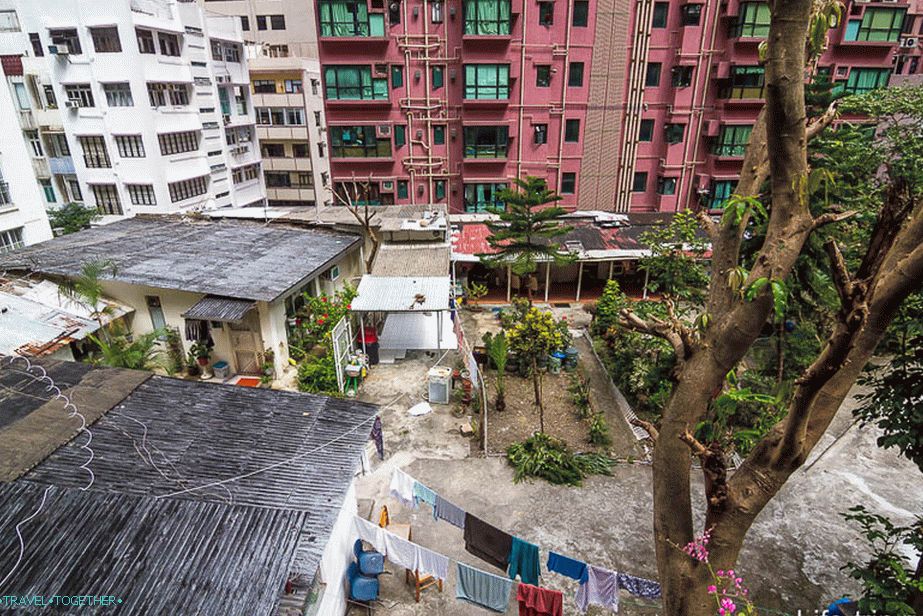 The courtyard is like in a village

The usual European-Chinese porch

Typical Hong Kong Candle

How to pick

The bouquet grows right under the window

Here it is a craving for life!

Island of rest

On the way, you can taste egg pies

The transition between the levels of the escalator, and old and young

Container for old clothes, oh, how can it be in Moscow enough
In one of the horizontal transitions installed terminal, where you can get free 2 Hong Kong dollars as a gift on the card Oktopus, a trifle, but nice. Apparently another incentive to use an escalator Since I was there once, I don't know for sure, but I assume that you can get this bonus only once a day.

Terminal – as a gift 2 HKD on Oktopus
When you find yourself at the top, you can continue the path and walk to Victoria Peak (how to get there), somewhere else 30 minutes to go. At first a little through the city, and then along Old Peak Road through the forest. Get lost difficult, especially if there is a GPS in the smartphone, but the road is all the time up.
Escalator working time
The working time of the escalator is every day from 6 am to 10.30 am on descent, then from 10.30 to 12 at night on the rise. Escalator is free. This time of work was not chosen by chance, it was done in order to people used it to deliver their bodies to the office instead car. Good solution to eliminate traffic jams, not true whether?
Thus, if you are going to climb it, then you need to appear there not earlier than 10.30 in the morning.
On the map
Getting to the escalator is pretty easy. It is near from metro Central or Hongkong. Here is a map for you to understand. Since it consists of sections, you can almost get to it every street he crosses has an approximate beginning where the point is, but in general the transition (second level) begins straight near Honkong metro in one of the malls, just this piece horizontal.
Life hacking 1 – how to buy a good insurance
Choosing insurance is now unrealistically difficult, therefore, to help everyone travelers, I make a rating. To do this, constantly monitor forums, I study insurance contracts and use insurance by myself.
Insurance Rating
Life hacking 2 – how to find a hotel 20% cheaper
First, choose a hotel on Booking. They have a good base offers, but the prices are NOT the best! The same hotel is often possible find 20% cheaper in other systems through the RoomGuru service.
Discount hotels