I continue to write about Hong Kong and about my impressions, of which It turned out quite a lot for four days of stay. AND, if in the first article about skyscraper Hong Kong, I wrote about two its main features that struck me on the first day, then in this post will be all his other features that I have noticed and not less interesting.
The content of the article
1 The whole city under the concrete shell
2 Almost nothing is possible, but as clean
3 Dominance of taxis and buses
4 solid shopping
5 Comfortable climate
6 Chinese food
7 A bit of price last for budget travelers.
The whole city under the concrete shell
What is difficult to get used to is that all rolled into concrete, and there are almost no islands of land in the city. Yes trees and parks are found, and very pleasant (and even in Kowloon Park free wifi is there), but there is also a feeling that this is all through concrete has sprouted. And when I walked around the Big Buddha and Peak Victoria, it was clear that the slopes were subjected to artificial petrification. It is clear that this is most likely done for security, but I want to exclaim that to this armored shell still glass dome is not enough


Slopes in concrete walls

Small recreation area in the city center

Big trees hang over Nathan Road

Butterflies fly in the city instead of flies

Nan Lin Garden – a beautiful oasis of concrete

Hong Kong may be so

Tree on a pedestal

Big Buddha on Lantau Island

Hong Kong from Cape Victoria
Almost nothing is possible, but how clean
There are also a lot of bans and fines in Hong Kong (I don't know just whether they charge them) and apparently that's why it's so clean. And what not may not be happy, so it is widespread smoking bans in public places, despite the fact that there are special places on the streets urns for smoking, where a bunch of smokers. True some prohibitions may not be pleasant at all – you cannot ride in the park on which, or lie on the bench.

A penalty warning sign for smoking hangs in each an elevator

In Kowloon Park a lot of things you can not

For spitting and trash you can get on fine

Special urns for smoking

Garbage separation is a common thing.

For dogs you need to clean up and rightly so!

Special containers for old clothes
The dominance of taxis and buses
This is amazing, but for most of the country you can drive to metro (hong kong metro map). It connects the mainland and two islands among themselves, which is very convenient. Traffic on the streets is enough dense, and mostly taxis and double-decker buses. But on scooters, a sufficiently small number of people move, rather on bicycles, but only in areas remote from the center. And of course it's not a problem to meet a Porsche or a Bentley.

Hong Kong Island Double Decker Tram

Double-decker buses and taxis

Scooters are quite rare

The dominance of a taxi in Hong Kong

The movement is left-sided, and on each transition there is reminder

In the sleeping areas there are bike paths.

Everywhere in the metro and public places if guides for the blind

In the subway there are ramps for disabled or elevators

Taxi is very much in the city, model – old Toyota

Porsche is found on the street constantly.
Solid shopping
Repeatedly I caught myself thinking that the Nathan Road district reminds me of humpback, only large sizes. On every corner phones and cameras are sold. As I understand it, here in Hong Kong In general, everything is sold, and often, it is here that you need to look for new items, since they first appear here. Since I'm not a shopper at all, and even the "anti-consumer", then I am of all this hype and sparkling Storefronts could not appreciate.
The only thing that bothered me was that the street was calm. can pass through the mall and sometimes have miles reel to get out of the maze of boutiques – I'm a whole hour I was looking for where the ferry terminal in Macau is located. And then that exits from the subway are often right in the depths of the shopping center, I generally keep quiet.

Shopping on Nathan Road – advertising and shopping

Shopping on Nathan Road – advertising and shopping

Dvizhuha in the city

Sneakers are traditionally sold in film

In the shopping center shops in the form of eclairs

Shopping with a dog
Comfortable climate
Despite the environmental problems in the country, it seemed to me that breathe easily enough for the metropolis, especially when you approach closer to the waterfront, everything is blown out. And the climate is paradise in general! AT The month of October was + 25 + 29, in winter it will be about +15, in summer +35. Gorgeous! There are seasons, but always warm. There are also beaches in Hong Kong and you can swim.
Chinese food
Honestly, I was not at all prepared for this matter, as and the rest (everything was decided along the way). Therefore, I do not I found nothing tasty. I don't go to restaurants I wonder what ordinary mortals eat, because I went to local eatery, of which here, as in any other country, slightly, compared with Thailand. Chinese noodles with wrapped in shrimp dough, rice with egg and shrimp, curry rice with vegetables, drinks on the street, different stuff from the supermarket, it's all that was possible to try. Somehow after Thai food, nothing at all. Well, only I liked the shrimps in the dough and seaweed spicy cabbage from the supermarket.
By the way, if the Chinese institution asked how spicy do, it is better to say that quite a bit. I lost my breath and issued a "middle spycy", as a result, he burst into tears while eating and I could not eat my vermeshka.

Various dried stuff – worth taking mango

Traditional Chinese Noodles

Chinese noodles with shrimps wrapped in dough

Chinese units in narrow streets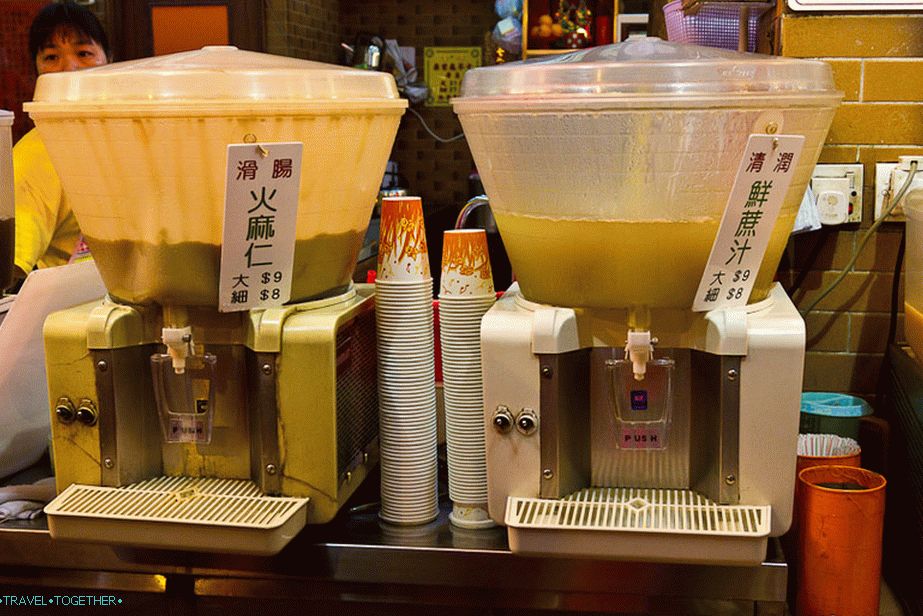 Street drinks

Russian Bortsh – but it doesn't look like Russian borsch

There are very few such street ones and only in certain places

Everyone eats yellow stuff

Supermarkets are just like everybody else in the world.

Some kind of creamy stuff from the supermarket.
A bit of price last for budget travelers
Prices are indicated everywhere not with the abbreviation HKD, but with the $ sign, that the first day confuses a little. Convenient transfer rate in rubles – it is the multiplication of the price in Hong Kong dollars by 4 (with the growth rate in 2015, the ratio is already 7-8).
Average price of accommodation for a double room 400 HKD per day (1600r)
Chinese noodles with fishballs and mushrooms 35 HKD (140r) Rice with egg and shrimp 45 HKD (180r) Dried mango on the street or in Supermarket 20 HKD Cupcakes at 7/11 to 7 HKD (28p) and chocolates 10-20 HKD (40-80r) Coffee in Starbucks 12 HKD (48r) Hot tea 12 HKD (48)
Bus from the airport to Natan Road 33 HKD (132r) Metro 4-16 HKD and more (16-64r) depending on the duration of the trip Ferry Hong Kong-Macau 151 HKD (604r)
Cover for Galaxy S3 70 HKD (280r) Magnetic 35 HKD (140r) Rise to the Big Buddha round-trip on the cable car 125 HKD (500r)

Hong Kong dollars are denoted everywhere as $, which at first scares
In total, I spent around 4600r in 4 days in Hong Kong for everything all and 3400r for housing. I think it is perfectly acceptable for such dear of the country, provided that nothing bothered me in terms of comfort, as well as I visited Big Buddha, on Victoria Peak, on the beach Silverstrand Beach, and walked a few tens of kilometers along Kowloon and the island of Hong Kong. It could have been cheaper, probably, but there was no time for it. The upper limit of spending is generally nothing limited
Life hacking 1 – how to buy a good insurance
Choosing insurance is now unrealistically difficult, therefore, to help everyone travelers, I make a rating. To do this, constantly monitor forums, I study insurance contracts and use insurance by myself.
Insurance Rating
Life hacking 2 – how to find a hotel 20% cheaper
First, choose a hotel on Booking. They have a good base offers, but the prices are NOT the best! The same hotel is often possible find 20% cheaper in other systems through the RoomGuru service.
Discount hotels