Pantip Market is a market in Tong Sale, or rather, a food court in Tong Salé, which is also a local attraction, and the usual place for a snack, and a point a return for the dayboys who are going to talk in the evening, laugh and eat for notional money. On Pantip Market big choice of food, but of course dominated by Asian and European cuisine. It looks the same as any other food market in Thailand – the main building hangar without walls (that is, the roof with stalls on perimeter) with tables in the center of the covered space, and the road to him tightly cluttered with makashnitsami.
The content of the article
1 Pantip Market
2 Information to visit
3 On the map
Pantip Market
A place where a lot of interesting and strange pink people gather tourists and smoked long-livers of Phangan. Very often it is here everyone sets a place to meet, eat and chat at the same time. For an inexperienced person, Pantip Market on Pangan is noisy, bright, smelling and tasty place where you can eat inexpensively, buy cheap and dirty necks, in short – remain with a lot of emotions and impressions. Experienced will say that Pantip Market – The usual Thai food court, except perhaps not spoiled by tourism and bringing to the clouds the prices of simple Thai food, as is usually the case happens to resort areas. Prices are in fact medium hospital – from 30 to 80 baht (this is if you have not laid eyes on seafood).
In addition to the standard Thai edel, mainly market premises there is a vegetarian cafe "Soul Organics" (pictured on the left in the corner) with more than sane price and cooking quality, Italian cafe with pizza and wine, Israeli cafe with falafel, hummus and pitami. The street is full of macabinas with fruit, kebabs, rolls, sandwiches and other snacks.
All food on the market should not inspire fear in you (this is me now for beginners I speak), and the low cost of dishes is not related to quality and freshness of the original products from the word "no way". I will open you secret – 30-50 baht, this is the normal price for Thai street food, and Pantip – the usual place where you can eat at Phangan. These are just tourists, kakoshmarnye price tags from restaurants, getting on Pantip Market they decide that they have died and gone to heaven.

Pantip Market on Phangan


The path lies through the makashnitsy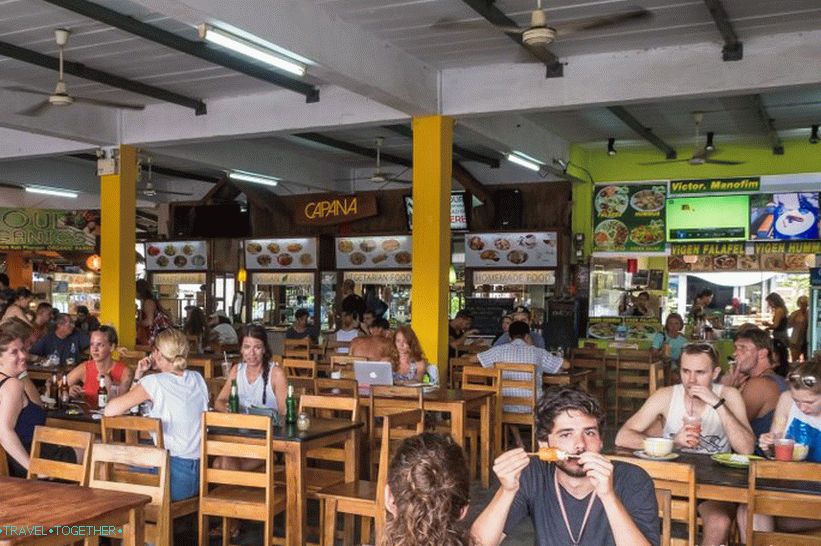 Information to visit
It works from 12 to 22, but in the evening it is better to arrive at eight o'clock, because Thais do not really bother with the schedule and start curl up at nine o'clock.
Parking – on the side of the main street, there is no red and white curbs that prohibit parking. Keep in mind with parking need to be careful, they can fine, there are always police hanging out. Also rights can check if they have a plan to execute.
Thais add monosodium glutamate to almost all dishes (booster taste). Well, this is if you suddenly did not know and this is important to you.
On the map
Life hacking 1 – how to buy a good insurance
Choosing insurance is now unrealistically difficult, therefore, to help everyone travelers, I make a rating. To do this, constantly monitor forums, I study insurance contracts and use insurance by myself.
Insurance Rating
Life hacking 2 – how to find a hotel 20% cheaper
First, choose a hotel on Booking. They have a good base offers, but the prices are NOT the best! The same hotel is often possible find 20% cheaper in other systems through the RoomGuru service.
Discount hotels