Many of us, coming to Thailand one way or another, met with tea – someone accidentally on the market or in a pharmacy, and someone purposefully went to a specialized place. Today we want to tell about One of the shops selling this beautiful drink is called he is "Tea Village".
The store has existed since 2011, and during this period it gained a certain popularity among the Russian-speaking audience. The thing is that this is not a tourist place, do not carry tourists here, but the more it does not advertise tour. companies, as for similar goods people usually carry in "their" places. Points like this guides usually recommend to close or good friends.
Tea in Thailand
Now tea can be found almost everywhere: on the market, in pharmacies and souvenir shops. But there is one thing but one pack is impossible determine neither the quality nor the freshness of the tea leaf, and moreover the appearance and the type of tea. In nature, there are a large number of tea bushes, growing in more than 20 countries and more than 100 variations of processing tea leaf.
Getting to the pharmacy or gift shop, you are introduced to the goods and talk about its healing properties, but few of consultants really have an idea of what sells and advertises. Usually, a person has only basic knowledge of internet or other source. And when in such places presented hundreds or even thousands of different products, the usual a person is simply unable to go into the details of each product, from here both false and unverified information appears, in including tea.
Because of this, a person who wants to buy good tea, there are questions and problems with his choice. Someone is misleading buying varieties that do not grow or produce on the territory Thailand, but sold as Thai. Someone buys "hay" with beautiful famous name, and inside the packaging is completely different type of tea, and you're lucky if it is fresh and you bought it not for large amount.
This is only a small part of the problems that are present in the tea business We did not really touch on the quality, mode of production, freshness, storage, packaging and many other factors about which many pharmacists and sellers in the bazaars do not have representation.
So if you really want to buy a good and quality tea, we recommend that you visit the specialized the store and one of them is Tea Village.
About Tea Village
The team of these guys, headed by a cute Thai girl, for a long time engaged in the sale and production of some varieties. The mission of the team is to "Provide high quality tea for reasonable money. "
More than 70 variations of selected teas and healing herbs from Thailand, China, India and Japan. Due to the fact that these people love tea business, their experience, knowledge, social circle allows them have an exclusive collection of this quality product.
You can be sure that buying Da Hong Pao, Te Gun Yin or any other known variety, you get it, and not just name on the package. You do not need to go into the tea itself. subtleties, if there is no desire and time for this, just trust this a team of tea lovers who will do everything for you, and you will remain just enjoy the great taste of real tea.
We have painted everything in detail, and maybe someone will be the feeling that everything is expensive there, so everything is so beautifully painted. But it is not quite like that. Here you will find tea for both 39 baht and 1000, it all depends on your desire, budget and taste. preferences.
How to find Tea Village
The store is located in Pattaya, on the north street next to Tesco Lotus shopping center and in front of the World Jewelry Factory Gems Collection.
Since in Thailand taxi drivers are tight with addresses, you can show this:
เว ลด เจมส (ก อน ถ ง โลต ส พ ทยา เหน อ)
Shop on Pattaya map
Tea shop Tea Village in Pattaya
The map is loading. You are welcome, подождите. Невозможно загрузить карту -please activate javascript! → detailed information
Tea Village Tea Shop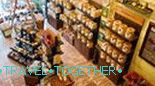 (Calculate route) Tea Village Tea Store in Pattaya 12.950565, 100.892686 Tea Store Tea Village (Calculate route)
For those who are not in Pattaya, you can order goods with delivery on their website http: //tea-village.com in any corner Thailand to your hotel, home or apartment. Delivery in Thailand from 400 There is no free tea, there is no minimum amount and weight of the order.
Do not be upset and those who are hundreds of kilometers away. from Thailand, on the store website http://tea-village.com you can order the product anywhere in the world, the order has no minimum amount. Shipping cost includes insurance, box, tracking code, i.e. all expenses. If you do not receive your product, you will be returned 100% payment including shipping amount.
We hope that you will be satisfied with the company's products and you will become its regular customer! Good luck and good luck tea party!