Pros have already written, and now let's go through the minuses. Their not less. I tried to remember everything that I had to face 1.5 years, and that was unusual and difficult for a person come from Moscow and from good conditions. Things to know and keep in mind before making a decision to move.
Just want to say, I am for realism – what I see, I am writing about that. If a there is garbage, it means it is, but does not mean that I invent it and I specifically focus on it. And if in another country I I do not see, so I do not see him in another country. It's simple. We all different and perceive everything too differently. So "let's not let's be about bad ", it's not about me, you have to call things your own by names. In any case, this post is only my subjective look at what you see. Another person with different baseline data. there may be a completely different perception of the same reality. Patriots of Israel, please do not be offended.
The content of the article
1 war
2 Old housing stock
3 Difficult to understand something.
4 Banking
5 Garbage, dirt and architecture
6 Very expensive
7 Slow Internet
8 Internet services
9 PR
10 Shabbat and opening hours
11 Religion
12 Hebrew do not read
13 Accessible environment and parking
14 Khamsin and climate
15 Divorce in Israel
16 Medicine
War
Many pros and cons fade away before the word "war." She goes, for many years. The Arab-Israeli conflict for many years and its There is still no solution (and it is unlikely to ever be). But patriots Of Israel and then they will begin to say that all this is garbage, that shells rarely fall, that in many homes there are bomb shelters, that in Israel the most the best air defense system (dome).
Of course, while I was living in Haifa, not a single shell fell near the house. But you know, when I read the news that in the vicinity of Haifa shot down a helicopter that, 100 km away, they found a bomb on the playground (if not found, it would spread the whole block), then it became not to myself.
News about the dome is also not so comforting. He may be the most cool, but the technology of the enemy does not stand still. And if earlier the missiles barely flew over the border, but now they will quietly fly all of Israel and fall, even in Haifa, even in Tel Aviv. And by it is reported that not 100% of missiles bring down the dome, and not even 90%. Just for the time being, they are lucky that they are falling not in cities, but around.
Old housing stock
The housing stock is just tin. The houses are old, cold in winter, no central heating, often open and blown entrances, most homes without elevator. And furniture in a budget removable Apartments – I understand perfectly why many here prefer take off unfurnished and buy / bring their own. Repair in apartments usually very simple in the form of painted walls, no double double-glazed windows, ice tile floors. Such neglect thermal insulation is excusable for tropical countries with everlasting summer, but why is it here, where in winter the temperature can drop to zero, such housing I do not know.
In general, local, as I understand it, relate to housing much easier than the Russians. I remember a realtor convinced that it is normal to sleep in hat and jacket because it's just today that the wind is strong and out of the cracks in the walls "little" blowing. I, of course, understand everything, even electric heated sheet I can understand that here many, but sleeping in a sheepskin coat and cracks in the walls is a bust.
There are brand new homes, or relatively new ones, but good ones. However, there are few of them in the total mass and rental prices are higher. Observed deficiency in good apartments (by a combination of factors). I.e among budget apartments you can find something worthwhile stock up time and good luck. Or immediately be ready to pay more.

Old housing stock, something like Khrushchev
Windows is generally a song. Double-glazed windows are very rare. Usually all windows are sliding with single glass. If the house is new, then on the edge the frame is like a sealant and then from the windows it blows not much (but still blowing). In the old houses from the windows specifically siphon. Well the frames themselves are metalic everywhere, i.e. they perfectly pass warm / cold I think it's obvious that if there's a gap in an apartment, then it is useless to heat or cool, it will immediately release everything.
And how do you like windows, which in principle do not close? I saw such only in Asia, where year round 30 degrees. Glass blinds, which you can only cover up. Essentially a grill instead of a window. People stick them with tape and cardboard for the winter.

Sliding metal window frames with slots

Window blinds that I've only seen in Thailand
Hard to figure out something
It is impossible to sort things out to the end. Asking people you read the forums, but all the time one advice contradicts another, and it seems everything depends on the specific situation. For example, comes to the fact that even with the bank you can bargain. For me, this nonsense. If there is a law / tariff in Russia, then it is, and it is always the same for all And then under a certain set of circumstances, you can, to example, make a discount for the Internet, or give a credit card, although it does not give out to anyone. Just because you left, saying conditions you are not satisfied, or made a scandal. And so in all, there is no accuracy and specifics. And it seems no one is trying to end find out, everyone has their own experience in the same situations.
We must separately tell you how I bought Simka. It seems to be read he was, he studied the forum all day, then he talked to people locals, but— Came to the store where mobile phones sell, there's me convince me that without a credit card, no one will sell me a sim card for locals, that you can only buy expensive for tourists. Still going further to the Hot Mobile operator's desk and they tell me that without problems will sell SIM, they only need my account number in Israeli bank and in general there is no difference, on a credit card to issue a SIM card or to the account number. Returning to the mobile phone salon, telling They convince me that this can not be, but already go back and say they can buy, but it will be separate big commission for the lack of credit cards. I go again to the rack Hot Mobile, they say there is no commission. Then I come on Hot Mobile stand already with the seller from the salon so that they are in Hebrew rubbed that there really.
It turns out in the end that without a credit card they will sell without problems, and there is a commission, but very small and this commission is always there, outside depending on credit card or bill. On solving such a bang questions like buying a sim card, and an hour was spent searching for truth of time. Competence of staff horror.
By the way, the seller in the mobile phone salon was herself persuasiveness, piously self-righteous. Well my Conclusion, when you ask for something, do not trust anyone 100% and check back

Banking
Registration of a bank account takes about an hour. With this i put his signature times 20. Twenty, Karl! Credit card I did not immediately gave, as we need regular income to the account. But ok, we have in Russia, too, without a credit history, not every bank will issue them. Only here on debit cards commission for each operation! Stripped off money in the ATM – commission, paid in the store – commission, made an operation in the IB – the commission. No interest on deposits no cashbacks. In the course is still checkbooks. Payment type services Internet is tied tightly to a bank account, so, after refusing the service, they can safely continue to write off (and not from internal balance in the personal account of the provider).
After a while I was given a credit card from the supermarket Shufersal, which is owned by Cal, which is not exactly a bank and not understand who. I waited a month until I arrived in the mail. She greatly eased life, since not all stores accept foreign cards. And here still cards are carried out with a magnetic stripe! About PayPass and even more so no one heard Samsung / Apple Pay.
Guys, Russia has a cool banking system! I have Russian maps with free annual service, with good cashback, travel insurance, online chat with employees. Only now inflation in the Russian Federation and the regulator are trying to negate this a plus.
Separately about the money and shopping. Imagine you are new Immigrant, drive into an empty apartment, and you urgently need fridge. Suppose it costs 3,000 shekels. When you come to shop to pay in cash, then you are told that delivery will be in a week. Long.
Well, there is an option to buy on the store's website, there are models with Delivery in 1-2 days. But the site does not accept any cards, except local. You do not have credit cards yet, but local debit card, if you already have one, the limit is 500 shekels. And then, or wait a week, or go to the bank to change limit (if possible, I have not checked). Or ask friends pay, then to give them cash. Such difficulties, albeit not critical, a lot at first, be prepared.
Garbage, dirt and architecture
Dirt on the whole is very much that for me it was a surprise on arrival. True, I did not expect it to be as dirty for a country that positions itself as European. Not Thailand, not vietnam.
Rubbish under the trees near the road and in the grass, bull-calves on lawns, garbage near garbage cans and urns, often on the streets themselves dirty, especially not in prestigious areas. Not rare dog shit on the sidewalks. Also a lot of trash on the beaches. I will not say for all of Russia, but Moscow is just the ideal of purity compared to Israel

Mussor on the street in Haifa, Kiryat Eliezer district

Rubbish on the street in Neve David
Also the visual component here is an amateur when we talking about urban architecture. There is no architecture for me, these are barracks some shabby, with shabby paint, with protruding wires and so on Yes, sleeping areas in Moscow is also not a sample of aesthetics, but not as much Israel is more to Asia externally, so not wait for toy Europe with red roofs.

Typical example of Israeli architecture

In the Adar area, so do some terrible barracks
Very expensive
Just went to the supermarket to buy products for a couple of days and Opa 300-400 shekels (5,352) —7,136 rubles), although I only bought a couple packages of food. Of course, if you buy in bulk, know all the prices and buy cheese in one supermarket, milk in the second, and chicken in third, go to the market and bargain there until blue in the face, you can somewhat reduce costs.
However, in Moscow, I used to buy in supermarkets such as Pyaterochka almost without looking at prices. Considering that I buy the most common products, and not some 20-year-old brandy. Here so do not relax.
Here for example the price of tampons – 32 shekels (571 rubles), I think women know how much they cost in Russia.

Tampons 32 shekels, mattress 1495 NIS
Or take Ikea. In theory, this is a budget furniture store, but for HOWOG budget mattress had to give 1495 shekels (26.670 rubles). Exactly the same in Russia costs 9000 rubles. Other goods were also bought. in Ikea, the price difference is about the same.
All appliances also cost 1.5-2 times more expensive. Though not straight at all See the prices as they were in Russia. I can only join advice from the forum that when repatriating you need to carry all the equipment from Russia. And it's time to upgrade your laptop before moving, camera, phone and so on. In principle, if you later go to Russia at least once a couple of years, it makes sense to buy all these trips gadgets.
All prices in Russia for cars must be multiplied by 2 to estimate, how much is the car in Israel. Apparently so there is a lot of small car and economy class cars in general. All my cars friends in Moscow who, in principle, can buy ordinary ones office workers, here apparently go to another class. Below You can see in the screenshot the price of a new Kia Rio: 113900 shekels or (2,031,878 rubles).
Just because the budget car, and it is worth it. I doubt that even it is accessible to the main majority of those who have moved. I, for example, bought eventually supported 2014 Hyundai i30sw with mileage 70 thousand for 65,000 NIS (1,159,544 rubles), which he later gave to his ex-wife. Yes, a pancake for this money in Russia could be taken 2 similar cars.

New Kia Rio 1.4 sedan on the machine costs 113900 shekels
Very many cars here pokotsat externally, especially the bumper. For those who are used to the fact that the car is all sparkling and shiny, this there will be a real minus, I'm easier to treat the pieces of iron. In israel especially shaking for every scratch, can leave the parking lot, hurting someone, but quarreling can, of course.
Slow internet
Judging by the stories of local as well as personal experience, the speed mobile internet leaves much to be desired. 15 megabits is Straight is already good for the mobile Internet. I have myself now Hot Mobile and more than 30 megabits in Haifa, he has not yet shown, and more often only about 2-5 megabits gives out (despite the fact that 4G works). But this if we talk about incoming traffic, outgoing more than 2-5 megabits not happens in principle, only lower.
Home wired internet is also not far away, speed if lucky 70 megabits / s on incoming (usually 30-40). And the outgoing channel 2-3 megabits / s. That is, there are still used asymmetrical channels. By modern standards, the Internet is very far behind. Why in Israel, which is like a high-tech country, is such an internet for me riddle.
And, if it's for the mobile Internet, in the case of home Internet in any way. This speed for the outgoing channel means – goodbye clouds! I have 100 megabits per second in Moscow in both directions and costs penny, and the speed never drops. Yes, yes, here in Israel speed also periodically drops, down to zero. I have in Spain optical channel 300 megabit / s.
IMHO, the situation with the Internet in Israel is about the same as in Thailand a few years ago. And generally keep quiet about Russia, it's just there space internet. Yes, they say there is one provider that uses other technologies and symmetrical channels, but it has very small coverage across the country. Looks like it is only in Tel Aviv and it is not everywhere.

Internet speed at my home, although the rate is 100 mbps
Internet services
Internet services and websites in Israel are at the level of Moscow 10 years ago. You know, I used to order on the Internet so you make an order and the next day they bring me the goods. Got used to that many online stores have delivery points near the house. I'm used to having a bunch of different websites for any product with reviews and There are forums where specific models are discussed. I'm used to that always There is a choice of services. I'm used to that services and sites are very high-quality, modern, intuitive understandable, not html, made on the knee. Usability of interfaces because our everything!
The analogue of Russian Avito is yad2. Sellers on Avito in Russia is just an example of eloquence and photography. Right here in Israel, many ads have very poor descriptions (if at all have) and in most cases do not have photos. And if the photo there is, they are as if they were made on a vacuum cleaner.
Perhaps it is not customary to take photos and descriptions, I do not know. As a result, ad you absolutely can not understand anything, and therefore can not pre-filter whether to watch this apartment sofa, car, or not. It is necessary to go to see live. Eventually second-hand searches – this is one more quest with time costs. Wherein, the owners are very upset that after viewing the goods you don't take it. Well, ash tree stump, I did not see the pictures before, and this one The greasy sofa for me for any price did not go for it. And even sell here it would be a shame to throw out in Moscow.

One of the most modern sites, analog Yandex.Market
PR
PR, if you can call it that, is in many countries, and Israel is no exception. There is such a position that we have everything well, and if you notice something bad, then shower you Tomatoes and in general suitcase-station, get out of here. Going on focusing purely on the positive aspects and deliberate ignoring the negative. I'm a supporter of healthy realism, as written above. Problems need to know and talk.
I noticed that, consciously or unknowingly, people here even the little things emit, they say, look, we have this here and this. Although in fact it is already everywhere and has become something ordinary. I I remember right away how I was with friends in France a long time ago and I was shown a supermarket, they say, see what kind of stores we have. Great, of course, but in Russia, supermarkets have also been around for a long time. that moment, therefore, it is no longer a plus, that in France there is supermarkets. Although, of course, the presence of a supermarket is definitely a plus.
So, I have a feeling that some repatriates who left in the 90s from Russia still think that there also, and in fact Russia has changed a lot, and the whole world has changed too. Therefore, when they say that in Israel there is an excellent Internet, then … It is, he seems to be a plus, that he exists at all (after all, he might not have been), but he far from the Internet, for example, in the same Russia.
Thus, behind PR and some contrived superiority hiding cons and pros, which may not be pluses, but commonplace in the modern world. As a result, have too gullible repatriates who still believe in some ideal country can come disappointment on arrival.
Shabbat and opening hours
From the point of view of the consumer is very uncomfortable. On Sabbath, which Lasts from Friday to Saturday everything stops. No two days off nothing wrong, everywhere like that, but nothing works, neither shops nor banks, not part of public transport. That is, if you want do some things at the weekend, then forget, you can do them only on weekdays. A person who is used to 24-hour shopping in Russia, to the fact that a lot of things work without days off (at least private organizations, not state institutions) will be difficult rebuild.
Separately, it should be said about the work time For example, banks work not only with weekends, but only 5 hours a day (with 8 to 13 hours). Sometimes there is a couple of evening hours, but in Russia even the conservative Sberbank works from 8 am to 19 pm and sometimes no weekend at all. Institutions and clinics in Israel are working similarly, only part of the day.

Hapoalim Bank Hours
You can say how great it is that labor law is respected, people Do not sew up at work. But this does not apply to new immigrants, most of them work hard from morning till night to at least somehow to live. They are generally no benefits from a short working day, only once again have to ask for leave from work to do some affairs
Religion
Israel is trying to present as a secular state, but fact is not. For a tourist, maybe, but for a living person, not so much. One way or another, religion is permeated all of Israel and you will face it quite often.
If you are not religious, it will be difficult for you to work, a good place you hardly get it. Not everyone will understand if you are on Sabbath work. At school, your children will tell a lot of things. on religious themes, "forced" to celebrate religious holidays and know their story. It may well be that you have to eat kosher food to pass for his.
Orthodox is a separate topic, there is little about them that I know. Besides, that they do not work and live on benefits from the taxes that you will pay the state. And sometimes they are not good it smells.
Hebrew do not read
Despite the fact that I wrote in the pros, that there are Russian-speaking employees in certain organizations, but ignore hebrew will fail. And, above all, the problem arises with the reading of the text. Because, in other countries where Latin is used in the language, you may be wrong, but You can read something. More precisely, at least you can distinguish one word from another, and even remember what is written on this bank "sour cream", and on this "yogurt". Moreover, it will occur without special effort.
The letters of the Hebrew alphabet merge into a single unreadable ligature, completely indistinguishable at first. therefore whether you want it or not, but at a minimum level Hebrew have to learn. For me, here is still a problem to buy sour cream, because the store is in a huge 3 meter fridge at all the cans are drawn with the exact same squiggles, and there fact a whole set of dairy products.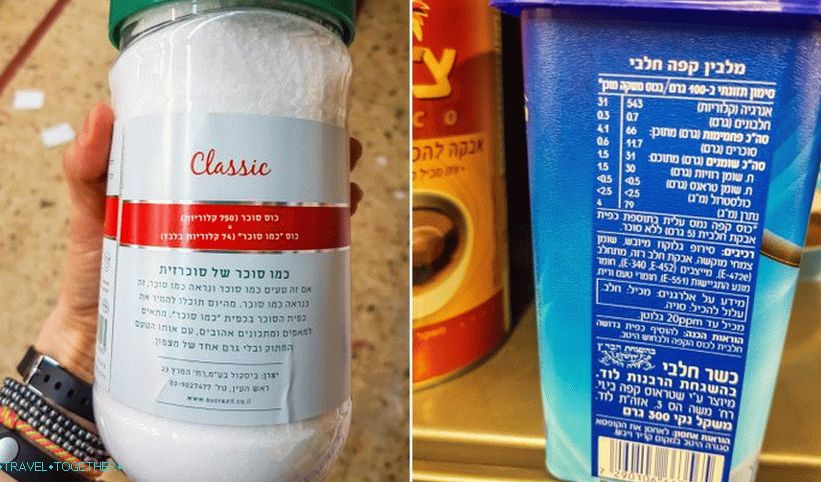 Everything merges and is not readable for those who did not learn Hebrew
Separately, it must be said that as long as you do not speak Hebrew in Perfectly, you cannot qualify for a normal job. You you will be a stranger and your limit is cleaning the apartments or the seller in the store.
Accessible environment and parking
I can only say about Haifa. Most of the city is located on the mountain and on its slope, therefore accessible environment for disabled people is only down below. Actually, it was exactly below that I always saw wheelchair users. Upstairs difficult with this, a lot of stairs. And in general, I can say that not everything is thought out and not everywhere. I.e, if, again, a repatriate wants to see a paradise for wheelchairs, then here it is not. I think the situation is better in Tel Aviv, but also not perfect.

In Haifa, sometimes you have to carry a stroller
Also separately I want to note parking – this is the scourge of Haifa. Parking spaces are unrealistically small, cars often stand on the sidewalks, pedestrian crossings, so that the stroller does not pass. Mayor perfect does not want to solve these issues, but only penalizes the negligent drivers.
Part of the parking on the ground and well, if there is at least gravel piled up. But sometimes it's just the ground, so after the rain, everyone stands in puddles.

Parking in Haifa
Khamsin and climate
Khamsin is a hot wind that comes from the desert and brings with sand. On the one hand, it's fun to get 25 in the winter. degrees instead of 10 for a couple of days, but in summer it's 40 degrees and dusty air. Breathing becomes difficult and in the apartment, sandy dust everywhere.
In principle, the environment in Israel is not very good, and the worst is Haifa because of the large port and storage of ammonia. And Khamsin still adds its contribution. Not sure if allergies are worth going to Israel, as well as those who are prone to bronchopulmonary diseases. I also know not one person who started having skin problems and hair
And although I mentioned the climate in the pros, we must remember that those who It does not tolerate heat well, it will not be sweet here either. In August it is 40 degrees, the air is worth it, plus Khamsin, it can be very hard be. Saves only air conditioning in the apartment and car.

Khamsin – all in smog
Divorce in Israel
Divorcing in Israel is a bad idea. If there is a possibility that the family will fall apart, it is better to weigh the pros and cons before repatriate Israel is somehow on its own and not very friendly with international law. I speak the hard way. Women have more rights in Israel than in Russia. No wonder there is an organization which somehow tries to help the peasants.
If both spouses are Jewish, then at divorce the ex-husband will have to pay not only child support for the child, but also for the wife too. Moreover, in in such a size that her standard of living has not changed. And even if she marries again, then it does not change anything, as far as I understood. In this case, no one cares about the size of the salary, will be sent to prison for nonpayment and will drive into concrete debts for the rest of your life. because of fear such a bondage, few of the male Jews decide to divorce, much easier to change on the side. Here you have strong Israeli families.
If there is only one Jew, then marriage is not religious and everything is simpler. There will be child support only for the child. But nevertheless, to prove something and knock yourself out to see your baby ex-husband can only through the court and a paid lawyer who is worth the unreal of money. A friend of mine gave $ 10,000 for it.
The medicine
Tourists for big money get quite a good medicine. But residents – It's all very ambiguous, but at least not so rosy, as told. Yes, I know someone who was saved from cancer who underwent spinal surgery and a person can walk. But how understand that it would be with these people in the same Russia or Germany? After all, in Israel, too, die from cancer, not all save. It's hard for me to say, I need some kind of official statistics.
It is said that in Israel they will first be brought to death, and then will save. This means that as long as you do not die, you are nobody will not be engaged. And indeed it is. Again by personal experience, it is useless to go with allergies, chronic rhinitis, somehow pain incomprehensible. Give some pills or drops and say Well, with them it is normal, do not die, well, here and go in peace.
And the queue. Wait for a turn to the doctor for several months or six months – norm. Of course, not to an ordinary therapist, but to a narrow specialist. But damn half a year, how? You can go for the money, yes. How do you pay for the reception of 1500 NIS (26,759 rubles)? I waited, did not pay. Similarly, the queue in the miun (admission department in the hospital), there Really people are scandals sometimes to get through to to the doctor.
Inside the hospital look different. Sometimes a bit like the old Soviet hospital, where it does not smell European-quality, and sometimes less modern. But in general it can be said that there is no luxury, if suddenly you need it.

Hospitals look different inside
P.S. Just in case, let me remind you my position: there are no ideal countries, Absolutely everywhere there are pros and cons, and you need to look for your personal the ratio of pros and cons. Israel did not suit me, apparently Too good conditions in Moscow were.
Life hacking 1 – how to buy a good insurance
Choosing insurance is now unrealistically difficult, therefore, to help everyone travelers, I make a rating. To do this, constantly monitor forums, I study insurance contracts and use insurance by myself.
Insurance Rating
Life hacking 2 – how to find a hotel 20% cheaper
First, choose a hotel on Booking. They have a good base offers, but the prices are NOT the best! The same hotel is often possible find 20% cheaper in other systems through the RoomGuru service.
Discount hotels