In Kharkov I went to our readers Andrei and Yana (about Andrei and his place of work I wrote in a previous article), who invited us more Six months ago, when we were going to ride across Russia. All the way it was impossible to get together on a trip, and finally, before the New Year, she took place. In Kharkov, I have never been before, buying pies on platform during the transit of the train through Ukraine to the Black Sea is not in score.
The city greeted me with a gray sky and absolutely not snowy weather, although the thermometer showed a minus. I assume that the grayness would be less noticeable, come here in summer. Few cities can boast of beauty in cloudy weather, yes in that season when the trees are just black sticks. Actually, I'm on something special and did not count, so just walking in the center cities, looked into small courtyards and photographed everything that catches my eye. At first, quite attracted inscription look in a foreign language.

Small houses in the center

Gosprom – a monument of architecture

Hanging locks on the bridge has become a tradition in every country.

Cute Kharkov courtyard

Bay window in a house on Sumskaya street

Bursatsky descent – really cool

Annunciation Cathedral near

The inscription is symbolically overgrown with a bind

Stone pavement in the city center

Vernissage near the Assumption Cathedral

Moscow avenue

There is a panacea for all ills

Plastic lining is not particularly compatible with the rest. architecture

Cobbled street

Unfinished house reminded me of a medieval castle

In the course of the collapse has already happened

Vigorous Yellow Kopek

Some kind of atypical architecture

Remember how it was

There is Darwin Street

Signs that I saw only in Soviet films

One of the squares of Kharkov

Kharkov Metro – the same as ours

Palm prints
Unfortunately, some houses are in disrepair, some sidewalks and roads are dug up. Not clear power sharply took up global repairs in many places, or "there is nothing more permanent than temporary "? Yes, I like the ruins but scary to imagine that inside such houses live people. It is also unusual that the center is only one street Sumskaya, step aside and you get the feeling that you are already on the outskirts – and the buildings are simpler, and people disappear somewhere.

The city center and here people live

Eternal repairs on the streets

Not far from Sumy street, solid ruins and building

All the water from the river has gone somewhere.

Street Sketch

One of the courtyards of the city

5 minutes from the station, and no one on the street
In Kharkov, many small monuments. There is even a monument soccer ball, but I especially remember from the photos that "tortured metro builder". There are many legends about his "beauty" and probably therefore, I could not find him – they removed him. But found "not yet tortured metrostroevtsu", he looks, of course, much prosaic.

Monument to the Metro builder

Monument to lovers or dried kids

Monument to lovers or dried kids
Sleeping area – the usual nine-story building, of which there was a Soviet an incubator made thousands. Visually – return to our Moscow nineties, especially if you go into the elevator. Although we have in Moscow in some areas occasionally have to deal with such vandalism. Maybe here I am also "unlucky"?


Lift in a residential area

Kids play in the yard

Sleeping district of Kharkov

Sleeping district of Kharkov
Kharkov is changing quite strongly at night. Very handsome Annunciation Cathedral illuminated on a background wet from the rain paving stones. Trees tied up with garlands look no less amusing. and night illumination.

Annunciation Cathedral at night

Privokzalnaya Square in the evening

Evening Kharkov

Freedom Square in the evening

Carousel at Liberty Square
People on the streets are the same as ours, of flesh and blood. Only From conversations it becomes clear that you are no longer in Russia. Even Russian language, the majority speaks here, with a noticeable accent. By the way, I realized for myself that I practically do not understand Ukrainian, God forbid 30%. My hospitable hosts told us that if we were Transcarpathia, they would also with great difficulty perceive the local speech, since the real Ukrainian culture and language remained only there, and Kharkiv is almost Russia.

People on the streets

Grandpa with a bike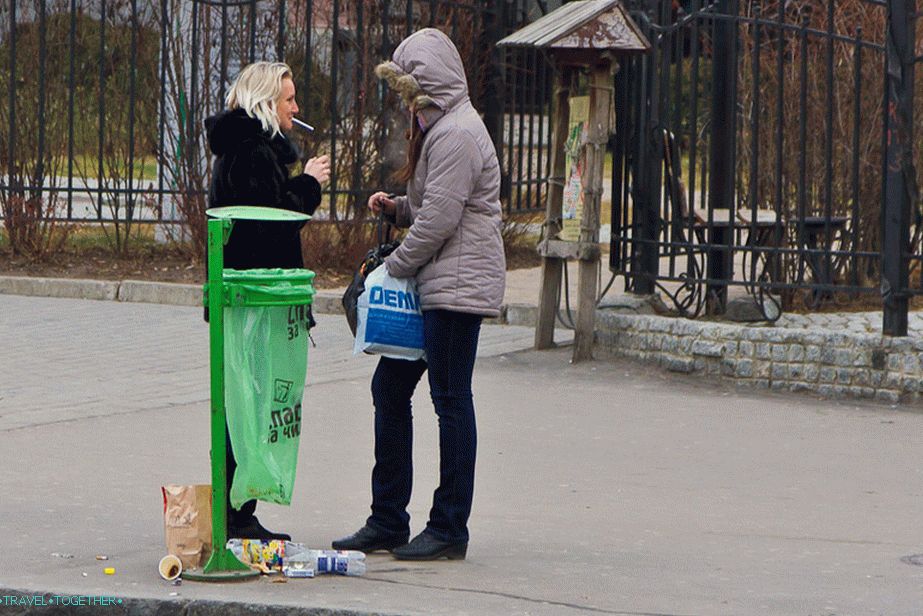 People on the streets

On the streets of Kharkov

Touched the name in Ukrainian
I looked at the handmade Artishop fair, held in Hatuba (Kharkov Theater). It is a pity that with them there was no hryvnia, so I just wandered and looked, what is so interesting people now does. At the same time met the guys who are going to a lot travel.

Guys who are going to travel

Fun Passport Covers

A girl making various decorations, including from ammonites
About my walk in Kharkov and Kharkov zoo can read the relevant articles

Life hacking 1 – how to buy a good insurance
Choosing insurance is now unrealistically difficult, therefore, to help everyone travelers, I make a rating. To do this, constantly monitor forums, I study insurance contracts and use insurance by myself.
Insurance Rating
Life hacking 2 – how to find a hotel 20% cheaper
First, choose a hotel on Booking. They have a good base offers, but the prices are NOT the best! The same hotel is often possible find 20% cheaper in other systems through the RoomGuru service.
Discount hotels