I have long wanted to post some photos and videos from Chinese market, where we occasionally bought something from seafood and fruits. First of all, this place is interesting because everything is somehow very in Asian, that is, very, very inconsistent. Getting into that a quarter in Lingshui, it seems that you are being transported 100 years ago. Old authentic buildings, birds in bamboo cages, worms and pork skin on the shelves, a lot of people and not a single foreigner. And not think that it's literally a couple of kilometers away European shopping center with boutiques and supermarkets and the same condominiums.
Chinese market – photo
By itself, the market is a few streets in a residential area, and along these streets are stalls of all kinds. But the very center the market, it is the courtyard of several houses, there are stalls and The most interesting. Photos from there.

One of the streets near the market

The houses are all authentic.

Streets and market

Street vendors

The same courtyard – the center of the market

The first thing that catches your eye – slop under your feet

Next to meat and seafood stench

And here they are sea snacks

My favorite is worms

Something from the sea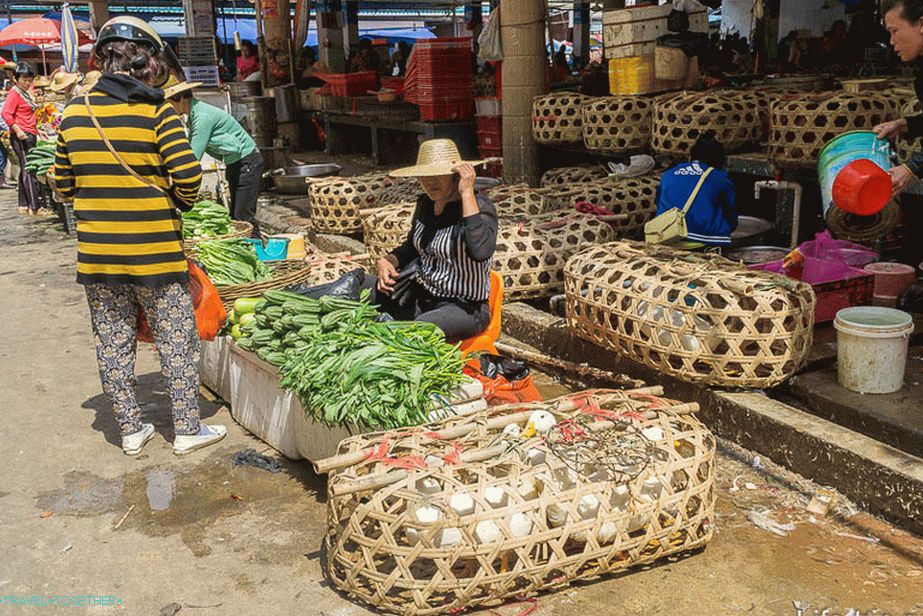 Birds are sold alive, sit in cages

About them is also not very clean

Bought a goose and carried home

Weight Weights

And finally – dismemberment
Chinese market – video
Life hacking 1 – how to buy a good insurance
Choosing insurance is now unrealistically difficult, therefore, to help everyone travelers, I make a rating. To do this, constantly monitor forums, I study insurance contracts and use insurance by myself.
Insurance Rating
Life hacking 2 – how to find a hotel 20% cheaper
First, choose a hotel on Booking. They have a good base offers, but the prices are NOT the best! The same hotel is often possible find 20% cheaper in other systems through the RoomGuru service.
Discount hotels