And if you do not give up in Vietnam in August?
Some people think that in the last month of summer and in our latitudes still warm enough, and why go to that Vietnam.
But believe me, it's still worth seeing this country in August. And in this article we give you evidence of this.
Read on:
Features of the weather in Vietnam in August, water temperature and of air.
Which resort is optimal for a good holiday in August 2019 of the year.
The cost of rest in the summer Vietnamese resorts.
Tips for a good holiday at this time.
The content of the article
What weather is waiting for you in the Vietnamese resorts?
Vietnam in August: where better to go?

Nha Trang in August
Phan Thiet in August
Phu Quoc Island in August
Where better to relax with a child?

What you need to know, going to August Vietnam

Prices for holidays in Vietnam in August 2019
What weather is waiting for you in the Vietnamese resorts?
In August, in some regions of the country there is a high humidity and high rainfall. All month for the most part Vietnam southeastern monsoons blow, but the air temperature still very high.
Important! Weather in Vietnam for months.
Weather in Vietnam in August 2019
Resort
Daytime temperature
Night temperature
Water temperature
Nha trang
+ 32… 34 ° C
+ 23… 25 ° C
+ 28 ° C
Phan Thiet
+ 32… 34 ° C
+ 23… 25 ° C
+ 29 ° C
Ho Chi Minh City
+ 32… 34 ° C
+ 23… 24 ° C
–
Da Nang
+ 31… 33 ° C
+ 25… 27 ° C
+ 28 ° C
Varies in different parts of Vietnam precipitation. For example, in the south of the country, the wet season crosses its "equator" in the north is coming to an end, but in the central parts of Vietnam it is just beginning.
Comfortable rest, almost devoid of precipitation, can offer Southeast regions.
The wet season in Vietnam has some advantages – it is worth rest in August many times cheaper than in the popular tourist time.
And what is the weather in the dry season in the Vietnamese resorts?
Want to know where the cheapest tours are?
Where are the cheapest tours: 10 rules for buying a tour →
Vietnam in August: where better to go?
Below we will tell about the features of rest in August on three popular Vietnamese resorts.
Read more about the 7 best resorts in Vietnam.
Nha Trang in August
Nha Trang, located in the center of the country, is notable for its special an ecosystem. Such annoying southeastern monsoons simply do not penetrate the resort, because it is located in a secluded bay. BUT there are no monsoons, and there is not much rainfall.
Rest in Nha Trang in August is comfortable, no more than rain falls. 55 millimeters, and the air temperature is consistently high.
Weather in Nha Trang in August 2019
t afternoon
t at night
t water
+ 28 … 30 ° C
+ 23… 25 ° C
+ 30 ° C
However, at the end of August, the weather will begin to change, and soon time the resort will come wet and rainy time.
Nha Trang is a resort for active tourists. Along the coast works a large number of restaurants and bars, so it's not exactly bored have to. Exotic cuisine, seafood, lobster, and shrimp crabs on Nha Trang will satisfy the tastes of the most avid tourists, to the cost of such food is relatively low.
On August 2, the city of Hanoi celebrates Independence Day. AT this day are mass celebrations, a parade, and in the evening all the guests expects colorful fireworks.
Many people want to relax in Nha Trang in August, because the flow of tourists It is small, and you can look at without any queues:
Monkey Island. A couple of decades ago, this island was monkey nursery, whence then monkeys went around the world for various scientific experiments. Now this place reserve, most of the island are impassable jungle, and only a small part is refined for tourists.
Thyam Tower By Nagar (12th century);
State Museum of Oceanography;
Cathedral in Nha Trang, made in the Gothic French style. AT Currently, the cathedral serves as the residence of the Vietnamese a bishop;
The longest cable car connecting the island of Che and the city Nha Trang;
Batdang creek.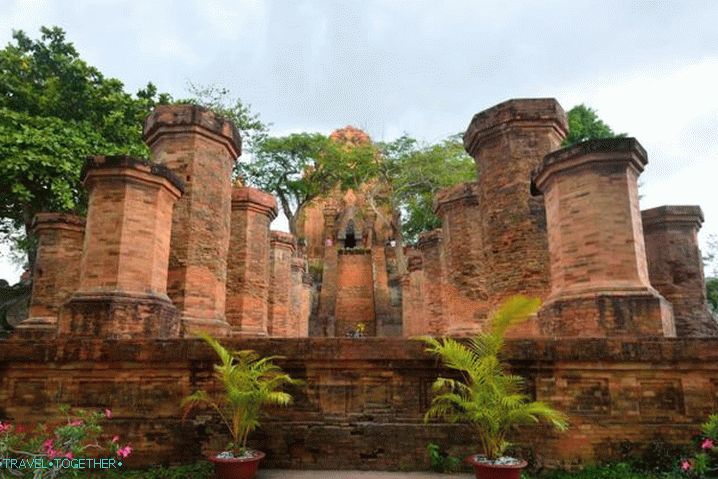 And if you come to Nha Trang for health and beauty, be sure to visit the wellness center Hot Mineral source of Thapba. "
Phan Thiet in August
A holiday in August in Phan Thiet is great for exploring local sights and relaxed holidays on coast of the South China Sea.
Hot August weather in Phan Thiet is characterized by high daily air temperature indicators. At night, the same column is also quite high in the resort at night only a few degrees colder than in July. Rains over months are usually 8-10 days. Most often it rains at night or early in the morning, which does not create any special interference for comfortable rest on the beaches of Phan Thiet.
Weather in Phan Thiet in August 2019
t afternoon
t at night
t water
+ 31 … 33 ° C
+ 23… 24 ° C
+ 28 ° C
Still, the weather in August in Phan Thiet will not appeal to everyone. If you prefer a more "cool" rest, without exhausting heat, it is worth moving the trip to a cool dry period.
From the advantages of the weather in Phan Thiet in August increase the number of sunny days.
Increasing sunny days at the resort will allow you to enjoy the beauties of Phan Thiet and also visit the sights with comfort. And there is something to see here:
Red and White Dunes. This is a unique natural attractions. The red dunes are literally a couple. kilometers from Muine, White is much farther away.
Lotus Lake. The lake is located at the foot of the White Dunes and strikes the imagination of travelers for its beauty. If you want to enjoy the lotus blooms, it is worth coming here in the second half year
One of the most beautiful lighthouses in Southeast Asia is the Ke lighthouse. Ha
Mount Taku.
Reclining buddha
Creek Fay.
Red Canyon Phan Thiet.
Lady Island, named after the ancient female deity Ama. By the way, the island has a characteristic a monument of ancient Vietnamese culture – a temple built in honor of Goddess Ama.
The village of fishermen Mui Ne.
The temple-museum of the whale with a single, but no less an attractive specimen – the skeleton of a blue whale.
Crocodile farm.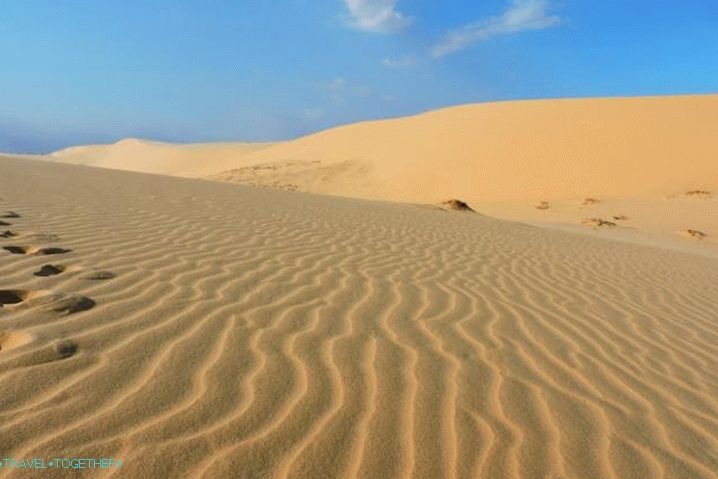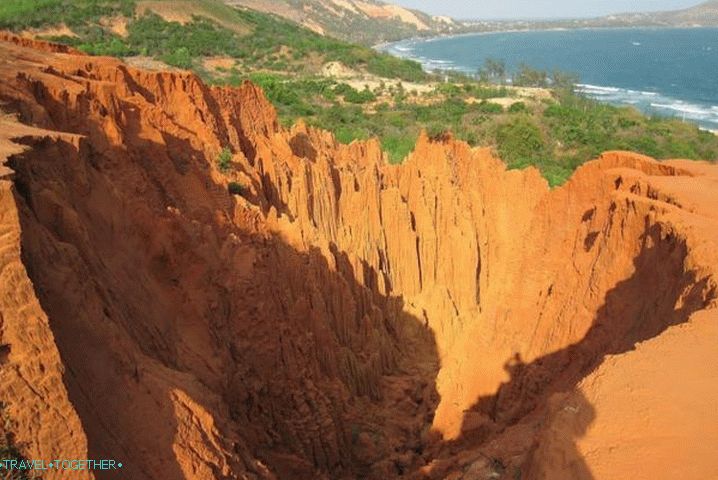 The resort is also famous for its mud and hot spas by sources.
Phu Quoc Island in August
August is undoubtedly not the best month for a holiday on Phu Quoc Island Although the values ​​of air temperature and water is enough high, but high rainfall can nullify the rest at this resort in the last month of summer.
In addition, the humidity in this period reaches 85%, which also not happy.
Weather in Phu Quoc Island in August 2019
t afternoon
t at night
t water
+ 30… 31 ° C
+ 27 … 29 ° C
+ 29 ° C
But the water remains warm in the Gulf of Siam near Fukuoka, that does not necessarily please the bathers. True in August celebrate the emergence of strong waves, but it concerns the west coast Fukuoka.
Therefore, if you are not afraid of humidity and precipitation, go to Phu Quoc Island in August. It is during this period that you have no queues. you can enjoy the beauties and sights of the island see here is what:
Pagodas Sung Hung and Hung Long.
Pearl farm, which grows natural pearls.
Palace Kau – a special place for the islanders. Erected relatively recently, in 1937 in honor of the sea goddess Thien Kau.
Lighthouse in Fukuoka.
Black pepper plantations.
Coconut Prison Even less than 50 years ago, the island was the real prison that got its name from the fact that its prisoners worked on coconut plantations. Also served prison camp for torture. The place is of course gloomy, here everyone can clearly see how ugly sometimes a story was Vietnam
Rubber Plantation.
But the main attraction of the island are its sunsets, they are especially attractive on the west coast of the resort. Sunsets considered one of the most beautiful in the whole world.
Where better to relax with a child?
Each of the above resorts is suitable for comfortable and interesting holiday with a child.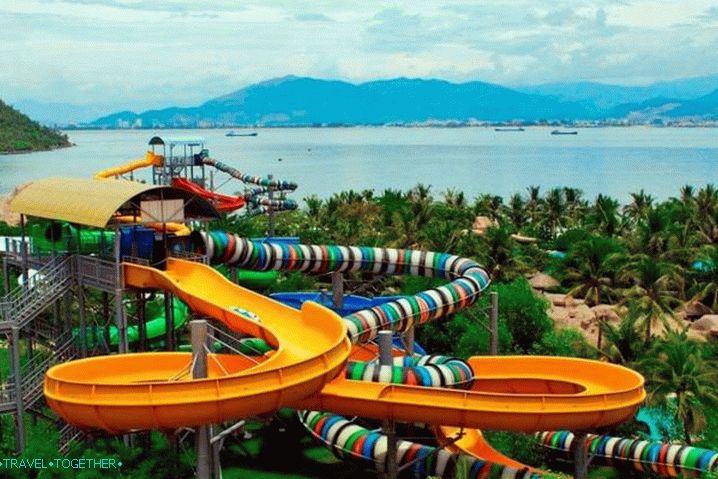 Nha Trang is famous for the largest park in Southeast Asia entertainment "Winperl Land". In the park you will find a large number attractions and entertainment, there is also a cable car, a wall for climbing and a cinema.
Phan Thiet is not rich in children's entertainment, but attention Deserves the Children's Park, located directly in the Phan Thiet city
But Phu Quoc Island offers little travelers a lot entertainment, including the amusement park "Vinperl Land", the continuation of Nha Trang Park, and the Winperl Safari Park Phu Quoc Safari. "
What you need to know, going to August Vietnam
Remember that August is the rainy season almost throughout country. Maybe in July it's not so wet here?
But for the Vietnamese, the rainy season is a time for entertainment. Exactly in August, a bright and colorful festival is held in the country – The day of wandering souls (Trung Nguyen), hitting which you can see interesting, but as for a Russian tourist, strange customs and ceremonies;
Also an interesting holiday in Vietnam – August 19 – the anniversary from the Revolution Day 1945. The most magnificent celebrations await guests in the capital of the country.
August is a hot season for local residents, therefore, rest is worth worrying about in advance. We also recommend that you read with the duration of the flight to Vietnam.
The subtleties of holiday in Vietnam, look at this video.
The main advantage of holiday in Vietnam in August, of course, is its low cost. Buy a tour, collect items and Embark on a journey through this "pearl" of Asia. Vietnam will always find something to surprise even the most inveterate traveler!
Prices for holidays in Vietnam in August 2019
Prices for tours to Vietnam in August 2019
Resort
Number of stars in the hotel (hotel)
Tour price for two
7 days
10 days
Nha trang
3 *
from 80 000 rub.
from 90 000 rub.
Phan Thiet
3 *
from 81 500 rub.
from 91 000 rub.
Phu Quoc
3 *
from 90 000 rub.
from 100,000 rubles.
Prices for independent travel to Vietnam in October
Resort
Airfare (one way)
Price of hotel room (night)
Apartment rental price (per day)
Nha trang
with the first transfer from 31 000 rub.
from 1200 rub.
from 750 rubles.
Phan Thiet
to Ho Chi Minh City 15,000 rubles., further by bus
from 1300 rub.
from 700 rub.
Phu Quoc
with the first transfer from 31 000 rub.
from 1000 rub.
from 700 rub.
Weather in Thailand in October 2019
Weather in Vietnam in February 2020
Weather in Phuket in February 2020
Where to go to rest in May 2020
Weather in Vietnam in September 2019
Weather in Egypt in November 2019
Weather in Thailand in November 2019
Holidays in Vietnam: where better to go?