In July, it is hot in our area, and in Turkey, and even more so. Temperature the air here is often over 30 degrees Celsius, so the resort rest in in full swing. There came the so-called "high" tourist season.
In this article we will tell:
What is the weather in Turkey in July, the temperature of water and air.
What to do in the Turkish resorts at this time?
How much will rest in the Turkish resorts in July 2019 of the year?
The content of the article
What will be the weather: the temperature of water and air
Turkey in July: where better to relax?

Alanya in July
Side in July
Antalya in July
Kemer in July
Marmaris in July
Istanbul in July
Where better to relax with children at this time?

What you need to know, going to Turkey in the middle of summer?

Prices for holidays in Turkey in July 2019
7 tips for those who want to relax in July Turkey
What will be the weather: the temperature of water and air
Hot sun and warm sea – these are the main indicators of July weather in Turkey.
Precipitation is completely absent, the sky is cloudless and clear.
In July, the heat costs around the clock, even at night the temperature is not falls below 25 degrees Celsius (it's time for night walks!). The climate is mild and modified according to the location of the Turkish resort.
Weather in Turkey in July 2019
Happy
At night
Water temperature
Alanya
+28 … 32 ° C
+26 … 28 ° C
+26 … 28 ° C
Side
+29 … 33 ° C
+26 … 28 ° C
+26 … 28 ° C
Antalya
+30 … 35 ° C
+24 … 26 ° C
+26 … 28 ° C
Kemer
+27 … 31 ° C
+23 … 25 ° С
+24 … 26 ° C
Marmaris
+29 … 33 ° C
+24 … 26 ° C
+27 … 29 ° C
Istanbul
+26 … 31 ° C
+22 … 24 ° C
+22 … 24 ° С
Want to know what the weather is in Turkish resorts? Here is the detailed Turkey weather description for months.
We will consider the rest on such resorts in Turkey as Alanya, Side, Antalya, Kemer, Marmaris and Istanbul.
Want to know where the cheapest tours are?
Where are the cheapest tours: 10 rules for buying a tour →
Turkey in July: where better to relax?
Choosing a resort in Turkey for a holiday in July? TOP 7 best resorts in Turkey 2019.
This country is washed by the Mediterranean, Aegean, Marble and Black by sea This, though insignificantly, affects the climate of the coastal zones.
Tourists have long chosen the resorts of the Mediterranean and Aegean Sea, but also actively visit Istanbul because of its ancient attractions.
The following resorts are popular in the Mediterranean:
Alanya
Side
Antalya
Kemer
On the Aegean Sea:
Alanya in July
In July, the air temperature reaches 38 ° C! In addition, there is very humid, which means that the heat is transferred especially hard. Rest in it time can be chosen if there are no health problems, for example, asthma or heart disease. At night, the air is a bit cooled to 24 ° C.
Weather in Alanya in July 2019
Happy
At night
Water temperature
Early July
+ 28… 31 ° C
+ 26 … 27 ° C
+ 26 … 27 ° C
At the end of July
+ 30 … 32 ° C
+ 27 … 28 ° C
+ 27 … 28 ° C
Nightlife becomes one of the favorite entertainment of tourists. bathing.
Beach vacation in July Alanya becomes the main pastime holidaymakers.
But do not forget about the sights. Of course, visiting them in the heat is not the most comfortable occupation, therefore preferably for excursions choose morning or evening time. Visit to Alanya:
Fortress of Alanya.
Damlatashsky cave.
Cave lovers.
Town Avsallar.
River rafting
Fortress of Alanya
In July, many tourists not only inspect attractions – they are also actively relaxing! It can be river rafting, quad races or sea fishing sharks
Side in July
Here in July the heat is a couple degrees lower than in Alanya. but for Europeans, a temperature of 32–33 ° С seems very high. None less humidity is much less that for tourists from northern countries just great! At noon, visitors are hiding in hotels under air-conditioned, and in the morning and in the evening pour on the shore seas.
However, the night does not bring long-awaited coolness. But you with You can easily try out the night swimming.
Weather in Side in July 2019
Happy
At night
Water temperature
Early July
+ 29 … 32 ° C
+ 26 … 27 ° C
+ 26 … 27 ° C
At the end of July
+ 31 … 33 ° C
+ 27 … 28 ° C
+ 27 … 28 ° C
In addition to swimming in the warm sea, we recommend visiting the local attractions:
Agora and the temple of Tyche.
Aqueduct Side.
Waterfall Managavt.
Antique amphitheater.
Windsurfing in Side
Aqueduct Side
Remember that for sightseeing trips preferably cool time (morning or evening). Yes, sunscreen cosmetics is extremely important for a July holiday in Turkey.
In addition, the resort has a large number of points. water bike, jet ski and kayak rental. If you be among the brave ones, try windsurfing or water parachute.
Antalya in July
The place of parties, concerts and festivals attracts young people to throughout the high season. Antalya's climate is humid and traditionally hot. The daytime temperature reaches 34–35 ° С, and at night it reaches 22–24 ° С. It is stuffy even after dark.
Tourists need to have several swimsuits and swimming trunks, because during the night they do not have time to dry because of the high humidity!
Weather in Antalya in July 2019
Happy
At night
Water temperature
Early July
+ 30… 33 ° C
+ 24… 25 ° C
+ 26 … 27 ° C
At the end of July
+ 32… 35 ° C
+ 25… 26 ° C
+ 27 … 28 ° C
On this Turkish Riviera, you can do:
windsurfing
water skiing
ride on sailboats.
Skating water skiing
Duden Falls
Even an indecisive tourist will want a thrill on the warm sea ​​waves. You can have fun in large water parks.
Holidays in Antalya are so diverse that people of any age can have fun Want to plunge into the local night get-together? You are welcome! The best discos, bars, restaurants invite tourists all night.
Come for a tour? A varied program will be offered to you. guides in every hotel. You can walk on your own modern and ancient parts of Antalya and marvel at their differences and beauties. There are preserved mosques and palaces of the XII – XV centuries.
Tourists are offered excursions around the city, where there is many ruins of ancient cities and beautiful waterfalls Dudin.
Kemer in July
It is also humid and hot here! In the afternoon not less than 35, and at night – 24 ° C. Get ready to spend all the time near the water, and long and frequent excursions are better not to plan, except most famous sights. In July, drops a little precipitation, but they do not spoil the rest.
Weather in Kemer in July 2019
Happy
At night
Water temperature
Early July
+ 27… 30 ° C
+ 23… 24 ° C
+ 24… 25 ° C
At the end of July
+ 29… 31 ° C
+ 24… 25 ° C
+ 25… 26 ° C
Kemer in July is very popular among tourists therefore, rest should be taken care of in advance.
The weather in July Kemer is ideal for adult recreation, but hard tolerated by small children.
While in Kemer, still visit local attractions. For trips, choose the cool part of the day. And there is a look at what. It:
Moonlight Park.
The ancient cities of Phaselis, Olympos and Mira.
Park Museum Yoruk open-air.
Snorkeling in Kemer
Antique city of Olympos
For lovers of "high-rise" recreation in the resort there is a cable car. to the top of the mountain Tahtala.
And lovers of active pastime will discover resort snorkeling and diving.
Also popular with tourists are boat trips to a yacht with a transparent bottom through which you can see the inhabitants seas. It is noteworthy that animators work on the yachts, making the trip fun and for kids.
Marmaris in July
The climate at this resort is favorable to tourists. Temperature on average 33–35 ° C in the afternoon, but this is not too exhausting, since there is no high humidity. In the evening it is even easier, and at night the temperature keeps about 22 ° C. The water is warm, up to 24 ° C, but cooler than in Mediterranean Sea
In the Aegean Sea, there are cold undercurrents that do not give the water is very warm.
But our tourists really like this water! They are ready to jump in the water even in April. Find out what the weather in Turkey is at April
Weather in Marmaris in July 2019
Happy
At night
Water temperature
Early July
+ 29… 33 ° C
+ 24… 25 ° C
+ 27 … 28 ° C
At the end of July
+ 31… 33 ° C
+ 25… 26 ° C
+ 28 … 29 ° C
Popular entertainment in Marmaris:
rafting;
diving;
water parks;
excursions to Cleopatra's island;
trip to rhodes.
Rafting along the Dalaman River
Marmaris Diving
Rafting down the mountain river Dalaman. This is an exciting tour with overnight at the campsite and interesting route.
In Marmaris there are 52 descents for diving and a special school for beginners. You can go on a cruise during which tourists learn to dive under the water.
In the Aegean Sea there is another interesting place – the island. Cleopatra. It is believed that he gave the Egyptian queen Mark Anthony. The island is an ancient amphitheater and palace Apollo.
Arriving in Marmaris, you can go on a day trip to Greece. Isle Rhodes is very close to Turkey. In the morning, get on the boat, and in an hour you are already in place. This is how you can go on two trains at once countries!
Waterparks in Marmaris are real water cities with huge pools, slides, restaurants, cafes and spas. There is a separate zone for kids.
Istanbul in July
The ancient capital of Turkey is good for its history and excellent infrastructure.
The peculiarity of the city is that it is located on two opposite banks of Europe and Asia. They are separated by a strait. Bosphorus.
From the east, Istanbul is washed by the Black Sea, and from the west – Marble. Tourists can swim there and there. In july here like and everywhere in Turkey, the heat reigns. But it doesn't wreak havoc like in Antalya or Kemer.
Weather in Istanbul in July 2019
Happy
At night
Water temperature
Early July
+ 26… 29 ° C
+ 22… 23 ° C
+ 22… 23 ° C
At the end of July
+ 27… 31 ° C
+ 23… 24 ° C
+ 23… 24 ° C
Here is a paradise for lovers of history and culture. Inspect all at one time unreal. But be sure to visit
Topkapi Palace – the residence of the Ottoman Sultans;
Suleymaniye Mosque (complex with a library, schools, hamam);
Mosaic Museum (there are ancient samples of mosaics that survived from the time of Byzantium);
dolphinarium;
Aquarium and much more.
Mosque Suleymaniye
Mosaic Museum
In the European part of Istanbul there is the famous Galata Tower. It was built in the XIV century, its height is 61 meters, and it became the main observation deck, from which the whole city is visible.
Where better to relax with children at this time?
Turkey is in great demand among couples with children. And it is not surprising, because everyone will find fun here. resting.
Children splashing all day in the warm sea or in the pool, and professional animators at hotels will brighten up the leisure of small travelers.
Alanya for children
Aquapark Water Rlanet in Alanya
There are several reasons why it is Alanya who is considered ideal. place for a family holiday in July. It is a warm sea and comfortable. hotels Every second married couple chooses this resort for recreation. with kids. In the resort we recommend to visit the water park "Water Рlanet", in it little fidgets will definitely want to spend a whole day.
Side for children
Side Old Town
Side takes the kids along the Old Town. Narrow streets Old Town will transfer a little tourist to historical pastTurkey.
Antalya for children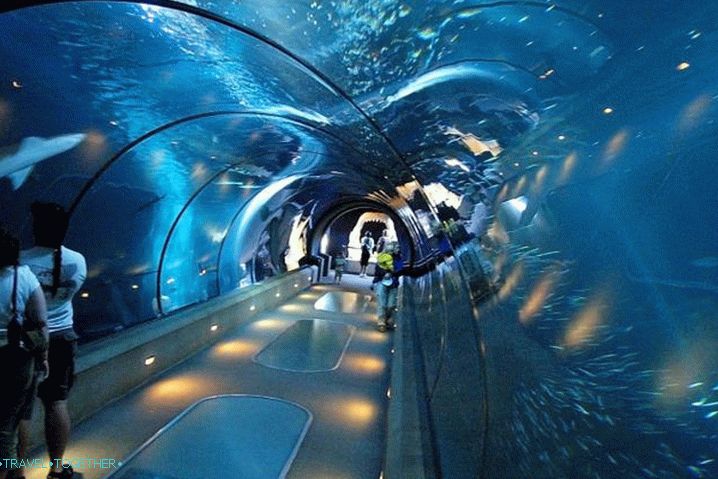 Oceanarium in Antalya
Take your child to a local aquarium, and who knows, maybe the study of the underwater world will be his profession in the future!
Kemer for children
Dinopark in Kemer
One of the largest dinoparks in Europe is located exactly on this resort. Are not terrible dinosaurs? Then feel free to go to familiarity with these amazing animals (or rather, their realistic copies)!
Marmaris for children
Being at a resort with a child, visit the Children's Science Park in Mugla (it is 60 km from Marmaris). The exhibits of the park show physical phenomena.
Istanbul for children
Miniaturk Museum
This is truly a "rich" city for children's entertainment! We recommend to visit the Miniaturk Museum, which contains more than 120 models of world-famous architectural structures.
What you need to know, going to Turkey in the middle of summer?
July is the time for the hot sun. Be sure to take a rest sunscreen cosmetics.
Resorts with daytime temperatures in excess of 35 degrees heat, not the most suitable for holidays with small children. With kids it is better to go to Turkey at another time, for example, in September.
Check out the weather in the Turkish resorts in September
The sea in July Turkey is so warm that it is suitable for bathing babies.
Well, with the prices for the July holidayYou can see in the tables below.
More details on the price of all-inclusive vacation in Turkey is here.
Prices for holidays in Turkey in July 2019
Prices for tours to Turkey in July 2019
Resort
Number of stars in the hotel (hotel)
Price
7 days
10 days
Alanya
3 *
from 36 900 rub.
from 42 600 rub.
Antalya
3 *
from 38 700 rub.
from 45 100 rub.
Kemer
3 *
from 40 150 rubles.
from 45 600 rub.
Marmaris
3 *
from 69 400 rub.
from 86 200 rub.
Side
3 *
from 35 000 rub.
from 38 200 rub.
Prices for independent holidays in Turkey in July 2019
Resort
The price of air tickets from Moscow (there and back)
Price of hotel room (night)
Apartment rental price (per day)
Istanbul
from 9 600 rub.
from 2 200 rub.
from 970 rubles.
Alanya
with the 1st transfer from 14 600 rub.
from 345 rubles.
from 850 rub.
Kemer
to Antalya 15 400 rub.
from 1000 rub.
from 1 350 rub.
Marmaris
to Dalaman airport from 18 000 rub.
from 2 600 rub.
from 1 200 rub.
Antalya
from 15 400 rub.
from 1000 rub.
from 780 rubles.
Side
to Antalya 15 400 rub.
from 1 500 rub.
from 1 200 rub.
7 tips for those who want to relax in July Turkey
On vacation in July, be sure to take sunscreen cosmetics.
We also recommend taking with you lightweight hats, especially This is important for holidaying with children.
We recommend visiting the sights in the morning. or evening when the sun is not so active.
In July, Turkey hosts the traditional holiday of Sheker Bayram, whose name translates as "sweet holiday".
To visit the mosques you will need to cover your head, therefore a scarf or light scarf on vacation will be most welcome.
July is the best time to taste exotic local fruits. Be sure to wash the fruit before eating!
Remember that nudism in Turkey is prohibited. Yes and unsafe in such a bright July sun to sunbathe naked!
Weather in Turkey in May 2020
Weather in Turkey in December 2019
Where to go to rest in November 2019
Weather in Thailand in July 2019
Where to go to rest in January 2020
Weather in Vietnam in December 2019
Weather in Egypt in March 2020
Where to go to rest in the summer of 2019 at sea