Autumn is in full swing, and many are already tired of the permanent weather changes – the warming rays of the sun abruptly give way to a squall wind, cold and precipitation in the form of snow.
If in this cold month you want to have a good rest and Gain strength, go to the resort of Side.
In this article you will find:
What is the weather in Side in October, the temperature of water and air.
Should I rest in Side at this time?
Prices for holidays in October 2019
The content of the article
October weather: water and air temperature
Side in October: is it worth it to go?

What can you do at this time?
What to see?
Prices for holidays in Side in October 2019

6 tips for those who go to the OctoberSide
October weather: water and air temperature
Weather in Side in October 2019
Temperature during the day
Night temperature
Water temperature
At the beginning of the month
+24 … 27 ° C
+17 … 21 ° C
+ 26 ° C
In the end of the month
+22 … 26 ° C
+16 … 18 ° C
+ 24 ° C
Read more: Weather in Turkey for the months of 2019
Earlier this month, it's warm, almost hot in Side. Closer to november it becomes cooler – the temperature drops to + 20 ° C. Tourists continue to sunbathe – the sun is still warm at this time of year strong.
In the evenings it becomes cool, and we advise to take with you leave light jackets or sweaters. The sky is mostly clear Clouds are rare. There is almost no rain, and if so, last no more than 2-3 days, bringing with it a cold snap and wind for the next few days.
In general, 52 millimeters of precipitation fall for the whole month, which is 7% of the annual rate. It can rain suddenly therefore, we advise you to pre-select a hotel that has an indoor heated pool. Relative humidity – 47%.
The holiday season in October in Side is in full swing, despite gradual decrease in water temperature. Highest temperature recorded here this month – 42 ° C.
Nearby resort: Weather in Antalya October 2019
Want to know where the cheapest tours are?
Where are the cheapest tours: 10 rules for buying a tour →
Side in October: is it worth it to go?
What can you do at this time?
In Side, great beaches – tourists give them mostly high evaluation. They are well equipped, well maintained and clean. If you are relaxing with children, and safety is a priority for you, in this case it is better choose the eastern beach. The sea is shallow, the entrance is comfortable, which is very important.
Snorkelling and diving can be enjoyed on the western beach. go waterskiing or sailing as well as go on boat excursion.
In late October, the Republic Day is celebrated, in honor of which various grandiose show programs are arranged – preparation for them It takes quite a long time.
If you are a nightlife lover, you will have to upset you – in this here it is not as stormy as in the summer months. but night clubs still work.
Also among the entertainment you can recommend a trip by jeep in safari and rafting.
Snorkeling
Beaches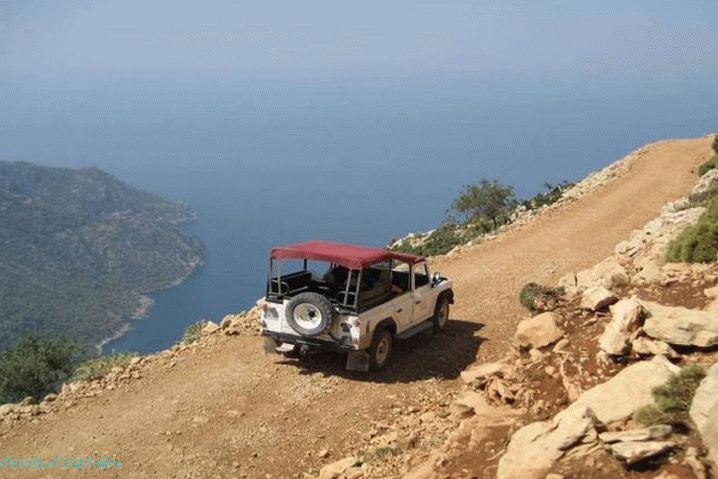 Jeeps in safari
What to see?
The most popular excursions in the resort are to the Kursunlu Falls, the Altynbeshik caves, the Aspendos amphitheater and the ruins of Perge.
Excursion programs also include a trip to Pamukkale, where is the oldest medical resort, Aspendos, Kekova Island, the old cities of Peace and Demre.
Among the cultural values ​​of tourists like to visit monumental fountain Nymphaeum, temples of Artemis and Apollo, antique theater, walls, pillared streets.
The monument erected in honor of Vespasian and Titus – the Roman emperors, and the Arc de Triomphe.
We recommend to visit the Green Canyon. This is the largest canyon country reservoir. It is located 10 kilometers away and Manavgat. The depth of the reservoir – 100 meters, height above sea level – 350 meters Nearly 30 natural sources flow into the Canyon. Here amazing beautiful – beautiful mountains, dense green vegetation and turquoise water.
The Manavgat River is also interesting – it begins its journey from the top. Western Taurus, flows through the plains and canyons, and flows into Mediterranean Sea. Here, at the confluence of warm and cold waters, locals often bathe in the hope of improving the body.
Be sure to go to the arched gate of Side. They were built in in honor of the emperor Vespasian, and in height they reach six meters. For all the time of their existence they were often modified, however they, as before, impress guests of the resort and local residents.
Temple Artemis
River Manavgat
monumental fountain Nymphaeum
Green Canyon
Prices for holidays in Side in October 2019
Prices for tours in Side in October 2019
Number of stars in the hotel
7 days
10 days
four*
from 32 300 rub.
from 39 000 rub.
Prices for independent holidays in Side in October 2019
Air ticket price (1 way)
Price of hotel room (1 night)
The price of renting an apartment (1 day)
from 14 300 rub.
from 200 rub.
from 1200 rub.
Will be useful: Prices for holidays in Turkey in October 2019 "all inclusive"
6 tips for those who go to the OctoberSide
October is the season of citrus fruits. At this time you can taste a lot of delicious freshly ripened fruit for example, Turkish lemons. They are very different from those that sold in our country. Tourists also like local grenades.
The closest airport to Side is in Antalya, therefore will have to get with transfers. You can take a taxi – they are here. many – and drive to the hotel in one hour, or book in advance transfer. Then the driver will meet you with a sign in his hands. there is possibility to order also a chair for the child. You can also drive from the airport by bus to the city of Manavgat, and transfer to another the bus going already to Side.
Tourists vacationing here often buy home not only souvenirs, but also other things as a gift to loved ones, or as a keepsake. Among them – Turkish handmade carpets, hookahs, karkade tea, jewelry products, oriental spices and sweets.
Public transport at the resort is represented by dolmushes – they can take you from one village to another, or to Manavgat. Price fare – about 1 dollar. On the street you can also catch a taxi. Before neighboring cities can be reached by bus.
When you are going for a walk in the neighborhood of Side, do not forget about the great variability of weather – in the middle of the sun a warm day may suddenly start to rain. Especially it concerns second half of the month. Therefore, we advise you to always take with you light jacket and umbrella Also, wear closed and comfortable. shoes – most of the roads in the resort runs along the mountain terrain
We advise you to book a hotel room in advance – in the middle October, despite the fact that tourists are not at this time much as in summer, hotel rooms end very much quickly.
Weather in Egypt in March 2020
Weather in Turkey in May 2020
Weather in Turkey in June 2019
Weather in Phuket in June 2019
Weather in Phuket in December 2019
Where to go to rest in January 2020
Weather in Vietnam in December 2019
Weather in Greece in February 2020