Eager to depart from the arrivals hall of Suvarnabhumi Airport Immediately to Pattaya, Phuket or another resort in Thailand, much lose without seeing the most interesting sights of bangkok. The capital of country no less interesting to visit, and colorful corners in her there is no numbers One of them is Chinatown in Bangkok (in other words, Chayna-Town), where you have to go, let it be for a while. This will replenish your piggy bank unforgettable. impressions
Chinatown in Bangkok is located to the south-east from the Grand Royal Palace, along the street Yaowarat Road (Yaowarat). Chinese Quarter was organized by order King Rama I when his palace was built in Bangkok. Until 1782 Chinese peasants fleeing from their homeland due to different harassment, lived freely on the banks of the Chao Phraya River. Originally it was one of the poorest and dirtiest areas of the capital, with a mass opium dens, brothels and other dubious institutions.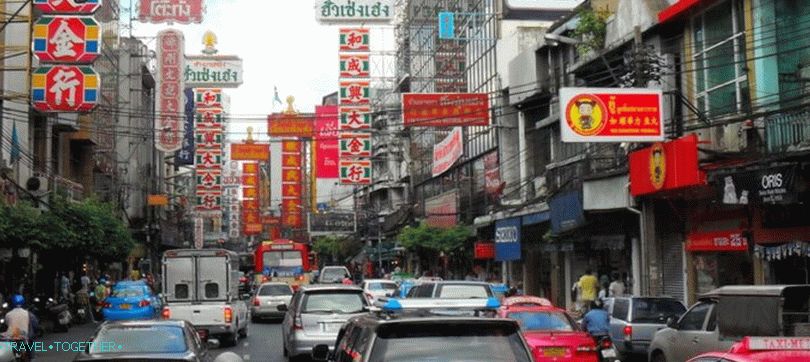 By the middle of the 20th century, the situation changed dramatically; Chinatown Bangkok began to build luxury hotels, skyscrapers, shops, cinemas and even your own opera house. Now is quite safe and beautiful area, completely disposed of of dubious reputation and full of unique Chinese flavor. Its inhabitants still adhere to national superstitions: on the walls of many houses are fixed mirrors "pat qua", protecting residents from evil spirits. The ban on resettlement elsewhere already lost its power, but still there live 60 percent of Chinese from total metropolis.
What to buy?
Chinatown in Bangkok – permanent fair, and its narrow streets – it's almost completely small shops and cafes. The roving people are always there a lot, with the habit you might think that the whole of Bangkok was going to there on the unknown flash mob.
There you can buy jewelry, fruit, oriental spices. In that mix of sentences dominated by fabric – the traditional for the Chinese a craft in which they reached perfection. There is one more zamanuha – the opportunity to buy exclusive jewelry made of gold and silver (where to buy silver in Bangkok?). Possibly quality precious metals will not be up to par but you will get from your hands master jeweler almost hot (literally) thing, which will not be repeated anywhere else.
What to eat and drink?
Want to know what authentic Chinese cuisine is? Shopping in Bangkok's Chinatown is very easy. combine with a gastronomic tour. Starting from the Peking duck and roasted chestnuts to exotic shark fins, black mushrooms tofu, cuttlefish and mussels. If desired, you can find at all indigestible in the eyes of a European. To general surprise, the Chinese eat everything that is chewable.
Most of the cafes, restaurants and cafes are located. on Yaowarat Road. For a portion of rice noodles they ask from 30 to 100 baht, and the average check for dinner is no more than 200 baht. It is worth noting that in Weekend catering establishments are open until 23:00, and on weekdays closed earlier by two to three hours.
Walking along the Chinatown in Bangkok, you You will surely come across sentences of various eastern drugs medicine, as well as blends for herbal Chinese and Thai teas: teguanin, oolong, puer.
Things to do?
Chinatown in Bangkok is still more fair-market, so with cultural entertainment there is not too rich. But all Historical monuments are literally at hand – about kilometer to the west. Although it has become quite safe and partly fashionable, there you can still find places offering forbidden entertainment. Bars with girls concentrated along the street Phadung Dao, where the whole quarter is the unofficial name of Texas because of the restaurant with the talking name Texas Suki (read more about sex tourism in bangkok). In the local lanes alone it's better not go in
The Golden Buddha Image
Where to move in?
I would like to present a list of the most popular hotels and hostels in Bangkok Chinatown which can be booked on Hotellook.ru and RoomGuru.ru. If you decide spend the night in the Chinatown area a couple / three nights, not at all Be sure to book expensive hotels. Here the concentration of a sufficient number of decent, comfortable and cheap hostels that will save travelers a few hundred baht.
How to get there?
The closest Bangkok metro station to the Chinese the quarter is Hua Lamphong – the classic MRT subway, on schemes marked in blue. From it go buses number 37, 49, 75. For the best orientation, remember that to the north of it is railway station, and the "Chinese city" itself – to the west, along highway rama 4 road. You can hire a taxi or a traditional scooter knock Knock.
If you see a similar arch, then you are on the right track!
But it's best to get to Chinatown in Bangkok on the river, to the pier number 8 Tha Ratchawong. From her It's necessary to walk along Ratchawong Road for about seven hundred meters, the road looking into the shops and shops. From the Royal the palace and temple of Wat Pho there leads Charoen Krung Road. Distance about a mile and a half, it's also better to walk – so more interesting.
Video tour of Chinatown
Chinatown on Bangkok map
Chinese Quarter (Chinatown)
The map is loading. You are welcome, подождите. Невозможно загрузить карту -please activate javascript! → detailed information
Chinatown (China Town)
(Calculate route) Chinatown (China Town) 13.741991, 100.507092 Chinatown (China Town) (Calculate route)