See Paris and die! Heard, probably more than once? So, by our humble opinion, there is absolutely no need to die, although to see Paris is possible. But this is not the city to die for. Although Does such a city exist at all? By this I want to say that not we are so impressed with this famous city to fall in love with it, what our compatriots often do. Under the "stay live" I have in mind "do not die"

Yes, this is France, yes, the capital of this beautiful country, but Paris is a fairly ordinary French city, and there is nothing in it radically different. I liked him, but just like everything the rest of the city of France. Perhaps the blame was incessant rain?
In Paris, we arrived by train from Grenoble. Tickets have been bought in in a hurry, as an option with a kovvatyurazh (hitchhiking with payment of gasoline) broken off, and at that time it was the only option. We lived in Paris at the guys we found through couchsurfing. However, the path to he was thorny and long.
Since couchsurfing is not suitable for everyone, and hotels in Europe are better. To book in advance, here I will recommend you:
Family residence
Hotel de LEsperance
Do not forget to check discounts on the Roomguru service where you can see prices for the same hotel in different booking systems. On the example of hotels above:
Family residence
Hotel de LEsperance

High-speed train Grenoble – Paris

High-speed train Grenoble – Paris
We arrived late in the evening at the station Gare de Lion. Paris we are not They knew completely, and of course they did not know that the metro did not even work o'clock in the morning, and the transplant and even less. In general, the subway closed in the most inopportune moment. Navigator, the most brazen way refused to find the address of the guys. Only later did we learn that Paris – this is only the center of the city, and all areas nearby are other populated points, with no visual boundaries between them. So guys lived, already in another city, as much as 40 minutes on foot from the center Of Paris.
We stand, therefore, at 2 am, lost in the Place de la Bastille, torturing the navigator, and vainly catching some wifi with a laptop, and heaps to us a crowd of blacks. I somehow immediately crumbled a bit, their much the same. Seeing our faces, one of them immediately began to speak – peace, liberty, they say how to help. Who would have thought? He even iphone I got mine, I also tried to connect to an Internet, so that the hotel would be us find, but apparently that night the great god of the internet was not merciful. As a result, we walked 3 hours in the night Paris in search of a hotel with 24-hour reception, and found only a certain gadyushnik for 50 Euro. Toad choked, but wanted to sleep stronger.
By the way, I got the impression that the black population in Paris, 50% or more, and sometimes even thought, and in France, are we Did we teleport us somewhere to Africa?
The next day we came to the guys who welcomed us met, and with whom we happily shared vegetarian food. Wow, meet like-minded people!
For two days we walked in rainy Paris, in its overwhelmed leaves to the streets where regularly met discarded mattresses, went to Notre-Dame de Paris (Notre-Dame de Paris), wandered along the banks of the Seine, near the Pedestrian Arts Bridge (Pont des Arts), looked at the Louvre and the Arc de Triomphe—

The streets of Paris are littered with leaves

Mattresses on the streets of Paris are common.

Locks on the Pont des Arts

Pont des Arts

Notre-Dame de Paris (Notre-Dame de Paris) inside

Notre-Dame de Paris (Notre-Dame de Paris) inside

God accepts only in Euros

Notre Dame de Paris under reliable protection

Notre-Dame de Paris (Notre-Dame de Paris)

Notre Dame de Paris. Why is one figure different from the rest?

Louvre in Paris

Walking around paris

Arc de Triomphe in Paris
Most of the time we protorchal, as it is trite, about Eiffel Tower. That rain came and we hid under it from the rain, then then they waited until it was dark and the lights were on.

View of the Eiffel Tower

Eiffel Tower – Paris

Eiffel Tower – Paris
The final chord was our way to Orly airport. Arrived with adventures, and left not without them. I almost missed the last subway and bus because of inaccurate information on the Internet, therefore we had to carry with heavy backpacks, like mad.

Paris Metro

Paris Metro – wagons with rubber wheels
P.S. If you spend the night at the airport Orly, then know that there is very comfortable soft seats. (how to get to Orly)
Photos of Paris and its inhabitants

Parisians on the streets

Parisians on the streets

Parisians on the streets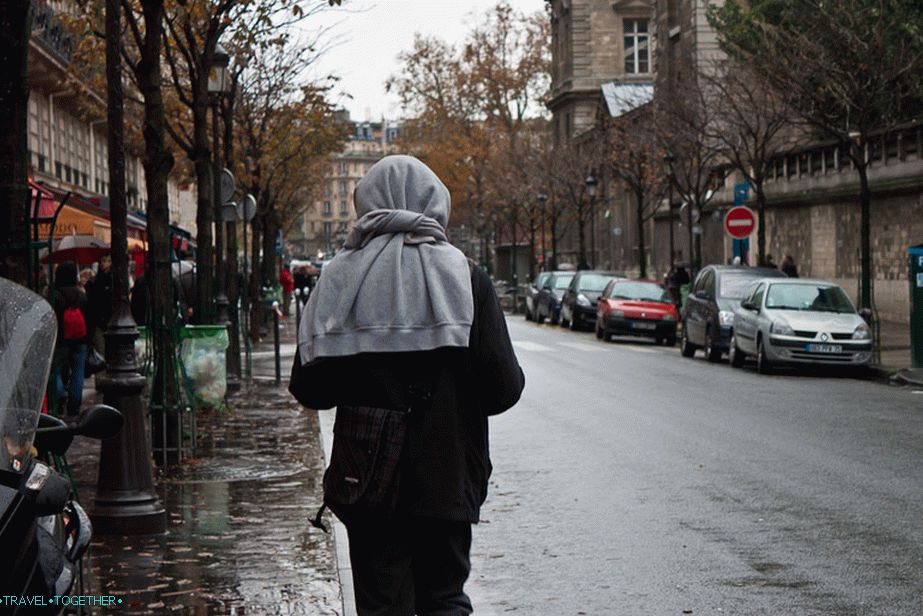 Parisians on the streets

Strange figures near the Louvre

Strange figures near the Louvre

Bench in the form of an open book

Cheap place to sleep

Streets of Paris

Shops of the city of Paris

The streets of Paris are also under reliable protection.

Walking around paris

Walking around paris

Famous ruins on the banks of the Seine

Sightseeing buses ply in Paris – second floor in the rain the most it!
Life hacking 1 – how to buy a good insurance
Choosing insurance is now unrealistically difficult, therefore, to help everyone travelers, I make a rating. To do this, constantly monitor forums, I study insurance contracts and use insurance by myself.
Insurance Rating
Life hacking 2 – how to find a hotel 20% cheaper
First, choose a hotel on Booking. They have a good base offers, but the prices are NOT the best! The same hotel is often possible find 20% cheaper in other systems through the RoomGuru service.
Discount hotels