Being in Khao Lak, I stayed in two low-cost hotels: in pretty ordinary 813 Hostel on the highway, and in the bungalows The Garden Khao Lak on Bang Niang Street is literally 500 meters from the coastline. Excellent houses in the garden, fenced off from prying eyes.
And if the first hotel I chose almost the first one, I thought I would just fall asleep and go on, then the second one purposefully – I wanted to sleep in a bungalow, in a bamboo entourage.
The content of the article
1 Price and reservation
2 Interior
3 Exterior
4 On the map
Price and reservation
AT The Garden

есть несколько вариантов бунгало: бунгало наone and without amenities for 500 baht (shared bathroom), houses for two 700 baht (old), 800 baht (new) and family for 1200 baht.
I lived in those that are 800 baht, and was completely pleased with them. A good combination of price and quality, provided that you want to live not in the hotel, namely in the bungalow. I like it!
Khao Lak hotels →
Be sure (and I insist) check for discounts or special offers on the excellent Roomguru service. He is fast and easy will show you discounts in all existing reservation systems. Вthe same Asia, for example, there are lots of offers on Agoda.com, which much more interesting than on exactly the same hotels in Booking.com.
Для примера, вот прямая ссылка на отель: The Garden

.
Interior
Actually, this is a bungalow with all the consequences: cracks, mosquitoes, lack of air conditioning, a small area, and so on. I sometimes want It is in such housing to stop for a certain surroundings. Therefore, I would not consider all the disadvantages for myself.
For example, a baldachin above a bed saves mosquitoes, heat enough fan (at night even I did not need it), living creatures no, I have not seen, yet it is not a wild jungle, and at best only a gecko comes in. So, if you settle in a bamboo bungalow, you need to understand why you are doing this.
What else is good here. In my type of bungalow the bathroom was inside, with a floor covered with small pebbles, with hot water from instantaneous water heater, with shampoo and shower gel, all as relies.
Mini fridge, kettle, two bottles of water, coffee and tea, a flashlight. I love when there is a kettle, recently I look almost everywhere already There is a good tendency for me, because I like to drink tea. Towels also were by itself.

Bungalow The Garden Khao Lak



Mosquito has a wonderful canopy


Exterior
The cabins are located in a small garden among trees and flowers in tubs. A small but very cozy area, surrounded from all the sides of the walls (seemingly like the walls of neighboring buildings) so that it seems to fall into a small green oasis. Beside there is a cafe with Thai food and live music in the evenings.
That's just this music and heard, all the other sounds are not coming from the outside. But the music is not until late at night, so not straining.

Near the entrance already 3 inscriptions, it is not difficult to notice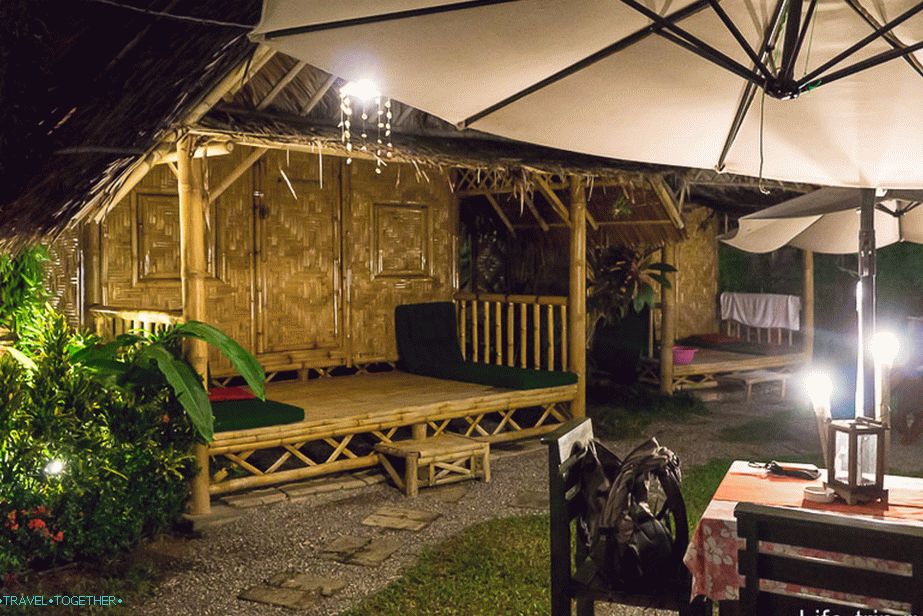 And this is how it looks in the evening when the lights come on.
The location is wonderful, the center of a small area Bang Nian. Neighboring streets are cafes, bike rentals, travel agencies, massages and stuff. But not noisy! To the sea and the great Bang Nian beach walk 500 meters
On the map
The hotel is 100 meters from the junction with Bang Niang Road. On Google it is designated as the Garden Bamboo Bungalow.
Life hacking 1 – how to buy a good insurance
Choosing insurance is now unrealistically difficult, therefore, to help everyone travelers, I make a rating. To do this, constantly monitor forums, I study insurance contracts and use insurance by myself.
Insurance Rating
Life hacking 2 – how to find a hotel 20% cheaper
First, choose a hotel on Booking. They have a good base offers, but the prices are NOT the best! The same hotel is often possible find 20% cheaper in other systems through the RoomGuru service.
Discount hotels