Bayok Sky in Bangkok – a place recommended for visits by most of the guides to the Thai capital. it skyscraper height of three hundred and nine meters, consisting of 85 tiers. is he offers its visitors a variety of services: hotel, network restaurants – from fast food to traditional Thai cuisine Southeast Asia, as well as two viewing platforms, one of which rotating.
Bayok Sky Tower, built in 1997, ranks second in height after MahaNakhon, it can serve as a visual a guideline no matter where you are in the capital.
Viewing platforms
The main flow of visitors to the skyscraper falls on them. Viewing platforms in the Bayok Skye skyscraper are located at 77 and 84 floors.
Sky Walk – an open and rotating viewing platform, serves as would be the parapet of the final turret building with a spire located on 250 meters above the ground. In this case, the total height skyscraper Bayok Sky 309 meters.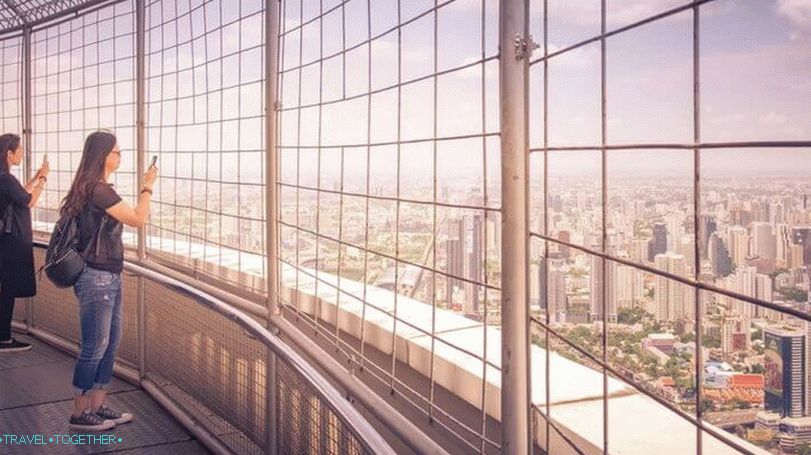 Observation Deck – observation platform, located on the 77th floor. Tourists get there using a high-speed elevator external wall of the building. Its rear wall is transparent, so the elevator can be considered a separate viewing platform. It is equipped telescopes, which can be viewed in a lens for a small fee. There are also several interactive maps of Bangkok, facilitating orientation. Some interest is the museum, Exposition which tells about the Thai capital life of the middle XX century.
Admission to the observation deck on weekdays starts at 10:00, and on weekends from 9:30. You can stay there until 23:00. But later than 21:30 their doors are open only to the exit.
A ticket to Bayok Sky is required for those who are interested only in viewing platforms. Hotel guests and restaurant visitors entrance to them is free. A daily visit costs 300 baht, and evening, from 18:00 to 22:30, four hundred. This amount includes "one Drink "- a cocktail that is served at the Roof Top Bar.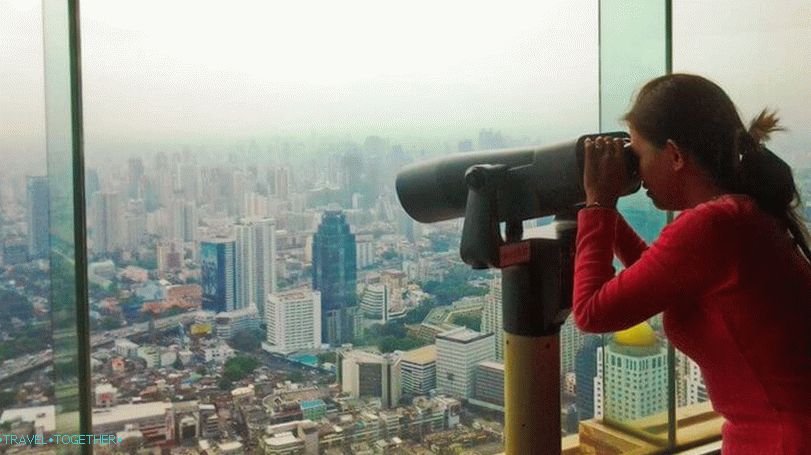 Tickets are sold at the entrance to the building, next to the panoramic elevator, and on the 18th floor, where the hotel reception is located. The best time visits are considered hours from 17 to 19 in the evening, when you can watch sunset and the burning lights of the Thai capital.
Height as seasoning to the main dish
Restaurants in Bayok Sky are located from the 75th to 82nd floor. They delight their visitors not only diverse kitchen, but also a beautiful panoramic view of the capital of Thailand. Everything Catering points in the skyscraper work in a buffet format. Fruit buffet cafeteria at 18 can be considered the threshold of gourmet's paradise floor where they serve fruit and desserts.
75th floor. Traditional Thai Restaurant Baiyoke floating market, stylized floating market.
76–78th floors. Restaurant Bangkok Sky Restaurant. Kitchen international In the mornings, closed for guest service. the hotel. 800 baht fixed entry fee.
79th floor. Chinese restaurant Stella Palace, where you can try exotic dishes like seafood sachets, Hong Kong pig or Peking duck. One person dinner worth 826 baht.
81st floor. Restaurant Bangkok Balcony with four lounge areas under open-air, where booking a table costs 1280 baht, and one inner hall, dinner in which will cost 720 baht.
82nd floor. Restaurant Crystal Grill. Most dishes are cooked there over an open fire, including fresh seafood. Cost of dinner 700 baht.
Dinner at Bayok Sky is a very good point. tourist program in bangkok.
Celestial Hotel
Hotel Bayok Sky in Bangkok (Baiyoke Sky Hotel) has the category of "four stars" rooms for accommodation located from the 18th to the 74th floor. Below are the shops, souvenir shops and parking. Room rates depend on altitude – the higher, the more expensive. The most accessible are in so called the Standard Zone, starting at 22 and ending on the 45th floor. Then, from the 45th to the 63rd floor, there is the Heavenly Zone, and above it, up to 74 floors inclusive, Space.
Standard services include satellite TV. mini bar, kettle, coffee service. For a fee (about 400 Baht per day) you can connect to the Internet, order a massage, transfer to metro stations or aeroexpress platform, late departure. Booking a room will save a lot, because There are always promotions, package offers and other bonuses. Read more about how it can be booked at Hotellook.ru orRoomGuru.ru sites.
Pool in the Bayok Sky Tower, shop, golf course, fitness club and spa make your stay in this hotel very comfortable. A good location – in the center of the shopping district Pratunam in Bangkok, there are several large shopping nearby. centers, markets and outlets have earned him great popularity among shopaholics.
How to get
How to get to Bayok Sky in Bangkok tell many online resources. The main landmark is station Ratchaprarop red line metro city line leading into Suvarnabhumi Airport. It is a five minute walk from tower, and find it is not difficult, because it is above all. Nearest overground stations (green line) BTS Sky Train are Ratchathewi and Phaya Thai.
Bayok Skye skyscraper on Bangkok map
Skyscraper Baiyoke Sky in Bangkok
The map is loading. You are welcome, подождите. Невозможно загрузить карту -please activate javascript! → detailed information
Baiyoke Sky Skyscraper
(Calculate route) Baiyoke Sky Skyscraper in Bangkok 13.754546, 100.540329 Baiyoke Sky Skyscraper (Calculate route)