Bangkok Suvarnabhumi Airport (Sunabhumi) is one of the most big airports that i saw. There would be golf cars to move, but for now from one end to the other you will, and the day will pass. Once upon a time before active traveling, I read blogs of various travelers and stumbled upon photos of Sunabhumi, then I still could not imagine that I'll find myself not just at this airport, but I will visit it ten times and I will go to winter every year in Thailand. Here's how it happens, you read, draw yourself some pictures in your head, and then once – and you yourself are saw everything.
The content of the article
1 Suvarnabhumi Airport

1.1 How to fly to Bangkok
1.2 Online scoreboard of departure and arrival in Suvarnabhumi
1.3 Arrival and departure
1.4 Where to get Simka at the airport
1.5 Where to change money at the airport
1.6 Free Wifi at Bangkok Airport
1.7 Where to eat at the airport
1.8 Luggage Storage at Suvarnabhumi Airport
1.9 Where to sleep at or near the airport
1.10 VAT refund or VAT refund
1.11 Bangkok Airport Map

2 How to get from the airport to Bangkok

2.1 Metro and bus
2.2 Taxi
2.3 Transfer via the Internet
2.4 From Suvarnabhumi to Don Muang Airport

3 How to get to other cities

3.1 Instructions
3.2 Car rental

4 Suvarnabhumi Airport on the map
Suvarnabhumi Airport
How many airports are in Bangkok? There is also a second airport in Bangkok, which is called Don Muang (Don Muang / Don Muang). is he more used for low-cost companies. But today it is only about Suvarnabhumi Airport.
How to fly to Bangkok
Suvarnabhumi – the main airport of the country. He has to most international flights. Many fly here first, and then fly by local loukosterami to resorts, maybe get more profitable. But in any case, it all depends on the specific dates And when buying tickets in advance, you can, for example, very profitable fly to the same Phuket than do a transfer to Bangkok.
Tickets to Thailand are best monitored through search engines. flight tickets such as Aviasales.ru and Skyscanner.ru. Then you be able to see offers from all airlines in one place. Below in the calendar, you can estimate prices in different months.
Online display of departure and arrival in Suvarnabhumi
Below is an online scoreboard with arrivals and departures by flights. The information on the scoreboard is displayed in real time. and you can always see which flight is expected, which delayed and so on.
Arrival and departure
In order not to get confused between floors, as at first it is a bit difficult, given the numbering of the floors, save yourself a picture on phone.
On the 4th floor is the departure area (Departures). There and international flights, and local.
On the 3rd floor there are restaurants with Thai and European food, and also a waiting area, although it is small.
On the 2nd floor there is an arrival zone, there is passport control, baggage claim. After leaving the baggage claim area, you can buy a sim card, exchange money, withdraw money at an ATM, find car rental desk and access to the free bus that carries in Don Muang.
On the 1st floor there are ticket offices for bus tickets and minibas to Khao San, Pattaya, Hua Hin, Koh Chang. Racks between exits 7 and 8. Also near these racks is the entrance to the Food Court with cheap thai food
On the 0th floor (B floor) is the metro station from which you You can drive to the center of Bangkok.

Bangkok Airport Numbering
Filling immigration card
Still in the plane you will be given an immigration card, her must be filled. There are two parts, the arrival card and departure card. The first will be taken away from you border guards, the second is necessary save until departure. When filling, you can not particularly bathe, they are not look strong. We wrote a fake hotel and something that does not work anywhere – and everything is in order. But in connection with the latest tightening better write some post, any manager, or to undertake.

Immigration card – an example of filling

Immigration card – an example of filling
Passport control
Arriving at Bangkok airport and leaving the plane, it makes sense move faster in order to be among the first on the passport control. Sometimes, there are lines and we once stood for 2 hours. Need to go on signs Immigration or Baggage claim. Go it may take a long time, so there are moving tracks everywhere.
As you see the blue carpet, from which a little ripples in the eyes, you in place. Your window that says Foreign. You can try to get up to the rightmost line, from there sometimes redirect people to Windows designed for Thais, especially if you are with a child. And if the child is small, you can ask for it yourself. By the way you probably heard that Thailand is a land of smiles. So to the airport Bangkok, and especially to the border guards, is not relevant. There some wrong Thais.
The entire arrivals area is on the second floor of Bangkok Airport. Suvarnabhumi. When you get the luggage, look around, there There are racks where you can get a free map of Bangkok. Also, after leaving the baggage claim area, you can take a local sim card, exchange currency or withdraw money at an ATM. Dollars / euros in Tae are not accepted in stores, so you need to have baht More on this below.

Travelers help to reach passport control faster
Return flight
Now consider the option when you need to fly away from the airport. Suvarnabhumi. The departure zone is located on the 4th floor of Bangkok Airport. If you go by taxi, then you will immediately be brought to this floor. If a on the subway, it will be necessary on the elevator or escalators to rise from the ground floor to the top, do not miss, it is the last.
On the fourth floor is a common area for international departures. (International Flights) and domestic flights (Domestic flights) from Bangkok Air and Thai Airways. I remind you that from October 1 2012, AirAsia and other low-cost airlines were moved to Don Airport Muang Consider this when planning transfers!
On the 4th floor there are several shops like 7/11 and Family Mart. Only three passport control entries – two for international and one for local departures.

Departure Area Suvarnabhumi Airport
Where to get Simka at the airport
On the second floor in the arrivals area after baggage claim and exit through the green / red corridor you can buy a local SIM card with Internet package you need: DTAC, AIS, True Move. I usually I use DTAC.
It also happens to everyone at the exit popping free SIM cards from True Move, so with them then there may be problems if need internet, and you know, free sims contain a minimum balance, anyway then you need to connect Ineta package.
Buy in advance via the Internet local Thai sim card on the site Klook and get 4G internet for 8 days for 131 baht instead of 299 baht Your sim card will be waiting for you right at the airport in kiosk / Dtac. This is just a gift, there are no such prices anywhere else. The tariff is more than enough for instant messengers, browsing websites, google maps etc. Here is a detailed instruction just in case.
Order sim card DTAC 2 times cheaper →

DTAC and AIS racks in the arrival area of Suvarnabhumi Airport
Where to change money at the airport
Exchangers here are difficult to miss, there are on each floor and different banks. The rate is quite normal for currency exchange on baht, if you a small amount. Similarly, when departing from Thailand you can change bats back to dollars / euros at the airport, so as not to carry with a baht.
But! If you have a large amount or want to save, then Search for SuperRich exchanger. It is located on the lower floor, level B, There is an exit to the Airport Link metro. The best course! And exactly the same as in their branch in the center of Bangkok. And usually it is SuperRich advised as a good exchanger.
Read my recommendations on choosing bank cards for travel, perhaps you also, like me, do not like to take with a bundle of cash, and prefer to withdraw money at ATMs and pay for purchases with a card. But just in case I give link to how to withdraw money in Tae. The airport is full of ATMs, where you can withdraw money. Also in the transit zone there is dollar / euro ATMs, but access to them is possible only with flying away from thailand.

Bangkok Currency Exchange

Dollar ATM in Suvarnabhumi in the transit zone
Free Wifi at Bangkok Airport
Free internet is given for 2 hours, for this you need connect to the AirportTrueFreeWiFi wifi network, enter your data, register and login.
If you have a little 2 hours, then the Internet can be bought. I would suggest It is better to use the mobile Internet by purchasing a SIM card with the package traffic per day or week. On the second floor in the arrival area there is rack DTAC, AIS and True Move, there you can easily buy Sim and select the desired amount of traffic. Mobile 4G and 3G are excellent is caught at the airport. More about tariffs DTAC, AIS, True Move. I I usually use DTAC or AIS.
Where to eat at the airport
In the departure area on the 4th floor, there are shops like 7/11 and Family Mart: rolls, chocolates, noodles and boiling water in addition, tea, coffee, dried fruits, yogruts and so on. Also there is a ready meal (rice with anything), which you will warm in the microwave.
On the ground floor there is a 7/11 and a couple of cafes. But if you want eat fully, then you need either to the 3rd floor where all the cafes are located, or in the Food Point on the 1st floor. If you love Thai food and know what Thai food courts are, then I would recommended that you go to the food court. It is located near the exit. number 8, Thai prices, you can eat for 50-100 baht per plate. Usually Thais and airport employees eat here.

Food Court on the 1st floor of Suvarnabhumi Airport
Luggage storage at Suvarnabhumi Airport
Luggage storage at Bangkok airport costs 100 baht per day. It is located on the 4th floor in the departure area. There is one more Luggage storage on the 3rd floor.

Luggage storage at Suvarnabhumi Airport
Where to spend the night at the airport or around
If you need a normal comfortable overnight stay during transit, then there is a budget hotel near Nasa Vegas, before it literally on the subway 20 minutes to go, and it is right next to the station subway will be. I have stayed in it several times for 1-2 days.
If you want even closer, look at the RoomGuru map, there full of options. But note that you need to get there by taxi and Totally, not the fact that it will turn out much faster than on the subway. The closest hotel is the Boxtel, it is located right in the airport, consider him too. By the way, you can book it. and half a day.
Bangkok hotels →
In general, I have stayed in Bangkok many times and in different hotels. I will not provide links to all my reviews, add a few more: Rajata is a good place to spend the night near Khaosan, and Bless Residense is located in Sukhumvita in the city center.

Good hotel in Bangkok for Nasa Vegas transit
I hope you know that in Asia you have to watch Agoda, only one booking is not enough for you and just such aggregators this is convenient, they have everything at once, but the best thing is RoomGuru. If you need to find a hotel in Bangkok, then choose accommodation through this the service will show all the discounts, and then you will book later where more profitable.
Also in the airport itself you can take a nap in skymeks, if you need to wait long for your flight. They are in abundance in the zone departure, but also they are on almost all floors. And if you are a backpacker with a sleeping bag and a rug, that is, relatively secluded places under escalators on the lowest ground floor. You will become a bonus sockets on the walls, if they have not yet been removed.
VAT refund or VAT refund
At Bangkok airport before departure, you can return the tax from shopping made in Thailand. Previously, when committing shopping in a store is necessary to issue a paper for tax refund. True, this possibility is not in all stores and the amount of purchases for paper registration should be a minimum of not less than 2000 baht
Also purchases must be made no more than 60 days before departure from thailand. I wrote about it in more detail in this article VAT refunds in Thailand – save on purchases.
Bangkok airport map
The main building, where you will fly, has the shape of a rectangle and 5 floors connected by escalators and elevators. To that adjacent to the building sleeves, which you will move from the plane to passport control.
Note that the numbering of the floors is a bit non-standard for Russia: there is a zero-ground floor (called B) and floors 1 through 4. Ground floor – underground, has no exit to the outside and you can go by metro to the city.

1st floor. From here all the buses go

2nd floor. Arrival area

3rd floor, intermediate. In addition to the cafe nothing interesting.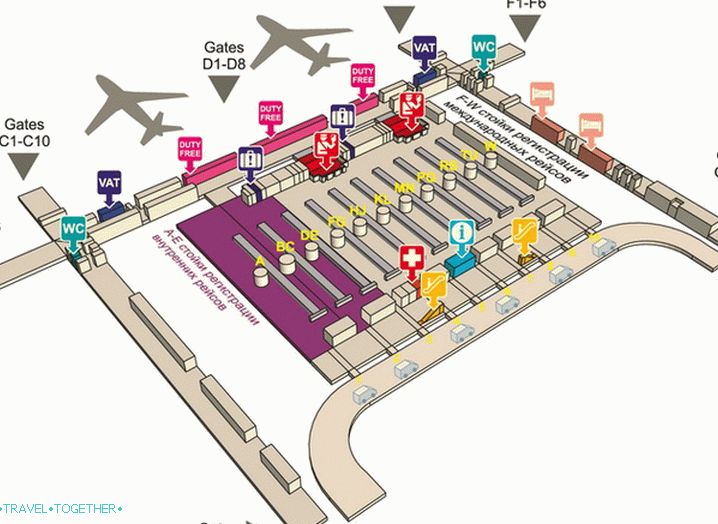 4th floor. Departure area
How to get from the airport to Bangkok
Metro and bus
Metro (Sunabhumi Airport City Line) costs 15-45 baht to the center cities (depending on the number of stations). City opening hours Line from 6.00 am to 12.00 am.
Same as previous version, only express without stops (Sunabhumi Airport Express), next to the final Phaya Thai station. The cost is already 150 baht.
There is an option with buses of 35 baht, but I honestly, they never used. There, you first need to take a shuttle and get to bus terminal near the airport and only then go to bus ride.
To Khaosan tickets can be bought on the 1st floor between exits 7 and 8, there is a sale stand. Minibus from there will go.
I'll tell you about separately about the subway. From Bangkok airport is direct independent branch to the city center, it is called City Line and as such, it has nothing to do with the rest of the metro lines that the transplant will have to pay again. Runs over the ground and allows you to enjoy views of the city of Bangkok. To take the subway you just need to go down the escalator or elevator to the bottom floor (ground), following the signs, To City / Train to City / City Line.

Follow the signs and they will lead you where you want

Price for travel in the subway City Line

Here is the ticket sales desk for Khaosan.
Once you have reached the City Line to the center of Bangkok, there is Different options, depending on your goals.
To get to the Hua Railway Station Lamphong, you will need to transfer at Makkasan station (transfer to MRT subway).
In order to get to the bus station in Bangkok Mo chit The transfer is done at the Phaya Thai terminal station (transfer to Metro BTS Skytrain).
Just in case, I commemorate that long-distance tickets buses and train tickets can now be bought in advance online only at 12Go.asia. Payment by card or via PayPal. In case of railway original you must get your ticket by hand – either by mail or in one of the offices.
Tickets for buses and train →
More about the types of metro, railway and bus stations Bangkok, as well as where to go, you can read in articles on the link.
Taxi
Taxi to the city center will cost an average of 300-500 baht and above, depending on traffic, distance. Most importantly, go by counter, then get a normal price. If you are traveling together or three, it is already easier by taxi than by subway. Taxi details at Bangkok and driving on the counter, read this my article.
You will need to go down to the first floor and follow the signs to Public. Taxi go out through the glass doors. You can go out of any way out there on the street will be even easier to navigate. Straight immediately after the exit you will see pointers and terminals with coupons, and, perhaps a turn. Take the ticket and continue to the board with the desired number. Not difficult, understand on the spot. By the way taxi You can take immediately to Pattaya, Hua Hin, etc., but the price is likely it will be fixed and not every taxi driver will want to be carried, for long away.

Taxi stands and a queue on the street on the 1st floor of the airport
Internet transfer
Anyone who wants a minimum of gestures can order a transfer online in Kiwitaxi. That is, you order in advance via the Internet a taxi and you will be met in the arrival hall with a name plate, take the luggage will be put in the car and taken to the right place. The way is good that there are no problems at all. Transfer can be booked not only until downtown, but also to Pattaya, Koh Chang, Hua Hin, etc.
I have already used this service several times and described my personal experience, read.
Transfer to the center of Bangkok →
From Suvarnabhumi to Don Muang Airport
I decided to write in detail what are the ways to get between Bangkok's two airports and therefore wrote a separate post for this subject – From Suvarnabhumi to Don Muang and back. Free bus, subway, taxi and so on.

Free bass shuttle from Suvarnabhumi to Don Muang
How to get to other cities
Instructions
I have a lot of information here on the blog, and in particular, how get to this or that city if you flew to Bangkok. I will give the main links to my detailed instructions.
How to get to Pattaya How to get to Koh Chang Koh Samui How to get to Phangan How to get to Phuket How to to get to krabi how to get to hua hin how to get to chiang May
Car rental
I already took 10 times a car at Bangkok airport, as if upon arrival, and living in Bangkok itself. Details about all the nuances of renting in Thailand in my post – Rent a car in Tae, based on many years experience.
The machine is very convenient and gives great freedom in movement. Book in advance, receive immediately upon arrival, and when you return car to the airport, then from the airport you can always go somewhere further by bus or in Bangkok itself by metro / taxi. After that, as a child appeared and popribilos things, I prefer it to car ride, and not by public transport. And in general, I'm something tried out autotravels and now alone now almost always on I drive a car.
Rent a car in Bangkok at a discount →
Best to book through Economybookings. On one site You will see offers from all major distributors and the price will be in times 2 lower than directly. Arrive and immediately at the airport you will have your own a machine. Constantly saving so.

Rent a car at Bangkok airport
Suvarnabhumi Airport on the map
This airport is located in the east of the city, you can even say In the countryside. Therefore, the center to get about an hour. But if you Keep your way to Pattaya, Koh Chang, etc., then you even closer to go, what was from the city center from the bus station.
Life hacking 1 – how to buy a good insurance
Choosing insurance is now unrealistically difficult, therefore, to help everyone travelers, I make a rating. To do this, constantly monitor forums, I study insurance contracts and use insurance by myself.
Insurance Rating
Life hacking 2 – how to find a hotel 20% cheaper
First, choose a hotel on Booking. They have a good base offers, but the prices are NOT the best! The same hotel is often possible find 20% cheaper in other systems through the RoomGuru service.
Discount hotels