Yanui Beach is located in the south of Phuket Island in 5 minutes from Nai Harn beach. The beach is relatively small, about 100 meters long, but cozy and very picturesque. Wedding photography is often held here, and Yanuy is also considered one of the best places for sunset.
The content of the article
1 Description of the beach
2 Entry into the water, depth and waves
3 Sun beds and shade
4 Beach Photos
5 Infrastructure
6 Houses and hotels on the beach
7 How to find a beach
8 beach map
Beach description
Yanuy is in the cove, surrounded on all sides by rocks, so even in the season of winds, the beach is not subject to serious excitement. In the southern part is located Promtep cape (Promthep cape). In the north Yanuy is protected by a hill, on top of which there is an observation deck (WindMill ViewPoint), which offers a wonderful view of terrain and nearby beach.
There is also a wind power generator. Off the coast there is a small island of Man (Koh Man), to which, if desired you can swim, but sunbathe here will not work, since it is surrounded stones and reefs.
Entry, depth and waves
The beach itself is conditionally divided into two parts by a small stony. projection, on both sides you can swim. The sea is very here calm, the entrance to the water is comfortable, sandy, gradually turning into stony surface.
The place is great for family holidays, albeit with some reservations. The water is so clear that all underwater are visible. pebbles, and marine life, it creates excellent conditions for lovers of water dives.
Sun beds and shade
There are a lot of sunbeds here, just like the shadows. Very cozy place, compact, everything is near. There are no deck chairs, but for a cocktail at a bar nearby. with sun beds you can get the right to use one of them. On If anyone is interested in reading about other places, I have A brief overview of all the beaches of Phuket, will help you decide in the beach.
Beach photo

Yanuy Beach, Phuket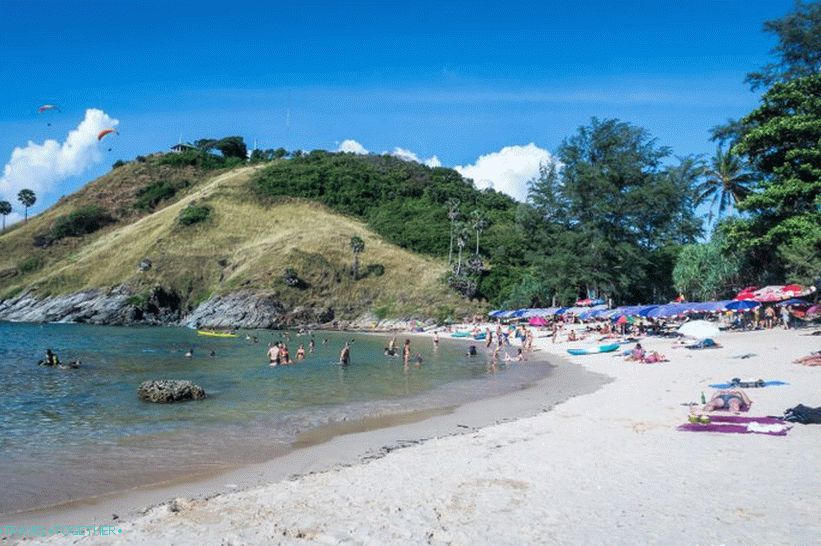 Infrastructure
This is not to say that the beach is crowded, but in season it is not so and few tourists. For a comfortable stay on Yanu has everything necessary attributes. Sun loungers with umbrellas are arranged along the beach, there are cafes and restaurants, massage can be done right on the beach, there is possibility to rent a kayak or scooter.
There are only a few attractions near Yanui Beach: Cape Promtep, Buddhist temple-monastery Nai Harn Monastery, lake Nai Harn (central to active sports entertainment) and Windmill observation deck near the windmills, but there already walk It will be difficult to reach, because the mountain.
Houses and hotels on the beach
Accommodation options in this area a bit. You can stay in отеле Ya-Nui Resort

, что в 10 минутах ходьбы от пляжа, арендоватьbungalow almost ashore from 1500 baht per day or rent a room in The Windmill Phuket Hotel

, который находится чуть в глубине, но все же неvery far from the beach.
Hotels near Yanuy →
Be sure to check for discounts or special offers. excellent roomguru service. He will quickly and simply show you discounts in all existing reservation systems. In the same Asia, for example, There are lots of offers on Agoda.com, which are much cheaper than in the same hotels in the Booking.com system.
For the lazy, here are the direct links to the hotels listed above:
Ya-Nui Resort
The Windmill Phuket Hotel
If you want to book a hotel here in advance or search for accommodation on other beaches, I have a selection of hotels in Phuket with good rating and reviews.
How to find the beach
Finding the beach is easy, you need to go from the Nai Harn beach to the south (left, if you look at the sea), in the direction of the hill with a wind generator up the hill and after 2 km you will see Yanui Beach. For the road there is a paid parking (20 baht).
You can also go with Rawai Beach moving along the sea and further along signs to Promthep cape and on.
Beach map
Life hacking 1 – how to buy a good insurance
Choosing insurance is now unrealistically difficult, therefore, to help everyone travelers, I make a rating. To do this, constantly monitor forums, I study insurance contracts and use insurance by myself.
Insurance Rating
Life hacking 2 – how to find a hotel 20% cheaper
First, choose a hotel on Booking. They have a good base offers, but the prices are NOT the best! The same hotel is often possible find 20% cheaper in other systems through the RoomGuru service.
Discount hotels