Thongson Bay or Tongson Bay is written in English. Russian transliteration is more diverse: Tong Son, Thongson, Thong Son, and Tongson. If you look at the beach using google maps in satellite, it can be seen that Tongson Bay stretched out more than half a kilometer from west to east along the northern edge of the island Samui
The content of the article
1 Description of Thongson Beach
2 Entry into the water, depth and waves
3 Sun beds and shade
4 Thongson Beach Photos

4.1 Thongson Himself
4.2 Hidden beach

5 Infrastructure
6 Houses and hotels on the beach
7 How to find a beach
8 beach map
Description of Thongson Beach
Tong-sleep from left to right:
The first 250 meters represent a stone placer.
The next 250 meters is a sandy beach where the main party having a rest.
Small stone placer and Thongson Bay bonus – small secret beach in a closed area.
The width of the beach practically does not change throughout its length. The sand on the Tongson beach is greyish. Very soft, annoying, as small as mana groats, it cannot be shaken off a wet body and clothes. Closer to the water, in the surf, sand lies larger, with very small pebbles and shells.
Clean on Thongson maintained by hotel employees Melati

, therefore, opposite the hotel itself, in the center of the beach and in its eastern part – very clean, no dry algae, old coconuts and plastic bottles. Closer to the western edge of the beach a little dirtier, but litter of natural origin.
Also on the entire beach there are no storm drains. sewage, water intake pipes, electricity cables and no stinkers. Like, for example, on Chaweng Noi beach.
In high season, on Thongson Beach, there are not as many people as Chaweng, Lamai and Maename. Here you can see, or rather – to hear a large number of Russian-speaking holidaymakers who come to the beach families. The number of people does not force to look for distant corners of the beach for solitude.
Three meters from a large tree with a shadow is a natural paddling pool for kids. You can run the kids in it and watch behind them, relaxing on a beach mat, rather than frozen in a low pose start. The water in the paddling pool decreases with low tide, so that by noon from it remains a pool with stones and hot water.
In case anyone is interested in reading about other places, I have There is a brief overview of all the beaches of Samui, will help you decide in choosing a beach.
Entry, depth and waves
Until low tide, the entrance to the sea is relatively free of stones and corals that are further from the coast and do not interfere with swimming. Sea depth allows adults to swim 30 meters from the shore without kicking the bottom. After low tide, the sea moves closer to underwater. surprises, and you have to look out for clean areas of the sandy bottom, on which it is not dangerous to go barefoot.
The sea is very shallow, which is great for preschool children. age, but older people have to go to 50 – 100 meters further. At the peak of low tide, fifty meters from the shore adult water depth reaches just above the knee
Thongson Beach does not often occur large waves, there is no seasonal undercurrents, as observed on Lamai, and no dangerous wildlife under water. In spite of this, it is not recommended. swim away from shore in the evening, and even more so at night avoid encounters with jellyfish.
Sun beds and shade
Sun beds not for public use belong to the hotel. Rental sun beds on the beach there. Natural sources of shade on the beach всего два: пальма напротив отеля Melati

и раскидистое дерево на восточном краюTongson.
Photo of Thongson Beach
Tongson himself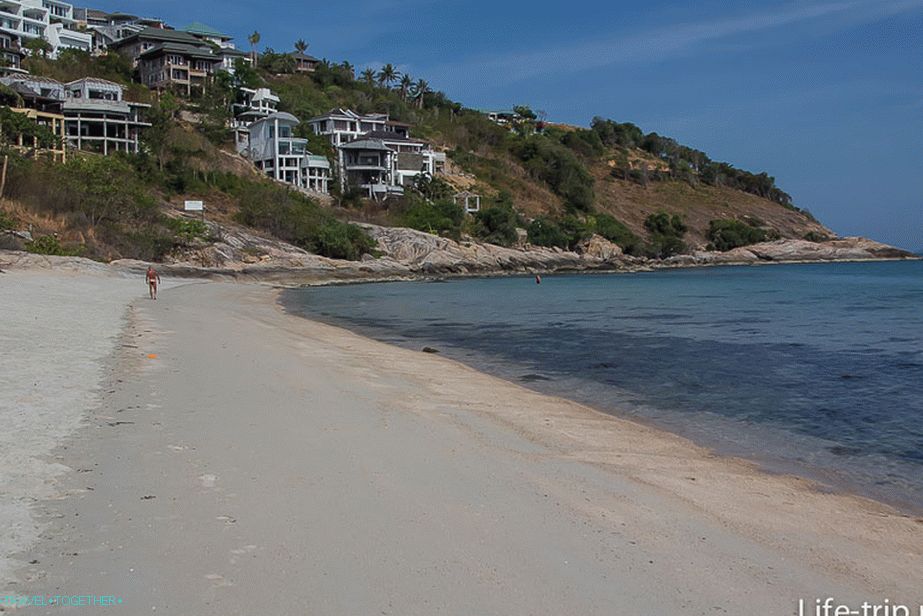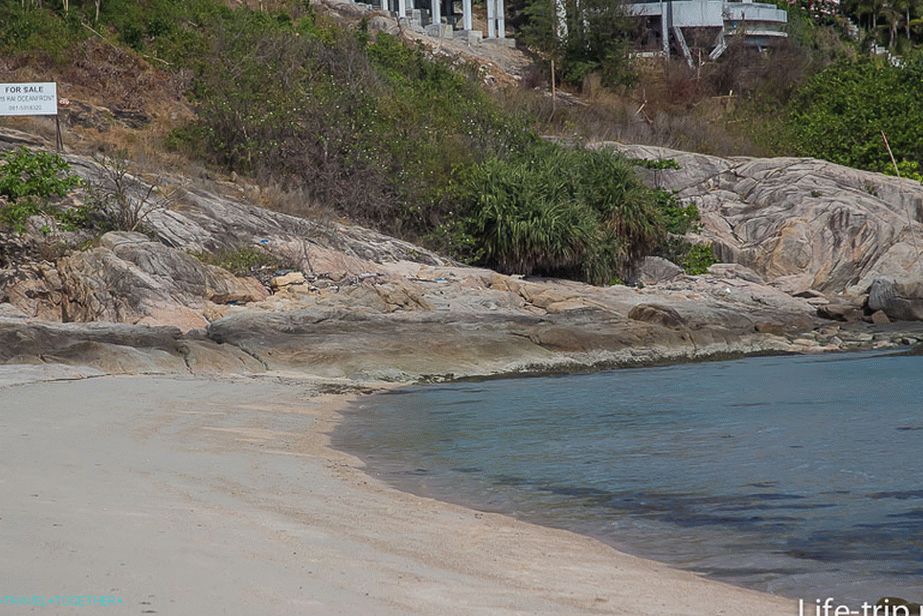 Hidden beach
To the right of the main beach there is about a hundred meters of rocky rocks and behind them – a stretch of beach hidden from prying eyes Tongson and wander here mostly lovers of sunbathing naked. The entrance to this little beach is possible only through the stones, but the stones are not slippery, although with children you probably will not go here.



Infrastructure
Thongson Bay is located in the north of Koh Samui, at least inhabited part of it. Near the beach there is a large hotel. Мелати

, территория которого тянется на три сотни метровfrom the sea.
To the nearest tayshop need to drive half a kilometer. Range The store is striking minimalism: beer, chips, doshiraki. Immediately worth water The nearest mini-market "7 11" will have to go almost kilometer to the intersection with Ring Road. On the way to the ring road There are laundries, water mats and Thai cafes. To large supermarkets about 9-10 kilometers, it's twenty minutes by car, if without traffic jams and slowly.
Nearest attractions for living in Tongson ten minutes drive from the beach: the Pla Laem Sor Temple (Plah Laem Sor) and Big Buddha.
Five kilometers from Tongson is the airport of Koh Samui. Airplanes on the beach itself can not be heard, no discomfort from such neighborhood is not felt.
But the cost of a taxi to the airport is the most pleasant on the island. Entertainment is represented by kayak rental and a single restaurant with low prices for cocktails.


Houses and hotels on the beach
Если смотреть на море лежа на шезлонге отеля Мелати

, то справа от отеля располагается резорт сa dozen bungalow-type houses.
At a distance of one kilometer from Melati, there are several resorts and one newly built Samui condominium Emerald

. Currently in this area more jungle than buildings. Right in the mountains in full swing is working on construction of the road along which, in a short time, will begin building area.
If you want to book a hotel here in advance or search for accommodation on other beaches, I have a selection of hotels on Samui with good rating and reviews.
Hotels near Thongson →
Be sure (and I insist) check for discounts or special offers on the excellent Roomguru service. He is fast and easy will show you discounts in all existing reservation systems. AT the same Asia, for example, there are lots of offers on Agoda.com, which much more interesting than on exactly the same hotels in Booking.com.
For the lazy, here are the direct links to the hotels listed above:


How to find the beach
You need to get to the arch, which is located above the road, leading to big buddha. Near this arch the road turns right, and 500 meters in the direction of travel will be the Family Market. Turn over him left and do not stop until a large wooden stella with названием отеля Мелати

.
Next you will be taken to the Nantra Thongson Bay Resort

. Before entering the beach there is a rather large Free parking with shade, about ten parking spaces.



Beach map
Life hacking 1 – how to buy a good insurance
Choosing insurance is now unrealistically difficult, therefore, to help everyone travelers, I make a rating. To do this, constantly monitor forums, I study insurance contracts and use insurance by myself.
Insurance Rating
Life hacking 2 – how to find a hotel 20% cheaper
First, choose a hotel on Booking. They have a good base offers, but the prices are NOT the best! The same hotel is often possible find 20% cheaper in other systems through the RoomGuru service.
Discount hotels