Just half a century ago, Singapore was a backward country, a country "third world". But thanks to serious reforms, Singapore is very quickly became one of the three most advanced countries in the world. it incredible. In just a few years, the country has changed to unrecognizability. Instead of poor and small houses on this land Now there are incredible skyscrapers and are widely used. The latest advanced technology. This country is not indifferent not a single tourist.
When planning a trip to Singapore, the question is which hotel choose to stay? I think absolutely everyone who was looking for information about Singapore, be sure to see the photos of the The famous hotel in this country is Marina Bay Sands. By its design The hotel building stands out against the rest of the buildings.
The content of the article
1 Hotel with rooftop pool by Marina Bay Sands
2 Room Types and Prices
3 Exclusive rooms
4 On the map
Hotel with a rooftop swimming pool Marina Bay Sands
Марина Бэй Сэндс

— отель, который известен на весь мир благодаряits unique architecture. Rooftop swimming pool annually attracts many tourists to this hotel. Miss this is a huge ship-like building on three towers just impossible. On the roof of the building is the largest in the world. infinity pool. The length of the pool is 150 meters. Visible sides absent therefore it seems as if the pool suddenly breaks off just attracts lovers of selfies.
Previously, for a small fee, the pool was available for visits. absolutely everyone. But there were too many interested people and now access to the pool is only for guests. But there was access to the observation room. rooftop area. The visit is paid and will be 20 SGD.
If finances allow, it is worth at least a day to rent a room in this hotel and enjoy the beautiful views from the room and pool. But, this is not the only hotel in Singapore that has a pool on the roof, I did a separate selection of hotels with a pool on the roof.
The hotel has 2500 rooms, there is a shopping center, 2 theaters, a museum, casino, spa, entertainment complex, gyms and many restaurants of different cuisines of the world. On the roof of the hotel there is restaurant and bar CE LA VI, as well as an observation deck.

Famous Marina Bay Sands Hotel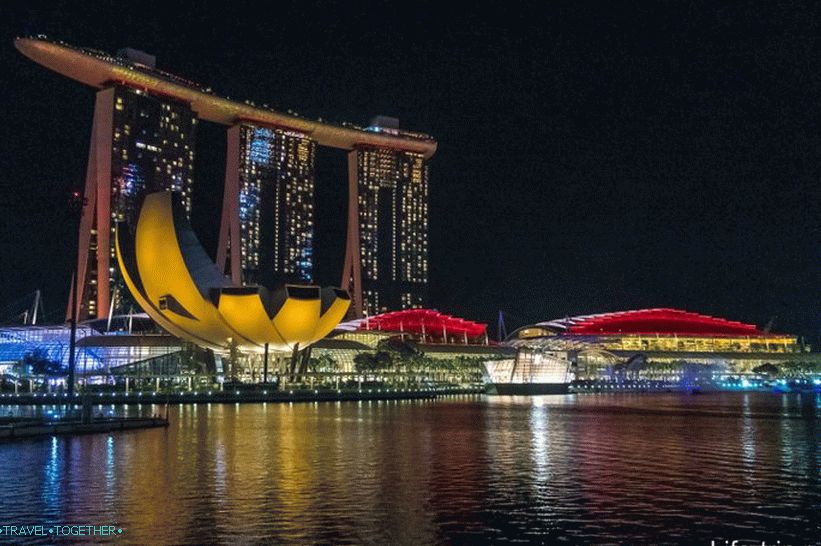 Looks great at night too.

On the roof of the Marina Bay hotel overlooking

Room types and prices
On Booking.com, hotel rooms start at SGD 400 per day. Of The rooms offer stunning views of the Marina Bay lagoon.
Prices in Marina Bay Sands →
Book better in advance. When I looked at the availability of rooms on the dates I needed, almost everything was already booked.
Delux. Room area 39 square. m, which is less than that of Premier. BUT The price is the same from 470 SGD per day, but the rooms are located on floors 11 to 40. Deluxe rooms with a king size bed "King-size" range go from 18 floors and above.
Premier Room. Room size – 42 square meters, numbers located on floors 3 to 19. Prices start from 470 SGD. Large bathroom. Light shades and large windows make the room visually even more spacious.
Club Room. Area 61 sq.m. Price – 720 SGD. To services also Attached access to the very Club 55.
Grand Club Room. Room size – 61 square meters. m., and the price – from 700 SGD. Standard service plus special privileges, for example, Access to the Club 55 Club Lounge, where they provide free breakfast, afternoon tea, evening cocktails and canapés from 5:00 pm 19:00 In the evening, parties are held.
Orchid Suite Room. Area 71 square meters. meter. The rooms are spacious and comfortable, worth such luxurious rooms 870 SGD. At your service – Club 55 access, meals, visits to all sections of the hotel.
Family Room. Perfect solution for several people and small family. Prices start from SGD 1000 per night. Furniture in tender pastel colors, huge windows illuminate a large room with light an area of 71 square meters. m
Sands Suite Room. Another luxury room, from 1240 SGD. Square 136 sq. M. The room has two bedrooms, dining room, living room, bathroom. In addition, you can hire a personal butler, order a room with a pool table or use others services.

Delux Room Photos
Be sure to punch if there are discounts on RoomGuru, it will help you save on accommodation. This life hack works well in Asia, since prices in different booking systems can greatly differ. Вот вам прямая ссылка — Marina Bay Sands

, чекайте.
Exclusive rooms
There are 3 more options for exclusive accommodation at the hotel. Discover room rate and booking can only be directly through the hotel.
Marina Suite Room (200 sq. M.) – just a room with a large area and access to the club lounge Club 55.
Presidential Suite Room (more than 500 square meters) – name speaks for itself. The room stops the most famous and powerful people.
Chairman Suite Room (over 600 sq. M.) – in the room rate. everything is included. You have access to all services. hotel
On the map
Marina Bay is conveniently connected to Gardens By The Bay by a bridge. The bridge passes right through the hotel building and overlooks the trees. similar to the trees from the movie Avatar. I wrote about them separate by post.
Every day, when it gets dark, at 20:00 and 21:00 on the embankment in front the hotel hosts an enchanting laser show with fountains. Of hotel show, of course, can be observed, but it will be seen bad and not so exciting. Therefore, it is better to watch it from the embankment, sitting on special viewing platform shopping center near the fountain. By show a separate post, you can read.
There is a pretty good food court on the lower floor of the mall. with different cuisines of the world and Starbucks. True, there are a lot of people. AND near the food court there is cool entertainment for children – big touch screen on the floor. You can run on it and he react to touching the legs / body in different colors.
Life hacking 1 – how to buy a good insurance
Choosing insurance is now unrealistically difficult, therefore, to help everyone travelers, I make a rating. To do this, constantly monitor forums, I study insurance contracts and use insurance by myself.
Insurance Rating
Life hacking 2 – how to find a hotel 20% cheaper
First, choose a hotel on Booking. They have a good base offers, but the prices are NOT the best! The same hotel is often possible find 20% cheaper in other systems through the RoomGuru service.
Discount hotels