Many walked around Prague, visited the main Old Town Square, but do not know about this restaurant. It is located on the roof of the U Prince Hotel. and it offers a nice view of the town hall, the square and Tynsky temple. I can not say that the place is necessary to visit, but for the sake of photos from the height of the roof of a multistory building – you can go, if you do not mind the money for drinks.
The content of the article
1 Restaurant Terasa U Prince
2 Information to visit
3 On the map
Restaurant Terasa U Prince
Заходите в отель U Princa

говорите на входе, что вы в ресторан на террасеand go to the elevator. Next, go up to the 4th floor by elevator (yes, not very high) and then already at the entrance to the restaurant you will be asked, will you eat lunch or just drink. Depends on which zone you get, as upstairs the terrace is divided into 2 parts.
Honestly, I don't see much difference between them, but I'm it seems that the part where the drinks are is better. From her view straight on the town hall, the square and the temple, when viewed from the end tables. And people from dining area constantly went to us to take pictures.
I can't say anything about the kitchen, but cocktails in Prince's Terrace – so-so. They took Basilic Swizlle and Zombie, not impressed. Carried for a long time, a lot of ice in the glasses, I would say that almost all of this was ice. Plus, the attitude of the waiters is kind of down or something. Like, come here, only drinks are ordered. But maybe I invent. Generally hotel by pathetic decoration, prices are high, both for accommodation and restaurant, maybe because of this impression.

Restaurant U Prince Terasse in Prague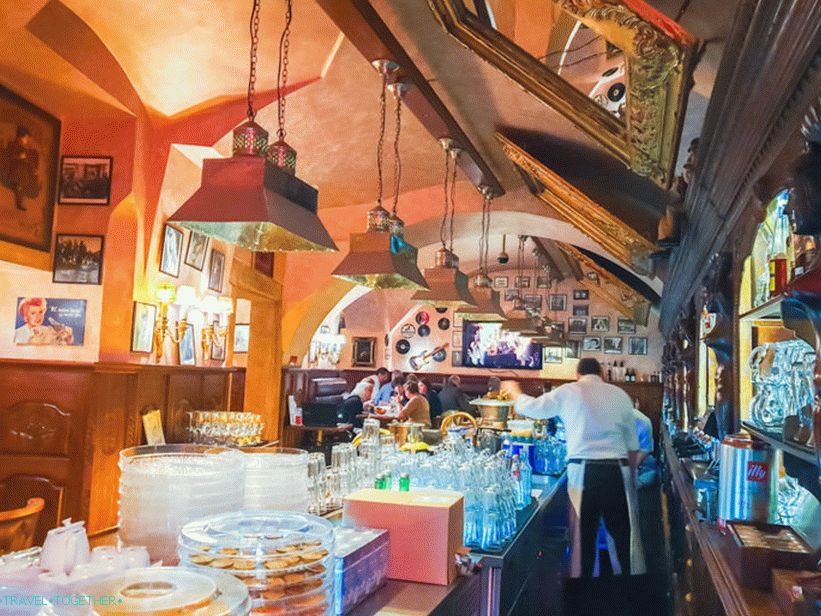 Information to visit
I didn't like the fact that it was 5 degrees Celsius outside, spring all the same, but street heaters did not work exactly in the zone drinks, while in the dining area everything worked fine. In this case, blankets are not offered, I had to independently take with other tables where visitors left them. Service – on dvoechku.
The cost of drinks and food is also not very. Below the menu, you can ask the price. The check for 2 drinks was 368 kroons (1,031 rubles)







Check for 2 drinks
On the map
Life hacking 1 – how to buy a good insurance
Choosing insurance is now unrealistically difficult, therefore, to help everyone travelers, I make a rating. To do this, constantly monitor forums, I study insurance contracts and use insurance by myself.
Insurance Rating
Life hacking 2 – how to find a hotel 20% cheaper
First, choose a hotel on Booking. They have a good base offers, but the prices are NOT the best! The same hotel is often possible find 20% cheaper in other systems through the RoomGuru service.
Discount hotels