Represents several attractions in one place. The tower itself with a viewing platform above and around it – big park. Since the tower stands on a mountain, you can get to it using the rail funicular. It looks like a tram, only the trailer here is made at an angle.
In preparation for the trip, I noted that with a high rating the tower itself, the tram (as a means of transportation and review) was many negative reviews. Even had thought to give up trips and climb on foot. But in fact it turned out that real understanding of things, all reviews should always be checked personally.
The content of the article
1 Eiffel Tower in Prague
2 Historical background
3 Information to visit
4 On the map
Eiffel Tower in Prague
The fare for this tram is included in the ticket price for travel through the city. You bought a ticket for 24 hours – that's him use quite calmly. I do not understand the disturbances in the reviews, where people write that the fare must be paid separately. Do not. Although even if it were, it's just ordinary city transport and why should he carry you for free?
In the end, I went upstairs by tram, and then went down on foot. Let's just say – this is the light version of the walk to the mountain. If you athlete and not afraid to sweat – then you walk in help. With a deep degree of fanaticism, you can even run on mountain, as do many local zozhniki. Bias enough sparing and does not give a big load on your knees.
The time for getting on the tram is about 10 minutes. On the way up there stop, but do not need to leave – the tower at the end of the route. Petrin Tower – metal, and on the plexus of metal The beams are vaguely reminiscent of the Eiffel Tower. Although visually, I would said she is completely different. I went up to the very top observation deck with views of Prague, with a panorama 360 degrees.




Petrin Tower in Prague

In good weather there is an amazing review, and I, as always, do not lucky. As soon as there comes a decent viewpoint, right there it starts to rain, snow, fog, avalanche, in general – some of my personal rock Moreover, the morning began with the sun, but while I got to the tower the weather turned bad.
Entrance to the tower is paid, but I would not say that it is very expensive. You can buy a ticket just for review and go on foot. You can immediately in a complex, with an elevator (fee for using an elevator – separately), if you do not want to climb the spiral staircase. Rise short 5-10 minutes depending on your fitness. I was climbing elevator purely out of curiosity – which one will be a review and in general I wanted to ride.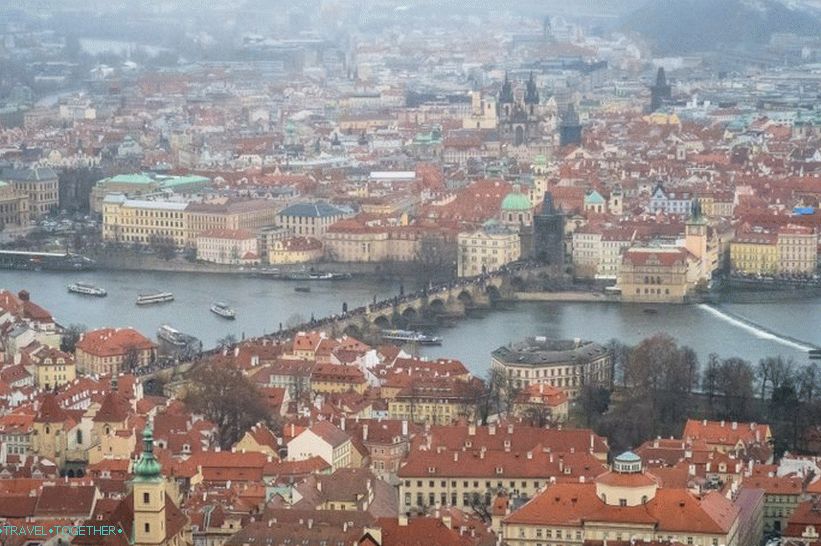 As it turned out, inside the elevator is more like a thick-walled safe some kind of small, massive and armored. Doors to him they do not close like a normal elevator, but they fall vertically. is he completely closed and panoramic views on the way up you will not see. Much more interesting (and harder) to climb and descend ladders – and there are two of them: the descent and the ascent.
Moving upstairs, you can observe Prague 360 degrees, and I have a little life hacking for you. If the glass on the viewing site of the tower will be dirty, then you can go down this ladder for a couple of spans. There will be a great view without dirty glass. Below The main observation deck is another, open type, o which you do not know if you ride the elevator.





History reference
In the network I found information that the idea of the tower belongs to the initiators of the Czech Tourists Club, who had a burning idea after visiting Paris in 1889. 175 tons of steel per four months embodied in a 60-meter observation tower, than she and It has been since 1891.
However, in 1953, another 20 meters was attached to it. Authorities cities decided to use the Prague Eiffel Tower and in more prosaic purposes: the first Czech was set on top tv station.
Information to visit
In bad weather, it makes no sense to come here – the view is sad. If a you will climb on foot, get ready for the constant wind. In winter the park at the base looks very ordinary.
The road down takes 10-15 minutes on foot.
The tracks in the park are good, there are both asphalt and dirt, and for of users of maps.me there is a complete scheme of the tracks of the park – I recommend enjoy this application.
Entrance fee: adults – CZK 120, children CZK 65, elevator paid – 60 CZK.
Toilet for a fee, 10 kroons, but according to the coupon from the cafe (near the cash desk) – 5 CZK
Rail funicular: 24 kroons per ticket for 30 minutes, 32 kroons per 90 minutes (you can go back on it). The ticket is activated, as well as and in the subway, compostable at the entrance to the station. If you buy a ticket for 110 CZK for 24 hours, then it will be possible on this tram all day ride around the city.






On the map
Life hacking 1 – how to buy a good insurance
Choosing insurance is now unrealistically difficult, therefore, to help everyone travelers, I make a rating. To do this, constantly monitor forums, I study insurance contracts and use insurance by myself.
Insurance Rating
Life hacking 2 – how to find a hotel 20% cheaper
First, choose a hotel on Booking. They have a good base offers, but the prices are NOT the best! The same hotel is often possible find 20% cheaper in other systems through the RoomGuru service.
Discount hotels