Haad Kruat Beach has several spellings in Latin: Haad Gruad, Haad Kruat and Haad Kruad. I can not judge which one is correct, therefore I repelled from the option that enjoy the publishers of the best tourist map of Phangan. Her handed out at the entrance to Tong Sala.
Haad Kruat Beach is a 50-meter stretch of beach in a small Bay between Haad Salad and Haad Yao (West). Essentially – this is Haad Gruad Beach Resort unofficial private beach resort

. Deep but not the most cupable and, in my A glance is not of particular interest. He only needs those who live nearby.
The content of the article
1 Description of the beach
2 Entry into the water, depth and waves
3 Sun beds and shade
4 Beach Photos
5 Infrastructure
6 Houses and hotels on the beach
7 How to find a beach
8 beach map
Beach description
This part of Phangan is hilly, but not composed of steep slopes and jungle, but rather similar to the Italian Tuscany, only with a Thai accent. Flat hills, sparse vegetation, a lot of free space and, as yet, very few buildings. Judging on a large number of winding paths and slopes hidden by places, everything is ready for the sale of building plots.
In principle, the location is very good, located next door Haad Salad and Haad Yao (West) beaches. Minus beach haad Kruat is the beach itself – well, very small. It is certainly better than nothing, but he's also ugly.
Entry, depth and waves
Almost along the whole line of the beach, on the border of sand and territory Resort laid cement path for pedestrians. Ends она около ресторана Haad Gruad Beach Resort

. On the left and right, Haad Kruat is bounded by rocks, on which there are houses for housing and specific restaurants.
At the edges of the beach, under the water there are large placers of stones, which you do not run barefoot, and the center is fairly clean and smooth, with flat bottom. But the depth on Haad Kruate is bigger than that of the neighbors and This is clearly seen in the pictures of ebb and flow (I only have tidal). On the chest will be five meters from the shore. Waves at tail winds sometimes happen, because of this the left bank of the beach Fortified with stone fencing.
Sun beds and shade
Sun beds there, no rent. The lounger issue is solved in the restaurant buying a cocktail that will be brought directly to the beach. So that, if for you the presence of a sunbed is critical, then you will not be disappointed. Another question is whether you want to come here as part of beach holiday, and not just passing, as I did.
After all, next to Haad Kruat there are much more attractive this plan location. Well, about the shadow you need to add that it is there much due to dense vegetation. Palm trees cover the beach almost solid dome, leaving only the rightmost corner unprotected Haad Kruata.
Beach photo

View to the left from the center of Haad Kruat beach. Combed sand and Swing for rare visitors.

And this is a Robinson bungalow. The arbor on the right sometimes washes in storm season time.

Dragon Hut Resort Houses

Here they are, only in approximation. It can be seen that they have their own Portable beach under casuarinas.

The sand closer to the shore is more or less normal. At the water – ridge pebbles and seashells.

View back from the center of the beach. Even on the photo you can see the slope coast.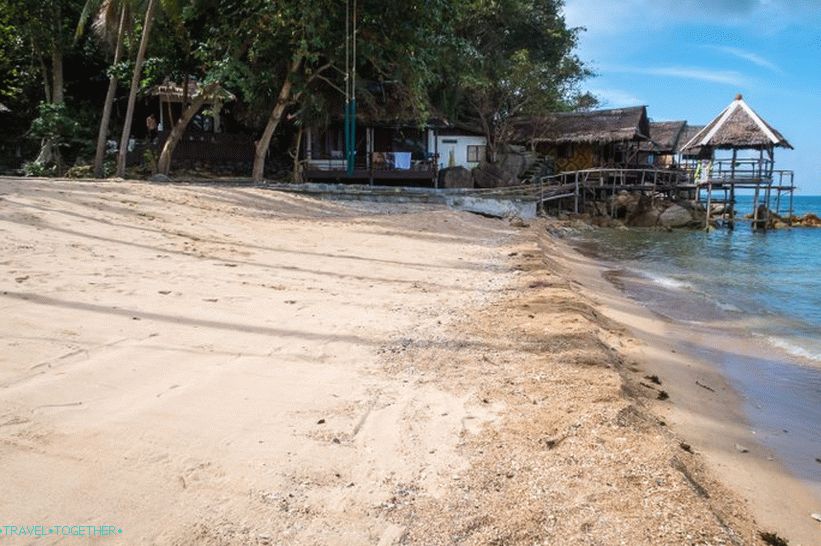 Actually, here. Even with a discount on the rainy season, it's obvious that under water enough surprises.

With the grass, everything is not very good, but a lot of shade at any time of the day
Infrastructure
The infrastructure of the beach within a radius of 200 meters from the water is enclosed in what the two largest resorts on the coast can offer: Haad Gruad Beach Resort

и Dragon Hut Resort

.
That is, you can eat at a restaurant without departing from the ticket office, drink a cocktail and get several types of massage – this you are welcome. Another transfer, rental equipment at the reception or tour sightseeing you can also sell.
But, as it were, that's all. Shops or supermarkets nearby are not noticed, but something more serious or alternative you will look for Haad Salad or Haad Yao. Half a mile around the beach nothing useful or interesting.
Houses and hotels on the beach
As I wrote above, the development of the district has just begun, normal concrete roads were laid everywhere, and they were not made according to shortest, but there are some serpentines, which are logical would look only in the presence of houses. In short, blanks There are streets, but there are no houses yet.
Directly to the beach Haad Kruat adjacent two resorts, o which I also mentioned:
Haad Gruad Beach Resort
Dragon Hut Resort
All other resorts are closer to other beaches, so in As part of this article, I will not write about them, follow the links and read.
Hotels in Haad Yao →
Be sure (and I insist) check for discounts or special offers on the excellent Roomguru service. He is fast and easy will show you discounts in all existing reservation systems. AT the same Asia, for example, there are lots of offers on Agoda.com, which much more interesting than on exactly the same hotels in Booking.com.
For the lazy, here are the direct links to the hotels listed above:
Haad Gruad Beach Resort
Dragon Hut Resort
How to find the beach
If you start from Tong Sala, then head west, the road that runs along the sea. Follow signs for Haad Salad, but you still need to glance at the navigator in phone because of some bright landmarks on the turn to Haad Kruatu does not exist. On the main road you will meet large enough non-network prodmag, near which there are bikes for hire.
Immediately after it there will be a ramp to the left and signs to Lucky Resort

, then you should move all the time straight to Dragon Hut parking is the easiest way to get to the beach and not fool with the search for parking.

The road to the beach passes through a fairly open area with beautiful landscapes.

It is possible that about Tuscany, I very much flattered Haad Kruad, but still.

One of the two roads to the beach suddenly ends with a primer. You can go, but not so comfortable.

There are quite dangerous closed areas on the road. Is always Signalte in such places.

There is a place for scooters and cars.
Beach map
Life hacking 1 – how to buy a good insurance
Choosing insurance is now unrealistically difficult, therefore, to help everyone travelers, I make a rating. To do this, constantly monitor forums, I study insurance contracts and use insurance by myself.
Insurance Rating
Life hacking 2 – how to find a hotel 20% cheaper
First, choose a hotel on Booking. They have a good base offers, but the prices are NOT the best! The same hotel is often possible find 20% cheaper in other systems through the RoomGuru service.
Discount hotels