Arriving from Thailand to Malaysia, we had to temper our appetites in terms of hotels. Here somehow everything went up at once. Judging by booking systems prices start at 60-70 RM (600-700 rubles) for double (very comfortable on RoomGuru to watch everything). There are singles, there are dormitory (dormitories) with beds, which will be cheaper. But in Anyway, for this minimum money you will receive only the most minimum.
So, the cheapest and budget hotels Kuala Lumpur are located in Chinatown. This is such a Chinese quarter where they live oddly enough the Chinese. Well, not only live, still work, rest, crush, clutter, and trash.
Many who stayed in Chinatown swore at it is very difficult to get to the hotel in the evening when the market is unfolding, and the noise from the shopkeepers outside the window. Speech before it's all about Petaling Street, the center street of Chinatown, where everything This is what happens.
The content of the article
1 Our City Hotel

1.1 Price and reservation
1.2 Interior

2 The cheapest and budget – hotel Oasis

2.1 Price and reservation
2.2 Interior

3 Chinatown Chinatown
4 Where is it all located on the map of Kuala Lumpur
Our City Hotel
We were lucky with our hotel in this regard. Although he was on Petaling Street in Chinatown, but located at the beginning of this street, where there are no shopping malls, and, accordingly, you can go without problems and the noise does not interfere. From the metro station Pasar Seni go about five minutes.
Also, the noise does not interfere, also because there are no windows in the rooms. More precisely in ours was not. And either the rooms with windows are more expensive, or they just very little. That, in principle, does not exclude each other. On in fact, windows are not needed if you only go there to spend the night. However, the humidity in the building is very high, and you can fight it. just using the air conditioner, which we did, trying dry washed things.
Price and reservation
Standart Double or Twin – 88RM. Superior 1 Double + 1 Single Beds – 118RM.
В City Hotel

мы жили при этом в стандарте за 70 RM, потомуthat when booking online there were discounts on this number. True, we booked it this way only for 2 days, and after extended for another two days already in place, having agreed for 78 RM that still cheaper. So here you can try to throw off the price.
Kuala Lumpur hotels →
Be sure (and I insist) check for discounts or special offers on the excellent Roomguru service. He is fast and easy will show you discounts on the hotel you need in different bookings systems. In the same Asia, for example, there are lots of proposals for Agoda.com, which is much more interesting than on exactly the same hotels in Booking.com.
For example, the same hotel, only when RoomGuru: City Hotel

.
Interior
The room is clean, relatively normal furniture, there is a TV, standard floor shower, air conditioning, cups, electronic key, free Wifi internet (worked without problems), towels, linen, soap. On the floor there is free hot and cold water.

City Hotel

At the entrance to the hotel sofas and computers and with the Internet

Free water and lobby on the floor

Our room at City Hotel in Chinatown

Typical shower
The cheapest and budget – hotel Oasis
Right across from the City Hotel is the Oasis Guest House Hotel, which, judging by the reviews, is the cheapest here. We met with a Russian guy from China who lived here and went to to visit him.
Price and reservation
The prices for doubles here are 25 RM (250 rubles) with a fan, and 40 RM (400 rub) with air conditioning. Book here.
Despite the fact that the owner told us that the numbers diverge, like hot buns, we had free rooms.
Interior
Most of all it looks like a hostel or guesthouse, where everything to a minimum, but there is a common room, with a TV, a small kitchen and common fridge. A little bit all dirty and old, but and the price is appropriate. Internet – free Wifi, worked fine.
The rooms have nothing but beds. Toilets and showers on the floor and are common. In general, if you are not a demanding person or student, this place will suit you.

Upon entering the Oasis Hotel

Spartan rooms in the Oasis

Narrow corridors and compartment doors to the rooms

common room

Shared kitchen
Chinatown Chinatown
All the action in Chinatown begins in the late afternoon – an empty street becomes a noisy and crowded market by which difficult enough to pass. There is a small hint – to quickly pass Petaling Street through, you need to go not along the street, but clinging to buildings, there seems to be a corridor, where almost there is not anyone.

Entrance to the main street of Petaling Street

Chinese folk craftsman and his wire creations

Chinatown Market
In addition to the trays with gear, they turn around and all kinds of tea I honestly did not like the food there, not only that it is not cheap, so also somehow dirty there. I'm more now lover of thai cuisine. Tea is also not a fountain, especially dark, more it looks like a mixture.

Cafe in Chinatown

Chayatown Chayatnia
Closer to midnight the market, like a princess, turns into тыкву опустевшую улицу, заваленную по коленоrubbish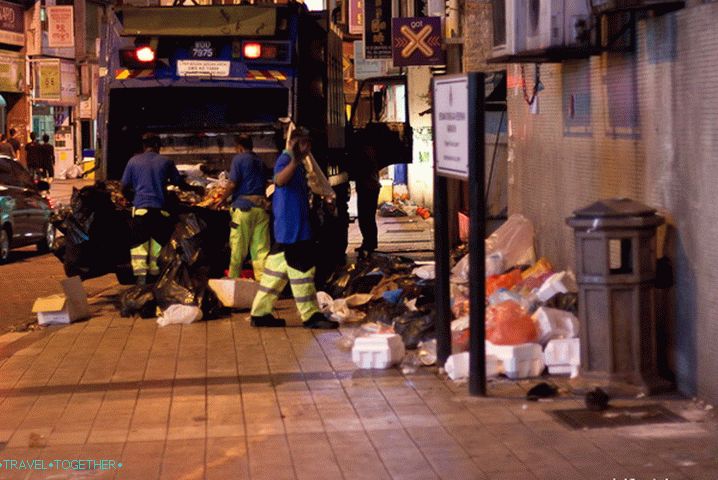 Garbage to Chinatown

Garbage in Chinatown

Near Chinatown
Where is it all located on the map of Kuala Lumpur
Life hacking 1 – how to buy a good insurance
Choosing insurance is now unrealistically difficult, therefore, to help everyone travelers, I make a rating. To do this, constantly monitor forums, I study insurance contracts and use insurance by myself.
Insurance Rating
Life hacking 2 – how to find a hotel 20% cheaper
First, choose a hotel on Booking. They have a good base offers, but the prices are NOT the best! The same hotel is often possible find 20% cheaper in other systems through the RoomGuru service.
Discount hotels