Nahai Beach (Nahai) is slightly inferior to Pang Ka beach its open spaces after low tide. A little bit he is not up to 200 meters of bare bottom. But what you see on Nahai after twelve o'clock in the afternoon, you have enough to get pleasant impressions and a set of photos in the style of bounty. Nahai starts from destroyed the pier of the village of Hua Tanon and ends in two, with a small kilometer cape, similar to the head of a hammerhead.
The content of the article
1 Description of the beach
2 Entry into the water, depth and waves
3 Sun beds and shade
4 Beach Photos
5 Infrastructure
6 Houses and hotels on the beach
7 How to find a beach
8 beach map
Beach description
Fine-grained, light, almost white sand covers the entire bottom. sea, which after ebb becomes the beach. The sand is very dense laid in waves, pressed to such an extent that it the locals quietly ride pick-up trucks doing some sort of their own affairs. Cleanliness leaves much to be desired, especially in places crowds of people.
I'm serious – Hua Thanon, a Muslim fishermen village, famous its morning market with freshly caught fish is not sample hygiene and environmental protection. Features of the profession and For centuries cultivated pofigizm led to the fact that in Hua Thanon it is unpleasant to breathe, look and be.
Because of the small depth of the sea, Naha does not enjoy the same rabidly popular like neighboring Lamai or Chaweng. Never here there are no crowds with beach mats except kitesurfers.
Hotel customers remain on their own, protected by signs. territory, combining a swimming pool with a seascape. In case Anyone interested in reading about other places, I have a quick overview. all the beaches of Samui, will help you decide in choosing a beach.
Entry, depth and waves
Usually there are no waves on Nahai. The sea is limited to small lambs without disturbing the rest on the shore. And in complete calm, the sea turns into one huge mirror about two hundred kilometers meters At high tide the water rises to the very edge of the sandy lanes, and at low tide goes 150-170 meters to the side horizon.
Sun beds and shade
On the beach near Hua Tanona, the fishermen occupied the entire coast. boats, tackles, garbage and bamboo houses in which they rest. Opposite the hotels there are beach chairs, but – on their territory. Sun beds, umbrellas, inflatable mattresses and other beach equipment on Nahay no.
Beach photo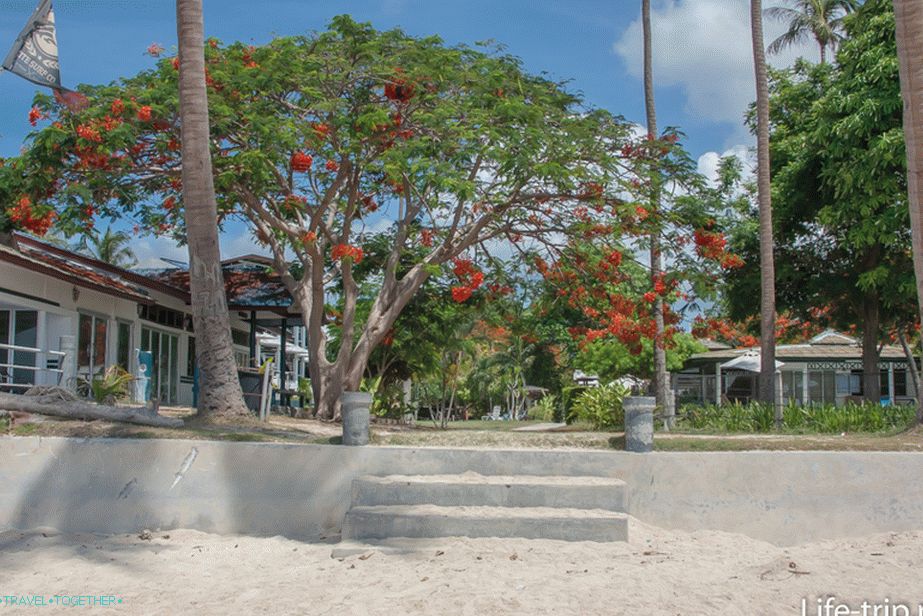 Infrastructure
The district is quite isolated, shops rarely come across, closer to the village of fishermen and Hua Tanon. The nearest hypermarket is located on Lamai, 8 km to the north, is about 15 minutes by car.
Local Attractions Near Nahai:
Kitesurfing School;
Sea animal and tiger show (Samui Aquatic Animal and Tiger Zoo);
Butterfly Garden;
Samret Temple (Wat Samret);
mosque in the fishing village.
Houses and hotels on the beach
The area around the Nahai beach is very rare, mostly nice hotels and private expensive villas. All behind high fences, with security, with elegant facades. Degree of property protection here rolls over, and the lawns of hotels that are right on the beach, stuck with placards with prohibitions of all sorts of actions.
Private homes are rare, and they are all in depth. islands. The hotel is forbidden to: pass, stand, lie, eat, bring animals, take pictures and land with parachute. Apparently, tourists and kitesurfers are very pissed.
One of the most attractive hotels right on the beach – beautiful modern X2 Resort Koh Samui
Great place to stay – exquisite Baan Buaa Beachside Villa с тайскими мотивами в архитектуре и современнымinterior design
небольшой, в три этажа, отель Natien Residence с неплохой обстановкой.
If you want to book a hotel here in advance or search for accommodation on other beaches, I have a selection of hotels on Samui with good rating and reviews.
Hotels near Nahai →
Be sure (and I insist) check for discounts or special offers on the excellent Roomguru service. He is fast and easy will show you discounts in all existing reservation systems. AT the same Asia, for example, there are lots of offers on Agoda.com, which much more interesting than on exactly the same hotels in Booking.com.
For the lazy, here are the direct links to the hotels listed above:
X2 Resort Koh Samui
Baan Buaa Beachside Villa
Natien Residence


How to find the beach
In order to get to the most beautiful and impressive site Nahai beach, you need to go before Hua Thanon (if you go from Nathon on Lamai) turn from the ring road to the road number 4170, and further follow the signs to the zoo. Near the zoo there is a large parking, where you have to leave the vehicle and go the rest of the way on foot. But this is not the only way to the sea.



Beach map
Life hacking 1 – how to buy a good insurance
Choosing insurance is now unrealistically difficult, therefore, to help everyone travelers, I make a rating. To do this, constantly monitor forums, I study insurance contracts and use insurance by myself.
Insurance Rating
Life hacking 2 – how to find a hotel 20% cheaper
First, choose a hotel on Booking. They have a good base offers, but the prices are NOT the best! The same hotel is often possible find 20% cheaper in other systems through the RoomGuru service.
Discount hotels