I have long wanted to go to the observation deck Bayok Sky (Baiyoke Sky Hotel) – the highest hotel in Bangkok, yes it was not on the way. On this visit I decided to set aside time to visit it. places. Let for some banal landmark, but I somehow types of love and height. Almost always in large cities I am in high points, such as the Menara Tower in Malaysia, or the Victoria Peak in Hong Kong.
The content of the article
1 Bayok Sky Hotel
2 Observation deck on the 77th floor
3 Observation deck on the 84th floor
4 Opening hours and ticket price
5 How to get to Bayok Sky
6 On the map
Bayok Sky Hotel
Для постояльцев Baiyoke Sky Hotel

посещение смотровой площадки бесплатное, дляall others for money. At first I had the idea to take off there number to save. Having seen the prices on the Internet, I saw that The cost of a double room starts from 2000 baht. So Therefore, if you visit the lookout for money, rent a hotel somewhere in another place, and before Bayonka take a taxi, it is quite advantageous work out.
True, the 2000 baht number is not always worth various booking sites suggest that its price is not very consistent and can be found much better. So I live in this time he did not. However, somehow you need to drop by the day, to check how it really is.
By the way, if you rent a room on the spot, then the prices are already higher, somewhere from 4000 baht for the simplest number, which can not be taken. So that, If you decide, book better in advance.
Baiyoke Sky Hotel →
Consider that there are 3 zones: Standart (22-45 floors), Sky-Heavenly (46-63 floors) and Space-Space (64-74 floors), and Prices are zone dependent. To see how you can more precisely from your window, you have to settle in the uppermost (Space). And the standard is better not to book at all, everything is not there highly.
Punch discounts on hotels in Thailand is best through RoomGuru. Вот вам прямая ссылка на Baiyoke Sky Hotel

, обязательно смотрите, перед бронированием, естьIs there anywhere else a discount on it or not.

Bayok Sky scheme

Room prices if shot on site

Bayok Sky Hotel from below

On the way to the hotel tray with the sale of jugs

Free view from the 18th floor

Cashier at the entrance to Bayok Sky
Observation deck on the 77th floor
So let's go up together? If you buy a ticket at the bottom, then immediately after entrance to the building will be a special elevator, leading only to the observation site (the remaining elevators to the 18th floor and to the rooms).
So, this elevator has a glass wall. And after some time after the climb you will see how you gain altitude. If a If you want to stand close to the glass, then immediately push to the back Elevator wall, it is transparent.

Elevator starts to rise

We are going and looking at Bangkok
Observation Desk on floor 77 is the first of observation platforms. It is closed and you can only look at Bangkok. through the glass-stained foreheads and fingers. The photos are, true not reflected.
You can come here right before sunset and have time to make daytime and sunset photos. As it gets completely dark, we go higher.

I walk on the viewing Bayok Sky

Map of Bangkok on the observation deck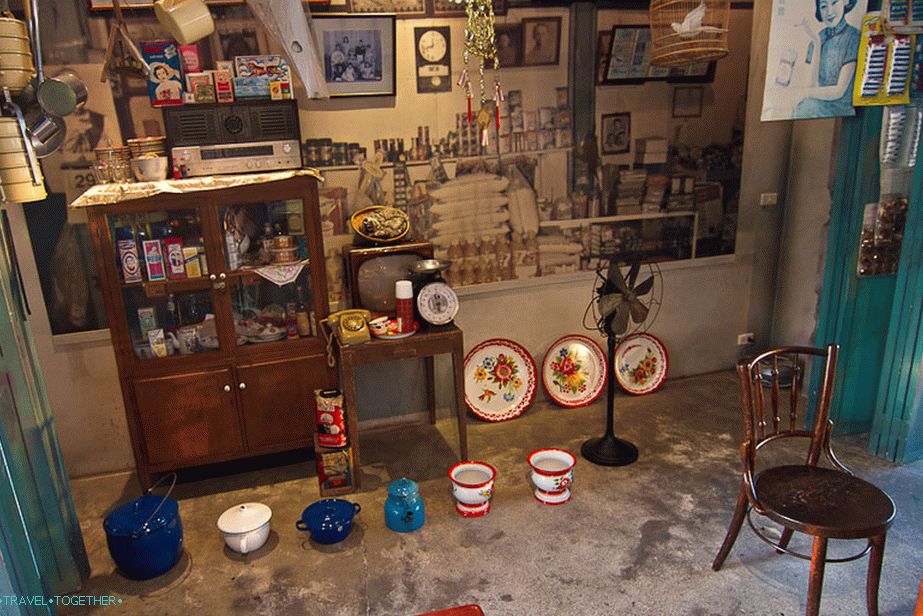 Exposure of Thai life of the last century

Some kind of exposure and fine

Tourists take pictures

This tuk-tuk even shoved

Sunset soon

View from the 77th floor of Bayok Sky

View from the 77th floor of Bayok Sky

View from the 77th floor of Bayok Sky

One of the restaurants Bayok Sky at a height
Observation deck on the 84th floor
On the 84th floor is located, turning around its axis, second platform (Revolving Desk). We rise to it after the first either by elevator or by stairs. It is open and there will be heard city noise and feel the warm wind, diving in height more complete.
The first thought, well, finally here you can shoot not through the window— But it was not there, because instead of them the grid is partially closed plexiglass. Night photos from here are just as hard to do because That the platform is moving and there will still be lubrication, even with a tripod. BUT somewhere around 6 pm the flashing lights come on.

Rotating observation deck on the 84th floor

It is very inconvenient to photograph through the net.

Bangkok night view

Bangkok night view

Lights lit up
Under the roof there are several restaurants (Bangkok Balcony, Bangkok Sky, Stella Palace, Crystal Grill), which Favorite Russian tourists. But in the hotel itself, such feeling that some compatriots. Since I haven't been to restaurants, I can't say anything about them.
If anything, then downstairs in the near shopping center (Fashion Mall) there is the usual Thai food court, where the usual prices, not tourist. Foodcourse i pointed to the map, it is next to the famous Pantip Plaza (Pantip Plaza) is located, 10 minutes from the bikes to go.

Tom Yam in food court nearby
Opening hours and ticket price
Opening hours: from 10:00 am to 02:00 am.
Ticket price: 400 baht. The price includes a drink in the Roof Top Bar on the 83rd floor.
But there is a life hack. You can pay a little more, and get at times more. It is necessary to buy a ticket not in the observation deck, but in the fruit buffet (buffet)! Ticket must be bought online through Klook. On The email will come voucher and then it must be shown at the entrance.
Fruit Buffet Ticket →
Entrance fee: 490 baht per adult and 250 baht per child up to 120 see. Included in the price: unlimited drinks, Thai fruit and a visit viewing platforms. So it turns out more profitable, especially if hungry. The buffet is open from 10.30 to 20.30.
Klook has another option for the hungrier: Dinning Buffet. It's also a buffet, but no longer fruit: typhoon, pizza, pasta, desserts. Cost 575 baht per adult and 330 baht per child. Inspections included with the cost. Full Only thing is there the timing is not very large (there is lunch and dinner).
And there is a restaurant on the 81st floor. For those who want dinner at restaurant with a view, not just a bite and sight. Naturally, from the restaurant and you can go to the viewing will.
How to get to Bayok Sky
The Bayok Sky Hotel is located next to the Ratchaprarop subway station, This is the City Line branch that goes from Suvarnabumi Airport. That is, by direct ride, 20-30 minutes, and then from the subway another 5-10 minutes on foot. Orientation is not difficult, the hotel can be seen almost from all sides, he highest.
You can also come from the Lumpini Park, on foot or with other metro lines. As an option, swim by klong on the river tram, it is convenient if you get from the area of Khaosan Road.
On the map
Life hacking 1 – how to buy a good insurance
Choosing insurance is now unrealistically difficult, therefore, to help everyone travelers, I make a rating. To do this, constantly monitor forums, I study insurance contracts and use insurance by myself.
Insurance Rating
Life hacking 2 – how to find a hotel 20% cheaper
First, choose a hotel on Booking. They have a good base offers, but the prices are NOT the best! The same hotel is often possible find 20% cheaper in other systems through the RoomGuru service.
Discount hotels