We handed over here somehow an analysis on genetics not far from Tsaritsyno Museum Reserve. "Why not take a walk?" – we thought and soon they were under the canopy of majestic oaks and maples shady Tsaritsyn alleys. Besides us, there was a decent number of people: here and there couples with strollers scurried around, young people basked on the grass, and older people on the benches — and this normal working weekday. It seems to me that remote work and freelance more common than I thought, so many times in the afternoon people. Although it is generally and in our area noticeably, as if no one works at all—
The content of the article
1 Park Tsaritsyno in photos
2 childhood memories
3 Pros and cons of refining Tsaritsyno Park
4 Park Tsaritsyno how to get there and other information
5 Where is Tsaritsyno on the map
Tsaritsyno Park in photos

Museum estate Tsaritsyno

Seize the moment, while no one

Tsaritsyn Alley

Couples in love

Romantic walk through Tsaritsyno

Pensioners cut cards

And my moped is cooler!

Young people splashing at the dam

Young artist

Photoshoot in Tsaritsyno

Walking through the museum-reserve Tsaritsyno

Good to sit on a hillock

What is not a place to get a tan?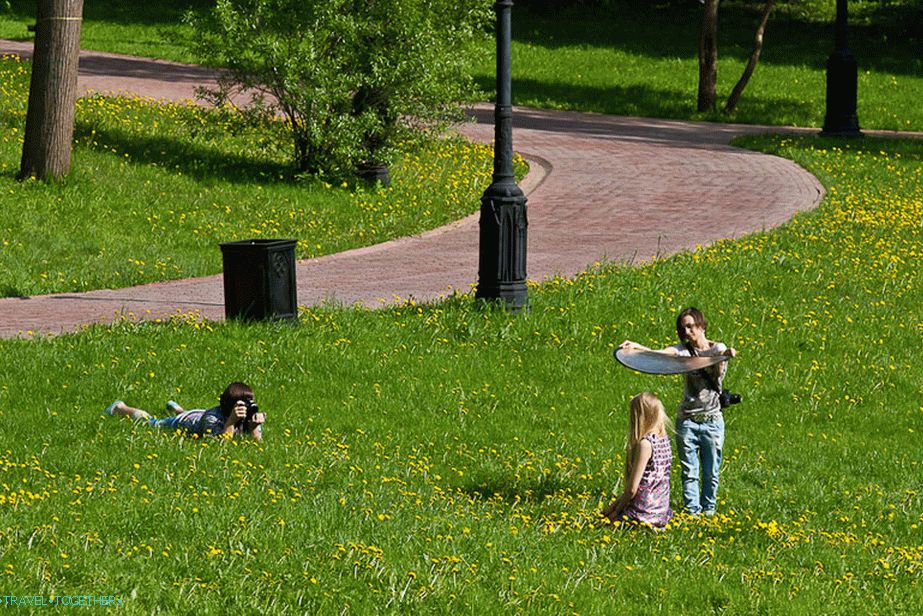 Photoshoot in Tsaritsyno

Artists are hiding in the shade of trees
Childhood memories
Tsaritsyn Park has changed dramatically in recent years, and who I've been there before, 10-20 years ago, I understand what I mean. Since all childhood I lived at the station Krasnogvardeyskaya, then the Tsaritsyno park was the most affordable for us. If, of course, then it was possible to name a park is rather a forest and mysterious ruins. Not that now.
My friends and I climbed almost all the buildings, looking for royal treasure. Most likely, we understood that it is unlikely to exist, but it was so much more interesting. Only the Bread House was guarded at that time, I remember how we dragged from it, jumping from the second floor into the sandy a bunch, when the watchman was chasing us. But the Grand Palace represented quite a sad sight – in fact, some walls are covered with grass and trees. It was very difficult to get to the very top, as there wasn't even overlaps, but we once got there after all. It's a pity no pictures left since.

Museum estate Tsaritsyno

Museum estate Tsaritsyno
And even earlier, when I walked under the table, in the cold winter I broke ice on the Tsaritsyn puddles. I had fun, yes one puddle, It turned out to be knee-deep, even though in appearance it should not be. And I remembered, not how we came home at breakneck speed, but what In such situations, you need to put a plastic bag on your bare foot and put it on already everything above is wet

Pros and cons of upgrading Tsaritsyno Park
On the one hand, it's great that everyone is so ennobled: they did paths, lights, fountain zababahali, fenced the entire park fence and restored all the palaces. Very convenient to walk with the stroller, no garbage and everything around is modern and nice to the eye. On the other hand i I would be glad to see there some ruins, some of the very old, remaining from the time of Catherine. Now all the buildings look By the construction of new buildings (most likely it is), and Tsaritsyn Park lost the atmosphere of historicity, if I may say so, feels bad, that place it has a story. Although this does not make him less attractive for walking, the area is huge compared to estate Ostafyevo, which I wrote a little earlier.

How do you like such a lawn in front of your own house?

Immersed in flowers

Tulips photoshoot

One is not like all

The most popular place for a photo

Very beautiful flowering tree

Petals formed a flower glade

Free Wifi did not work for me

I look out for good shots

Some trees are numbered.

Synchronous lawnmower repair

Dam in Tsaritsyno park

The singing fountain, the truth sings weakly

White on white

The modern part of the museum-reserve Tsaritsyno

Sign up for rent

Tsaritsyn ponds

Bridge in Tsaritsyno

Crook for unknown reasons

Trees cling to the clouds

Brick Paved Path

Tsaritsyn park

Tsaritsyn Park

Everywhere feeders in the trees
The positive point of refining, is that You can walk there quietly, despite the dense forest. First, the entrances equipped with frames and Tsaritsyno goes "valiant and honest", and secondly it is forbidden to drink alcohol. Previously met drunk inadequate come to kebabs. A big minus at least for me is the ban on roller skating and on bike ride. No, on the contrary, to make bike lanes and allow, once so much money banged there, even on excursion electric cars went bankrupt. To ride a bike in the south of Moscow nowhere else. It was a great place to ride, not exhaust gases breathe along roads.

Frames at the entrances

Valorous and honest

Watch out for an electric car!

Watch out for an electric car!
And some more photos of Tsaritsyno at last.

Such nimble, without nuts in the frame does not catch

The duck depicts a penguin

Synchronized swimming

White on black

What would I eat a piece of bread?

My hair will go to the construction of the nest
Park Tsaritsyno how to get there and other information
Two main entrances are located at the Orekhovo metro station and at the Tsaritsyno metro station. Through what to go there is no difference. From the subway walk about 5 minutes. On it makes sense to go by car to the Orekhovo metro station, there is parking there or through Novotsarytsynskoe highway to parking entrances near the subway Tsaritsyno. But just from the Tsaritsyno metro station to the park by car can not drive up. There under the railway bridge made one-way traffic, so you need to go just by Orekhovo-Borisovo.
http://www.tsaritsyno-museum.ru/ – Tsaritsyno official manor site
The entrance to the park is free, open from 6 am to 12 at night. Entrance to the museum paid and the mode of operation depends on the day of the week, better on the official site watch.

Map of Tsaritsyno Park
Where is Tsaritsyno on the map