Pedestrian bridge Sarasin not the most interesting landmark in Phuket, I would even say that not everyone classify it in general as a category of sights. Rather you can come here just for the sake of walking (as the local residents), and not for the sake of new experiences. On the bridge you can meet fishermen, families with children, couples in love, taking selfies.
Sarasin Bridge
The bridge was built in 1967 and it became for many years a binder. link between the island and the land. In 2011, built a new bridge (Thepkasattri), since the old one could no longer cope with the modern a stream of cars. If you were in Phuket, you know what it is now traffic jams on the main road. So Sarasin decided not to demolish and make it a pedestrian. I am generally impressed by the feature of Thais to make sights from scratch. There is always something look, even if it is something simple. True, they say that This bridge was chosen by local suicides, however, I think everyone bridges fate like that.
I drove many times by car and bus by car bridge and every time I saw the observation platform of Sarasin, where people are walking. This time, a specially scheduled stop and I stopped to look, and how much can I pass by. Sarasin It is not a very wide bridge, tiled, and with lanterns on both sides. Two levels, centered overview playground between two towers. On land are makashnitsy, cafe and shops. That's all. See a lot with the viewpoint is not it will turn out, because it is not very high: the nearest shore, the bay Phang Ha, yes access to the Adaman Sea.

Parking right in front of the Sarasin bridge

Something trade

Sarasin Bridge – Sarasin bridge

Phang Nga Bay

Here, even someone bathes (on the side of Phuket)

Fishermen around the bridge

Two bridges close, old and new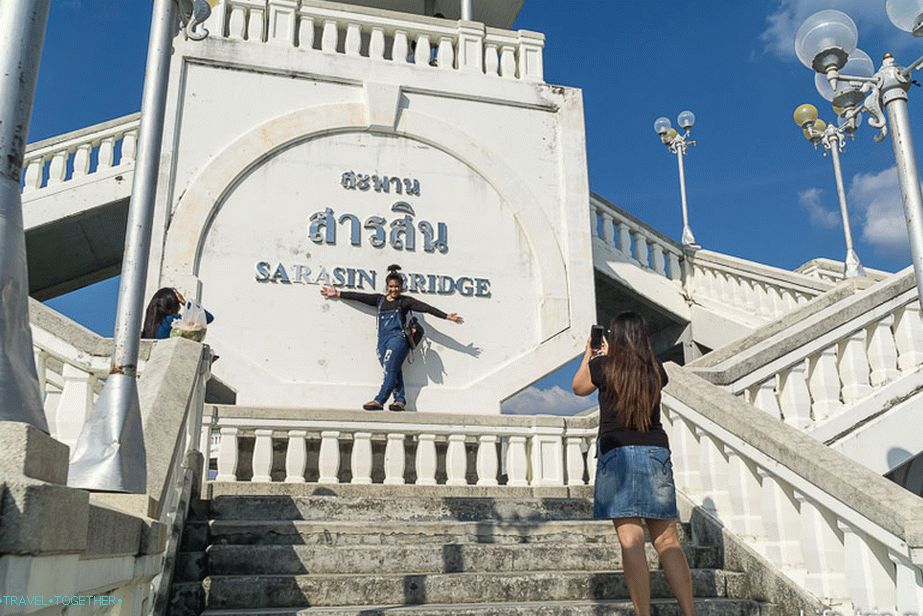 Sarasin Bridge

View of the mainland

On the map
If you go from Phuket, then you need time to move out from the main track in the left pocket, even before it starts road bridge. On the map it is clearly visible. From the mainland, if you go, you need to turn left immediately after crossing the bridge and unfold under the bridge. Immediately after the turn will be parking.
Life hacking 1 – how to buy a good insurance
Choosing insurance is now unrealistically difficult, therefore, to help everyone travelers, I make a rating. To do this, constantly monitor forums, I study insurance contracts and use insurance by myself.
Insurance Rating
Life hacking 2 – how to find a hotel 20% cheaper
First, choose a hotel on Booking. They have a good base offers, but the prices are NOT the best! The same hotel is often possible find 20% cheaper in other systems through the RoomGuru service.
Discount hotels