As a rule, I always use Google Map to find something. on the map. But sometimes you have to resort to ordinary cards, some of which help quickly navigate where This or that beach and region is located, because on Google this simply no. In addition, street names do not coincide with Thai. I initially suffered so much before I realized this.
More often than not, maps are needed before traveling, but during his opportunity to use paper that does not It is difficult to get on the spot – either at the airport or in the shopping center, or in the rental scooter. Usually they are enough detailed and marked with attractions, shops, markets and train stations. Alternatively, use maps in GPS, for example, for Igo 8, we did it in Bangkok, it's very easy to get lost there at first.
The content of the article
1 About the beaches of Phuket in general
2 Phuket Map with Beaches
3 Maps of individual beaches
4 Phuket Town Map
On the beaches of Phuket in general
Briefly tell about the beaches of Phuket. All west coast suitable for swimming, but the east is not. Eastern Chalong Bay and Rawai Beach are good for enjoying meals with seafood, as well as for cheap and long stay. However, the shore is dirty there, occupied by fishing boats and there is no one bathes.
The most popular beach in Phuket is Patong, many of it compared with Pattaya, because there is the most party place on island: nightlife, clubs, bars, shopping centers, many people. Therefore, if you need peace and quiet, then go there definitely not worth it, do not recommend. For a family and relaxing holiday, either to the rural Bang Tao (Bang Tao), or to Kamala. What if you need something in between, then Katu or Katu Noi. As an option, You can choose Karon, but he is not far from Patong, there is also full People, although moving smaller.
My favorite beach is Nai Harn, which is in the south. Phuket, there are only a couple of hotels on the beach, the place is quiet and beautiful, near the lake. And if there is a bike, then from the same Rawai Beach, to get no more than 15 minutes. Perfect place!
Another, even more crowded beach is Nai Yang Beach. Located near the airport and not very popular among tourists because infrastructure is not enough, and you can swim only in the central parts where deep.
Phuket map with beaches
For starters, I present to you the Google card, on which I noted all the beaches on the island. Including private beaches of hotels, small and little-known beaches. Popular there, too, is by itself. Clicking on the point, you can click on the link and read the detailed description of each beach and see photos.
And then a few ordinary cards, which are signed only Phuket's most popular beaches. All cards are clickable and you can see in large size, as well as download to your computer.

Phuket map with beaches

Phuket map with beaches in Russian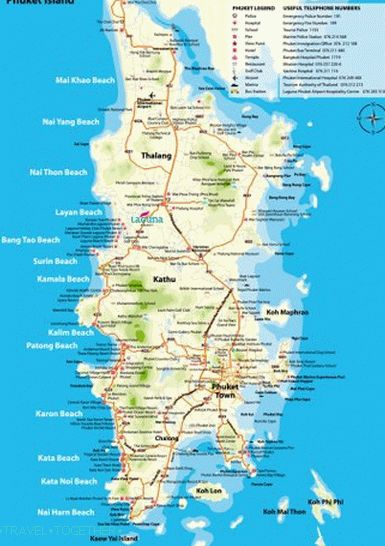 Phuket map with beaches
Maps of individual beaches
And now a few maps on the approach.

Map Karon Beach, Kata Beach and Kata Noi Beach

Patong Beach Map

Bang Tao Beach Hotel System

Chalong bay map
Phuket Town Map
And finally, the map of the main and only city on the island – Phuket Town (Phuket-town). If you come to Phuket Island on bus, it is likely to get into the city. And if you will go to shopping malls or somewhere else.

Phuket Town Map
P.S. But that's not all, I have a detailed overview of all the beaches. Phuket, just recently traveled and photographed.
And if you want to know about housing options for a short time on Phuket, we have a personal review of hotels. But in general, the choice of housing in Phuket is presented on any budget, it remains only open RoomGuru and choose what you like.
Life hacking 1 – how to buy a good insurance
Choosing insurance is now unrealistically difficult, therefore, to help everyone travelers, I make a rating. To do this, constantly monitor forums, I study insurance contracts and use insurance by myself.
Insurance Rating
Life hacking 2 – how to find a hotel 20% cheaper
First, choose a hotel on Booking. They have a good base offers, but the prices are NOT the best! The same hotel is often possible find 20% cheaper in other systems through the RoomGuru service.
Discount hotels