In Kolomna, I originally came to visit the Lazhechnikov Museum and not at all with tourist purposes, I think, it is clear why. But since I was here, I had to go for a couple more popular tourist museums, one of which was the Museum of marshmallow or the Museum vanished taste. Oh, how much they called!
Impressions are quite mixed, although this museum is full of good reviews and places even enthusiastic. I'll try in brief tell your feelings. Looking ahead, I will say that I did not I'm very sorry.
The content of the article
1 Museum of marshmallow and vanished taste
2 Cafe at the museum
3 Information to visit
4 On the map
Museum of marshmallow and vanished taste
In the long run, there is no museum do not continue the offer) is not a museum, since there is practically no exhibits and look inside nothing. Yes, the house is old, it is the former manor, and inside tried to create the surroundings of the time, but no exhibits. And you pay for the theatrical costume presentation on the subject of tea drinking. The cost of the tour (presentation) I have indicated below and, to be honest, I did not like it, I would divided by two. On the other hand, the story lasts a whole hour and a female animator is having a hard time in her 19th century costume.
The presentation is focused on children, as the story with elements of engagement. It is with the elements, so what does it look like pretty sluggish. First in one room they tell you how they are doing marshmallow, then you go to another room where you sit down at the table and learn how merchants drank tea. The narrative is heavily diluted quotes from Lazhechnikov "White, black, gray." Somehow it so happened that I could not remember anything from the first half The view, too stretched, almost fell asleep. The second part of more interesting, since they give out a whole cup of tea and 6 miniscule pieces of marshmallow. That's all. Small pastila (hamster feed), the actors are tired, but inexperienced children may be interesting.

Entrance to the Museum of marshmallow in Kolomna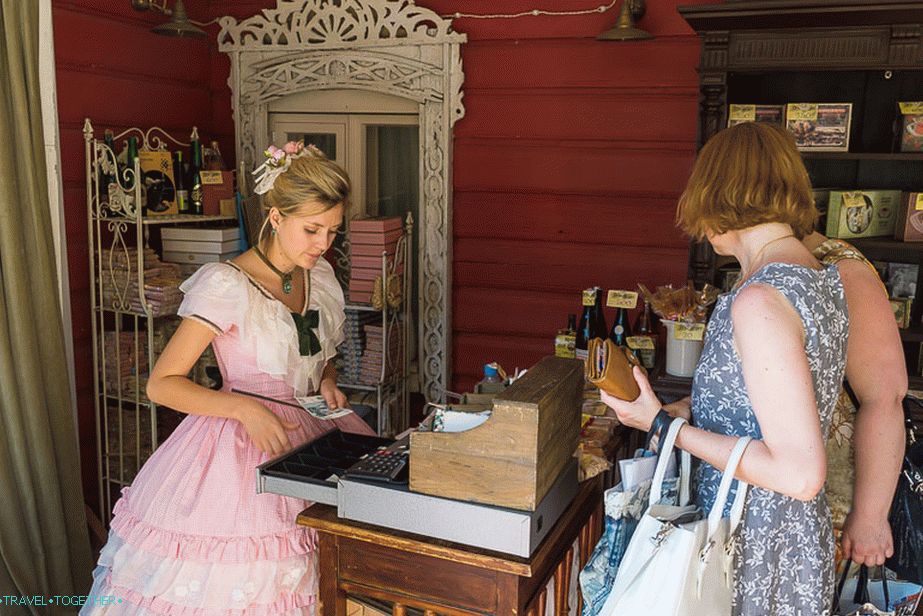 Already at the checkout you are met by girls in dresses

The first hall, where they talk about how to make pastila

And give try a piece

Great book, I recommend to all women to read


Exhibits

The second hall – tea merchants

Everyone is entitled to a cup of tea and 6 pieces of pastes.

Children are trying to engage in the process.

On the wall hangs a portrait of I.Iazhechnikov

19th century surroundings

Details of tea

And such a candy can be
At the checkout, you can buy a pastille as a gift, the one that type disappeared and the taste of which, rummaging through the archives over the years, was restored. To taste nothing special, reminiscent of Turkish Delight from Ashan, but I far from a connoisseur, and certainly not a fan of marshmallows. Maybe true it is very cool, without sugar / preservatives and according to old recipes. A tiny pack costs 250 rubles (100 grams), a bigger pack is 400 rub.
Cafe at the museum
Much more like a cafe at the museum. The same entourage nice metal tables with curls, wooden chips under feet – Romance! Especially good to drink tea in the shade when it is hot outside. Really nice atmosphere and most importantly is free. Pay more precisely for what you buy. For example, tea according to Dostoevsky it costs 85 rubles (a cup of tea and 3 pieces of marshmallow) when it comes) Ice cream ball 60 rub. Quite divine prices though marshmallow mawed again squeezed

Nevertheless, I recommend! Possible at all just visit a cafe and finish on this, because the main thing here is marshmallow try.

We are waiting for our tea with pastille

Very nice atmosphere

Tea according to Dostoevsky
Information to visit
Where to stay in Kolomna What else to see in Kolomna in weekends
Opening hours from 10 to 20 without lunch and weekends.
The cost of the tour is 350 rubles per adult, 300 rubles per child. AT Season, weekend, holidays, respectively, 450 and 400 rub.
Tour goes every hour. For photographing during the story ask for money, as much as 200 rubles, but in pauses you can take pictures free of charge (I did). It is better to book an excursion in advance. for example, by phone or directly coming to the cashier. I came there hours in 4 days and signed up for 7 pm.
Official website Telephone for booking excursions – +7 (985) 727-52-92
On the map
Address: Kolomna, ul.Posadskaya, 13a
P.S. I applaud business while standing up, but as a tourist sight, especially for an adult, is doubtful. It is better just go to the museum cafe, sit in the shade in a pleasant entourage, drink tea with marshmallow. It will be cheaper, faster and without pre-recording.