So, in the first series of our romantic detective story, we settled in a wonderful house with a swimming pool and a green area. But then we still did not know that it was completely in vain that we contacted insidious real estate agent Vincent, naively believing in his beautiful speeches. Then we have not yet assumed that in one of beautiful Phuket days we have to leave our abode, and if you do not stay on the street, then at least change the house to home more modest.
The content of the article
1 Preamble
2 Ambula or our new home in Phuket
3 Conclusion
Preamble
If you rent a house, then read my post with tips – Renting a house in Phuket and my booking instructions: How to Book a house in Thailand – 5 ways. And the housing is short period (while looking for a house) can be booked through RoomGuru, this one of the most convenient hotel search services (searches by database immediately all existing bookings). In addition, we have personally compiled review of Phuket hotels.
Phuket hotels →
A week ago, the cunning Vincent crossed the threshold of our house, regrettably stated that, they say you need to move out, the owner of the house is returning. Although the agreement was for two months, but only one passed. According to the "generosity" of his soul, he instead offered us a room in my guesthouse for the same money. Feeling a trick, we hurried disagree, and demanded money back.
As a result, we have heard many speeches about ingratitude and hard life of realtors in Thailand. And theatrical performance with everting pockets and empty wallet
It turns out that initially we agreed not to rent a specific at home, and on "housing options", and once we refuse, then we insult his Italian ego. And we did not guess the lease agreement, his words were painfully sweet.

Italian treacherous fruit next to the police
You have only 2 options, how to rent a house / apartment in Thailand: through a realtor or independently on the spot. Last thing very much to the amateur. Believe, combing the streets for several days in a row in 30-degree heat, not for everyone, you can rest are driving.
I recommend to book accommodation in advance through a realtor. You avoid unnecessary trouble in an unfamiliar country. Than before refer, the better option will get. Send me a request, I have her I will send to a proven person whom I trust myself. And then in The last time scam has become a lot.
Make an application →
Ambula or our new home in Phuket
Having endured all the antics of the arrogant Italian, we firmly stated – pick up the money. And for themselves decided, let's go to the police and tourist police, and we will speak directly with the owner. It is clear that you are not a man without a contract, but the police will take it on a note.
Apparently feeling our stubbornness, Italian bred We will offer us a three-bedroom house, where we recently moved. Perhaps we did it for nothing, but this decision did not cost us anything – neither time nor money. And our agent will return everything by herself, and without our help.

Moving in Thai

Our house on Phuket outside

Our living room

View from the living room to the courtyard

Living room and kitchen

One of the bedrooms

Another bedroom

Even have a bath

Second shower
Yes, now we do not have a pool and a beautiful view from the window, and a house this one is older, but we have space for a whole crowd – 3 bedrooms, living room, kitchen, two bathrooms. What a pity it started rainy season, and all friends decided not to come to visit.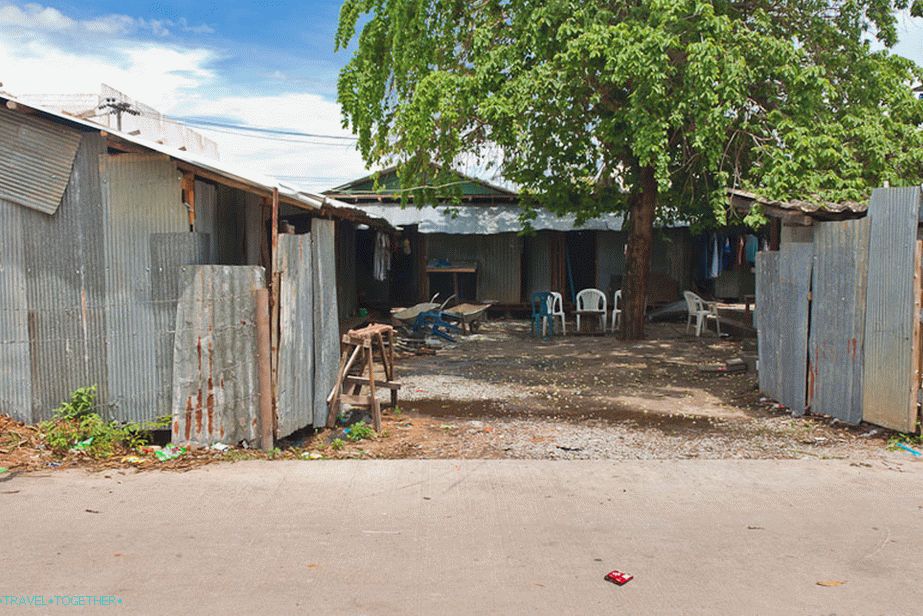 On the one hand, metal Thai barracks

On the other side of the plantation
There are truth and disadvantages – we started to leak roof. Probably, This is a consequence of heavy rains, which have not been here for a long time. A plus to this, guests come to our house, some of them unsightly appearance.

Creepy things sometimes creep into the house.

Our guests – run and fly

Catching mosquitoes
By the way, the frogs also come to us, and where are they just cracks find— On this occasion, wrote an article about dangerous insects Thailand and other wildlife.
Conclusion
Always discuss in advance all the conditions, as well as make lease agreement, in order to avoid all sorts of different situations. Not fall for the beautiful admonitions of sugary agents.
Here, I have told in more detail what points to consider when Rent – House Rental in Phuket
And most importantly, listen to your intuition. If you feel that something is not right, then do not settle for this option. Me this man I didn't like it from the very beginning, but I didn't listen to my inner vote.
Life hacking 1 – how to buy a good insurance
Choosing insurance is now unrealistically difficult, therefore, to help everyone travelers, I make a rating. To do this, constantly monitor forums, I study insurance contracts and use insurance by myself.
Insurance Rating
Life hacking 2 – how to find a hotel 20% cheaper
First, choose a hotel on Booking. They have a good base offers, but the prices are NOT the best! The same hotel is often possible find 20% cheaper in other systems through the RoomGuru service.
Discount hotels