Ten kilometers from the island airport and thirty from his the capital is the beach Knighton Beach in Phuket. Nai Yang is adjacent to it from the north, and Bang Tao is adjacent to it from the south. total length coastline in this place about a kilometer, and its width in the period tide no more than fifty.
Naithon Beach is located on the watershed between the semi-wild beaches of the north of Phuket and the main resort area on its the west coast, where the bulk of the rest. Staying on it is not accompanied by a feeling of isolation from everything. the rest of the world, but still it is more wild and deserted. Even despite several high-rise hotels and passing nearby off the coast of the motorway. During the rainy season it is practically not attend
Infrastructure
Knighton Beach is located within the National Reserve, which is not It is only a guarantee of a good environmental situation, but also allows tourists to walk in the shade of trees. But any unfortunately, nobody offers water entertainment to them. Along the whole beachside chairs and umbrellas are installed in two rows. With this distance is quite large: knock elbows with neighbors, as it often happens on the beaches to the south – onKata, Patong or Karon, you don't have to. And human there are also no pandemoniums, even in high season, sunbathers and bathing units.
Beach panorama
Seventy meters east of the beach motorway lightly loaded, but from rare passing cars holidaymakers separates the forest belt. In the shade of these trees can be located for free, if you do not want to pay for a sunbed and an umbrella.
Who will like it
Beach Knighton Beach to a greater extent like those who are on time recreation wants to get rid of the bustle of civilization. There you can safely rest in the open air even during the day. And so the night plein air similar to staying on a desert island. Your loneliness only the rustle of the waves will brighten.
Judging by the majority of reviews on the Net, Knighton Beach is excellent. suitable for couples in Phuket for couples with children. Shallow water extends a considerable distance from the shore, water it warms up very well, and you can splash around without it concerns. During low tide, shoreline expands to several hundreds of meters, and among the pools remaining from the sea, large sandy islands, where it is convenient to relax and play, for example, in volleyball. However, what is good in winter is inconvenient. summer. In low season, shallow water causes high waves, so being on the shore can be not safe.
Things to do
Naithon Beach in Phuket is the best choice. for those who travel to the resort to sunbathe and swim, to whom the azure waters Andaman Sea is much more attractive than any civilized entertainment and shopping. Or those who prefer enjoy the benefits of civilization as needed, so to speak raids to spend most of the holiday away from noise human anthill and associated passions.
What to do on Knighton Beach? Quite bored you do not will provide hotel travel agencies that organize excursions not only on the island, but also the nearby provinces, and also to the numerous uninhabited islands (read more about sea excursions from Phuket). The only thing you have to come to terms with it, so that such services here are somewhat more expensive and get to the iconic island attractions for half an hour longer. With this the beach Knighton on Phuketera has its own set of points of interest, are in two steps. For the most part, these are natural beauties. National Reserve, where there are two picturesque waterfalls.
Tourists are offered not only thoughtless felting on the sand, but and restaurants with bars, where you can spend the evening, as well as many small shops and souvenir shops. Those interested can visit Thai massage salons. Naithon Beach in Phuket bypass and priestess of love.
Hotels
Of course, the choice of locations is not as great as on Patong or Caron, but housing on this stretch of coast is also Enough. The Knighton Beach has all kinds of things, from pretentious expensive to democratic guesthouses. Unfortunately many, settling on the first line can only Andaman White Beach Resort, which not everyone can afford. If you are interested in spending the night for 500 baht, you should contact the reception at Phuket Naithon Resort or Naithon Beach Mansion.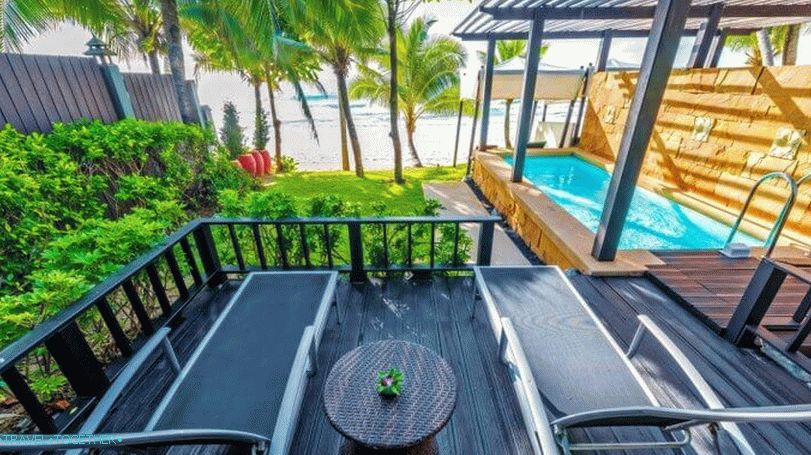 Tip! You can choose the most suitable hotel on sites hotellook.ru or roomguru.ru. And the best ones you can see in the compilation below.
How to get there
If you are interested in how to get to Knighton Beach Beechiz Phuket Town, we have to upset you. Regarding cheap municipal buses don't go there.
From Phuket Airport in the direction of Knighton, only taxis are traveling, and the local bombilians are very spoiled and the prices are broken like Moscow despite the fact that the entire trip takes about a quarter of an hour. AT In any case, bargain less than 300 baht you will not succeed.
You can also pre-book a transfer from Phuket Airport to Knighton. A driver with a sign will meet you at the exit from the airport. where your data will be written. Will help with loading / unloading baggage, and if necessary will provide Baby chair. Read more about this service here.
Go
An independent trip is possible. From the main road, connecting the airport and Phuket Town, you need to turn onto the road 4031 (Thep Krasat Tri Nai Yang Rd), and turn off at the first fork to the left, towards Nai Yang beach. Next you need to follow road signs.
Naithon Beach on Phuket Map
Knighton Beach
The map is loading. You are welcome, подождите. Невозможно загрузить карту -please activate javascript! → detailed information
Naithon Beach
(Calculate the route) Naithon Beach 8.057487, 98.277640 Naithon Beach Beach (Calculate route)