Want to tell how you can rent a villa with a private pool of all for 2500 baht per day?

Sitting in a noisy and dusty Moscow just the most thing to blame on vacation at sea and rent similar housing to a little break from the hustle and bustle. Given the price, it is quite affordable for most. Yes, the villa is quite small and not on the best beach, but everything is relative. When someone starts to turn up his nose from This or that beach in Thailand, I immediately remember what it looks like Central beach in Gelendzhik in August. Feel the difference like it is said.
So, after living a month in Hua Hin, I went to Phuket, since then there was a flight to Moscow. Looking along the way the park of toilets, joked in a quiet and peaceful resort on the beach Nai Yang.
The content of the article
1 Price and reservation
2 Territory and surroundings of the hotel
3 Villa with pool
4 On the map
Price and reservation
As I wrote above, I lived in a villa with a private pool of all for 2500 baht. The resort is called Lesprit De Naiyang Beach resort

. When the dollar is not very high, the cost is generally ridiculous. But generally we should have Being a villa with access to a shared pool, it costs a little less.
However, they were all busy and they gave me a private villa, the very I did not mind myself. Filmed via Airbnb: here is the link.
There are more hotel rooms in the resort, but they are not interesting as villas.
Hotels in Phuket →
Be sure (and I insist) check for discounts or special offers on the excellent Roomguru service. He is fast and easy will show you discounts in all existing reservation systems. AT the same Asia, for example, there are lots of offers on Agoda.com, which much more interesting than on exactly the same hotels in Booking.com.
For example, here is a direct link to the hotel: Lesprit De Naiyang Beach Resort

Through Airbnb, you can rent housing from private individuals, but there come across hotels.
Register here and get a discount of $ 33 from Airbnb on apartments around the world. Valid on the first booking must be from $ 70, you can use it for a year after registration.
Get a discount of $ 33 →
The territory and surroundings of the hotel
Nai Yang Beach is not considered the best in Phuket, but I really like. All because – this is a very quiet and peaceful place, where there is no party. The whole beach is literally a few cafes, bars and massage parlors. Great beach to be in silence
A little further on the highway there is a 711 and a market, the height of civilization is so to tell. You can see my detailed description of Nai Yang. AT Basically, if you get bored, you can always take a taxi and go on Patong, Karon or Kathu.
I like to stop just before flying to Moscow Nai Younge, since the airport is 5 minutes away, convenient. By the way, exactly here you can take pictures of landing planes right above the beach, from the hotel for 40 minutes you can walk to this point.

Beach with airplanes

Sitting in a cafe, drinking coffee, and no one on the beach

Part of the beach is overgrown with casuarinas (nat park)
Hotel Lesprit de Naiyang is located at the very end of the beach behind river. Moreover, it is necessary to drive up to it from the side of the highway, and the exit to the sea is only possible on foot, and even with the help of a small river crossing. They need to swim literally 5 meters and is on duty hotel employee transporting from one side of the river to the other. Funny.

Crossing a small river
The territory is not very big, but green and well-groomed. Big her part occupies a pool, on the sides of which there are villas. You go out on the terrace, and there is a pool. Great idea! There are also villas with small private pools. They are not very suitable for swimming, but with the child there is the same chat.

The path leading to the crossing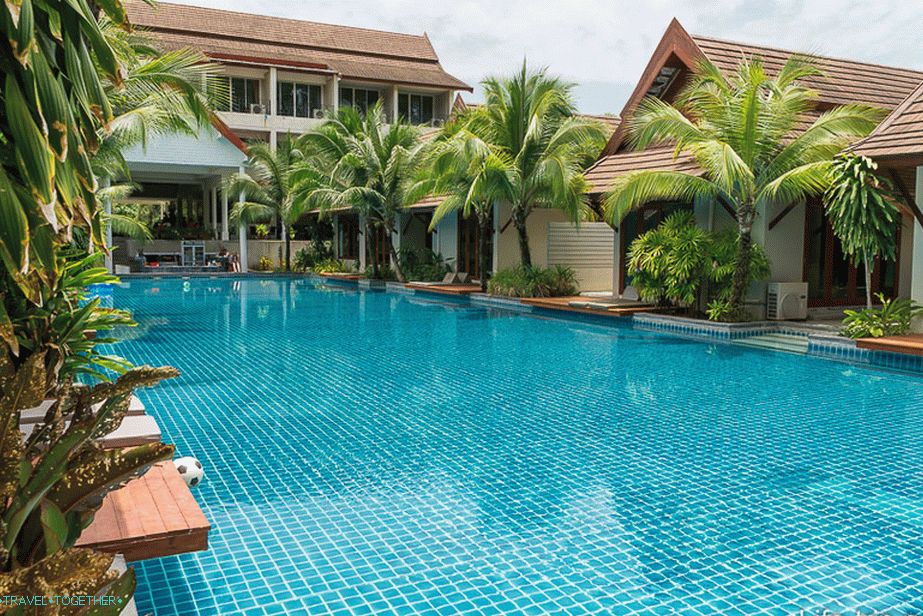 Most of the hotel is occupied by the pool

Hotel with pool in Phuket
Pool Villa
The villa is as square as a typical single bedroom house, only no kitchen. But most of the walls are glass doors, and The main thing is to have a small pool. This is probably the first time when I rented a similar housing, somehow it was not possible. Liked. There's something in it when your pool or at measure the house goes straight to the general. It is clear that you will not swim normal and with the sea can not be compared, but really convenient, especially with children. Just do not forget to close the door so that no one in the water did not fall.
Change of linen / towels and cleaning every day. The food in the cafe is delicious, Typhoid is normal, as it should be. Prices are average, for example Padtai cost 200 baht.

Entrance to two villas

My carriage is marked

Spacious living room with sofa and TV

No kitchen, only kettle and fridge

There is a small terrace

From the bedroom access to the bathroom and pool

A huge bathroom and there is still a separate shower.

Your own private pool

The pool can be accessed from the living room, the view is pleasing to the eye.

Phuket Pool Villa

Here we swam, enjoying the last days in Thailand

In the intervals between the voyages, they ate their favorite durian
So that everything is not so sweet, but for this price, I will tell you about cons. They are. First, traditionally dirty condies, which it's time to clean (you can ask to clean). And maybe there it is time to refuel already freon, and then one of the blocks (we had them two), almost did not cool. Secondly, the Internet is almost dead. More precisely the speed will depend a lot on what swings in parallel with you. Therefore, the Internet is there, it is not. And thirdly, in general there is some habitation of housing, but in my opinion quite small. If the cons are critical for you, then it is better to look for another hotel with pool in Phuket.

When nobody shakes anything, the internet was normal.
On the map
P.S. Perhaps I like this beach also because it was one of the first seen in Phuket, and indeed in Thailand. Nostalgia!
Life hacking 1 – how to buy a good insurance
Choosing insurance is now unrealistically difficult, therefore, to help everyone travelers, I make a rating. To do this, constantly monitor forums, I study insurance contracts and use insurance by myself.
Insurance Rating
Life hacking 2 – how to find a hotel 20% cheaper
First, choose a hotel on Booking. They have a good base offers, but the prices are NOT the best! The same hotel is often possible find 20% cheaper in other systems through the RoomGuru service.
Discount hotels