The other day I visited the fairyland Rublevka. Yes, not just traveled and flew over it. Already at the entrance to this country, yourself, as in Europe, you feel: asphalt is smoother than infant skin, and pine clinging tall to the clouds, but the smell exudes a marvelous smell. It turns out not everything is so bad in Russia, and people live in the theaters rich, but on the golden carriage ride. So, if anyone seems to that we live badly, we must send it to Rublevka right away.
But my tale is not about this wonderful country, but about my flight to paraglider. Honestly, it was a little scary, it's not for you a balloon to fly, where everything is safe and comfortable, there is only just what a cloth in the air keeps, and any wrong action can fold paraglider in the air. That is why I flew not alone, but in tandem with Yaroslav, a positive instructor, who gave us an interesting lecture on cumulus clouds, aerial flows, and the structure of the dome paraglider.
As part of my post What to do in Moscow, I tried several things, and I can say that it is a paragliding flight – something that really deserves the attention of those who are not indifferent to altitude, air and adrenaline. That is, it was possible to start with him and them same finish

The price of paragliding flight – 2000r, but with a discount turned out 1000r. And I bought a coupon here – Biglion.ru, only there is not always It happens, and therefore it is necessary to monitor other services, by type Groupon.
The content of the article
1 Before flight
2 My paragliding flight with an instructor
3 Pro birds
4 Few technical specifications
5 Paragliding video
Before the flight
To paraglide we had to wait until run out of squalls. Therefore, first bathed, then listened lecture and talked. I advise you to take on such events eat and drink, and regard not only as a paragliding, but also as a picnic and pleasant pastime. In our case the weather was excellent, but windy.

Before the flight it is necessary to swim

The field where paragliders fly

Unpacked

Serious guys train

Serious guys train

Serious guys train

The first serious uncle went!

Love to fly, love and carry a paraglider

Man somewhere inside

Wind direction indicator

Jaroslav gives us a lecture on flights

Paraglider wing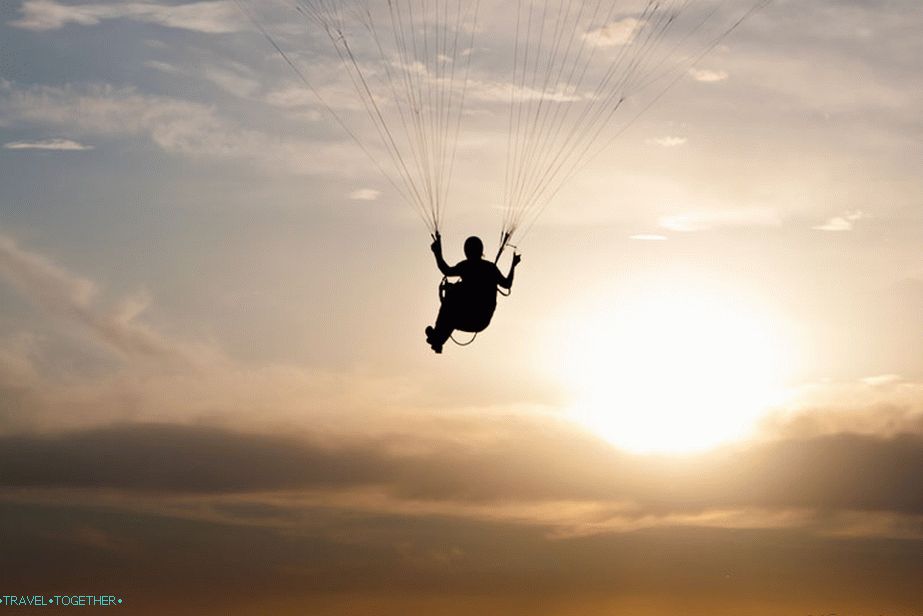 Someone returns to earth

Like a balloon on a string

The blonde is also waiting for the flight

Sometimes you have to catch down.
My paragliding flight with an instructor
At first, I put my squiggles on important papers that neither I nor my family pretend that I should return from this flight in the same form in which I took off. Standard the procedure, and there seemed to be no accidents. And then the first some girl flew a paraglider, and looking at her, fear itself and evaporated.

I put my autograph

Paragliders sign too

We are waiting for the queue

The first tandem with a girl returns

Small takeoff training

I'm like a fighter pilot

We cling to me in tandem

Almost everything is ready
Since there are no mountains in the Moscow region, we were lifted up on the cable. It happens this way – we stand on the ground along with as an instructor, a cable clings to us, and on the other side of the field they begin pull winch – paraglider soars up. Upon reaching a certain height is pulled out of the check, and the cable falls down.

Paragliding flight begins!

Cable hold gavel

The winch that returns the cable, and the one that pulls on the other end fields
And this is where the fun begins! From a height of 400 meters all surroundings open before us! Spirit captures from understanding that you are not standing on the ground, and soar in the air. And when Yaroslav laid a spiral, so in general the heart sank, and the soul below heels failed. But in fact, it was not scary, but just very and very unusual. Gradually falling, we circled over the field of minutes 10, but it seemed like half an hour. The landing was very soft, like as if from a stool jumped off.

Paragliding

Paragliding

We fly together with the instructor

We fly almost under the clouds

I'm trying to shoot a video from above.

My faithful assistant on earth

Back to earth
About birds
It turns out that birds often take paragliders for their own, then I mean for the birds. It is not uncommon for a person to turn a spiral in the left side, and the birds fly up and try to set the path true – they say, here we have to turn right. Similarly served signals about where the ascending flows. And when they take for predatory the bird can break the paraglider by starting to protect its nest.
Some technical specifications
– The area of the smallest paraglider is about 22 square meters. m. and from her load capacity depends. – In a large backpack behind the back parachute and damper to softer fall. – The length of all sling order 400 m. They are all different colors, so as not to confuse for some tugging. – The dome of the paraglider is double and connected by partitions. – Maximum speed of about 60 km per hour. – Maximum height depends on the region, in Moscow to 1800 meters, in the mountains to 5000 meters. – time flight can be calculated for days, and the distance of hundreds of kilometers. – If the headwind speed is higher than the speed of the paraglider, then it will fly back.
As I understand it, the main difficulty is to understand where the ascending and descending flows, and thereby calculate your trajectory. As we explained, you can hang in the air as much long time and it's not interesting, so competitions are held at a distance, or to reach certain points.
Paragliding video
FullHD video, so it's best to watch at maximum resolution.
P.S. Wrote an article and realized that the enthusiasm had already subsided. Need to it was right from the airfield to write when there was fire in the eyes and hands shook with excitement. True, it is possible that apart from "aaaaa" would you be able to write something intelligible