Surf Coffee is a chain of coffee shops, which has about 30 institutions throughout the Russian Federation. One of them is located in the lower floor of the hotel. Riders Lodge in the Olympic Village of Rosa Khutora – just opposite hotel Rosa Springs, where I lived. Although they are open from 8 in the morning, in my review there will be only evening photos, for on I didn't go there for breakfasts, although according to the reviews of tourists – they are Surf Coffee is quite decent.
Cafe Surf is a large room, closely packed with furniture, with baristas stand directly opposite the entrance and have a great view of the mountains from their windows. Surf Coffee is not a place for a full meal or dinner People come here to hang out, talk loudly, drink coffee with snacks and sit behind a laptop.
The content of the article
1 Surf Coffee
2 Information to visit
3 On the map
Surf Coffee
Let my skepticism forgive me fans of the establishment Surf Coffee left mixed impressions. With an incomplete load of the hall in there was an incredible hubbub. Then I queued up from some miserable three people, but their service time can be entered into Guinness Book of Records, and the question is not at all difficult customers – I stood by and saw that the cashier was simply working on the hellish brakes. Moreover, I went later a couple of times (mostly in the evening) and the service has always been very long.
The interior of Surf Coffee with subdued lighting, with a large the amount of wooden parts is, as I understand it, a feature of local Eaten and coffee. A lot of wood, stone finish, massive furniture, space zoning into separate personal places and group tables with sofas. There is a summer terrace for those who wants to drink coffee without taking off his winter gear, and this summer terrace is not closed to strangers at all. therefore after pokatushek and after closing the coffee shop here tusit youth and makes it quite noisy.
In general, the entire resort of Rosa Khutor is very young and rapid, and 90 percent of the people seen are people younger me. So it is not surprising that the general atmosphere in places where everything is they are going – the same. Service in a coffee shop (except for braking cashier) was quite decent, the barista behind the desk is not gloomy, modern music. I would definitely not come here in the evening with family, but for a young company or a couple here more than the right atmosphere.



Surf Coffee in the Olympic Village, Rosa Khutor




Information to visit
The restaurant is open from 8 am to 11 pm daily.
Prices are in the middle range for the resort.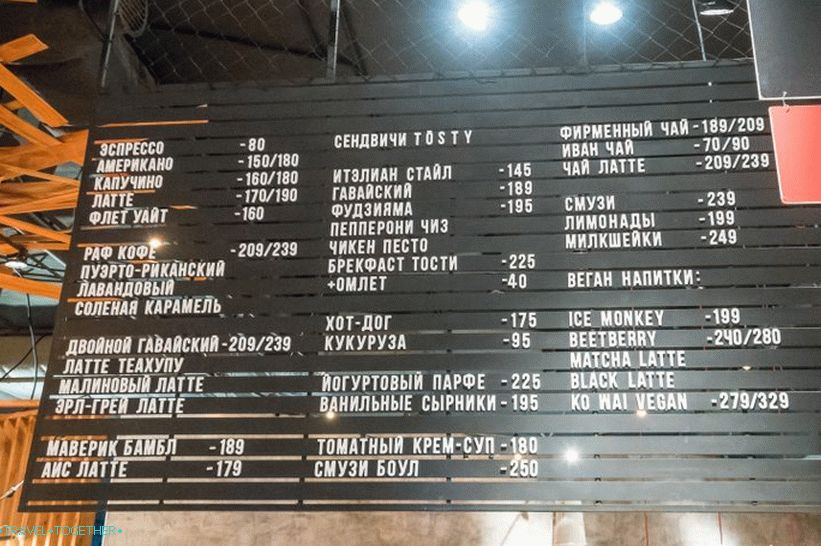 On the map