In my opinion, the most important thing in camping is adequate owners who not only do their work normally (and not anyhow, as often happens in the Krasnodar Territory), but also with which coincides with the concept of wild outdoor recreation (for example, ban on music). Mindful of how I liked in the Raccoon Arkhipo-Osipovka, decided to visit their second still quite young camping in Lermontovo called Enot-Lermontovo (a network of 2 campgrounds). Knowing the location of the campsite, rode with skepticism mood, but he changed to directly opposite. Ok ok my review in order.
The content of the article
1 Camping Raccoon on the Black Sea

1.1 My impressions
1.2 Pros and cons
1.3 Path to the wild beach
1.4 Path to the central beach
1.5 Price and reservation
1.6 How to get there

2 On the map
Camping Raccoon on the Black Sea
My impressions
Since 2016, the owners have changed (now it's the same ones who did Raccoon-Arhipo-Osipovka) and orders are somewhat different, as well as conditions (banned loud music and drunken loud companies). there is washstands, civilian toilets, gazebos, scheduled shuttle to seas. They also promise to make a map of the location of places with online booking And they have a live raccoon in the aviary, as a symbol camping True, there are enough wild raccoons in the forest, which in the evenings come to eat what's left, so do not leave food on the table or in a tent, if you do not want to lose it.
The campsite is located in a deciduous forest on a hill with the edge of Lermontovo. As I understand it, land with access to the sea for many years rented family clans and there does not break through. Therefore, marine species no (only through the trees and from afar), walk to the beach about 15 minutes But having gone to the city beach and to the wild, I have not experienced some special discomfort, it's not so long (me in Moscow 1500 km to the sea). And if you don't want to go back up, You can always call the campsite and they will pick it up by car. The only thing that is not very with a small child – on the way to camping need a stroller with wheels that can drive on crushed stone
The disadvantages of the close location from the sea are compensated solitude! Sleeping in a tent near the disco, I think, on lover. Camping is not for those who love a noisy vacation at the epicenter civilization. And, of course, the home environment plays a role, this for the first time felt back in Sosnovyi Paradise. Hosts friendly, always everyone will show and tell, will try to solve all your questions. Difficult to describe in words, but obviously a different relationship not like it was at some other campgrounds where you feel not a client, but rather a debtor who has encroached on someone else's own.

Cottage administration at the entrance to the campsite

Camping Raccoon is in the deciduous forest

On all the clearing arranged tables with benches and barbecues
After standing for a couple of days, I was surprised to find that I deciduous forest like the same as pine. There is much stronger shadow, which is very important in the heat, and is somehow more dear to you man accustomed to the middle lane and birches. By the way, in many campsites on the Black Sea, for example, in the same Lermontovo or Dzhubga, you will generally stand without a shadow, and in a tent you can roast, I already had this experience.

My tent and clearing in the campsite

They say over the years, the traction passes, but I still love tents

There is still plenty of free wood in the forest.

Civil toilet with toilets

Washbasins with drinking water from a well

Shower with hot water (from the stove is heated)

Hiking food – potatoes with mushrooms collected right there in the forest

In the evenings, raccoons come to feast on the leftovers

There are 2 of their own raccoon, almost tame

Gazebo with Wifi and sockets

Near the gazebo clearing with hammocks

Lermontovo village near the campsite

A small promenade in Lermontovo

Mountains near Lermontovo
Camping Raccoon can be divided into 3 parts. Conventionally – because it is a single forest and there is no clear separation. So, in the first part, which is closer to the entrance, places with individual sockets (payment of 100 rubles / day for the outlet). Can be used for low-power devices, places with lighting. Everything is nearby communications, but the fields are more densely populated.
In the second part in the glades is more quiet and secluded, and in the third parts (glades have the appearance of forest edges) there is a feeling that you stand alone in the forest. When I saw these parking lots, I immediately there was a desire to hold a Life-Trip meeting here. So or just come here with friends by several cars.

Glade for large companies
Advantages and disadvantages
+ Unlike many other campgrounds do not take here additional fees for various services. Free: water (drinking from the well), hot shower, recharge phones / laptops, Wifi in gazebo. + For me, a big plus is that it is forbidden to include music, I can't stand it. And there is a mode of silence from 23 hours to 7 in the morning, which is also cool, drunk and noisy companies are walking by. + All civilization is very close, so to the village of Lermontovo go only 10 minutes Near Magnet, a small market, shops, a pharmacy. But at This campsite is located in a forest and in a secluded place. + Forest though short but shady, and on hot days at the camp the Raccoon will much more comfortable than camping on the beach without a single shadow (awning brought with him is not much saves the situation). + Something to me deciduous forest like even more than pine, you can walk barefoot and needles do not stick into legs. + It is possible to walk on two beaches: wild and urban. Equally in time, 10-15 minutes. +Quite a large area and the tents of the neighbors will not rub about yours.
– The proximity of civilization is not only a plus, but also a minus. No matter how cool, but music from coastal cafes and some another noise, since Lermontovo is near. – Camping is on elevation, so returning from the beach to it is not quite comfortable, there is quite a sharp rise. But guys from camping organize a transfer and take away from the bottom, so it is not quite a minus. – Located from the sea through the highway, that is, from the tent the sea you do not will see.
Path to the wild beach
To walk to the wild beach for about 10 minutes in the usual steps, I spotted. The path is not completely obvious, so it is always shown to everyone. camping workers. First you need to go through the forest, then through the pipe under the highway, where you can make a screensaver for a movie about James Bond (only Bond should be quite low), and going down Ladder get on the wild beach of Lermontovo. It is usually cleared, but I was right after the storm, so I sketched wood, and from some benches with tables were made immediately.

Part of the path passes through the forest

1.5 meter high tunnel

We walk down the ladder from the high bank to the wild beach in Lermontovo

Wild beach in Lermontovo

When there is no heat and bright sun, you can even work here.
Path to the central beach
It takes about 15 minutes to go to the city beach. First over the rubble to descent to the village and further along the sidewalk. Then there are two across the road. pedestrian crossing: zebra and pedestrian bridge. The beach is free, there is loungers for rent. In the center of the beach sand mixed with stones, but more sand. Along the edges of the beach more stones.

We leave the campsite on the gravel

Get down to the village of Lermontovo

City beach in Lermontovo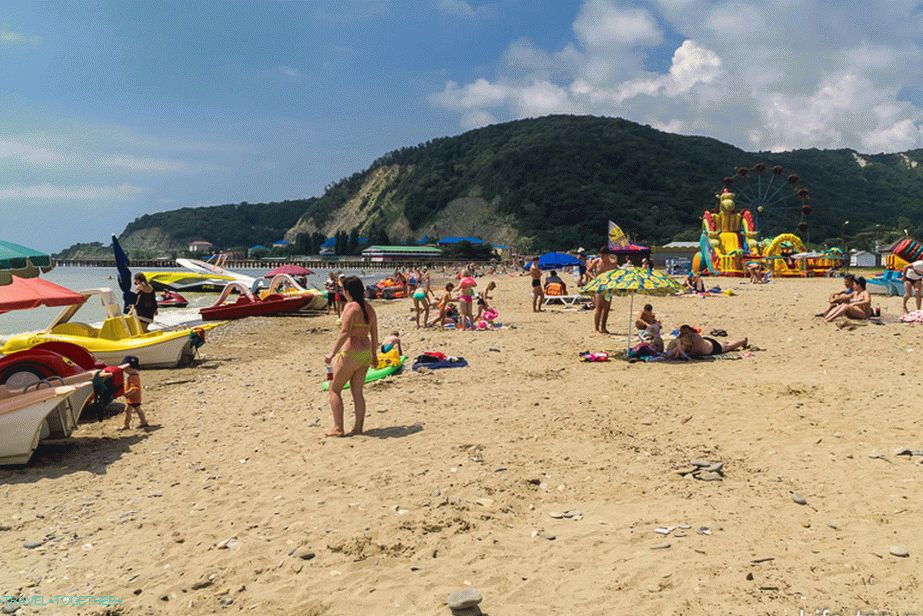 City beach in Lermontovo
Price and reservation
The cost of living in the "low season" (from 06/01/2018 to 06/30/2018 and from 09/01/2018 to 09/30/2018) is: – 150 rub / day – car parking – 200 rub / day – adult – 100 rubles / day – a child from 4 to 12 years old, children under 4 years old are free.
The cost of living in the "high season" (from 06/01/2018 to 08.31.2018) amounts to: – 220 rubles / day – car parking – 270 rubles / day – an adult – 170 rubles / day – a child from 4 to 12 years old
Tables with benches, barbecues, drinking water, hot showers, recharging devices, Wifi – for free. A bunch of chopped firewood – 150 rub, but you can collect firewood in the forest for free, they are still there is full.
See below for a layout of places in the Raccoon campsite, according to it. You can book a specific place with prepayment. maybe arrive without a reservation, then in August it may not be thick with choice of places. All the details and questions can be asked in their official group in Vkontakte, or call the free hot line 8-800-550-65-64. Respond promptly.

Clickable
How to get there
Camping is located at the end of Lermontovo, if you go from Dzhubga. Around the middle of Lermontovo you need to turn left (there are 2 You can turn through any) and go by looking at the point on map below. Signs will appear at the end of the path closer to the camping. Way carriageway for any car.
It's a very long time to explain with words, so the easiest way is to go to camping group in Vkontakte and find there the drawn path on the map, as well as video how to drive. Also know what can pick up from Lermontovo or Dzhubga, if you come under its own power by bus or other transport.
On the map