The Alaska Bar on Rosa Khutor is a separate building next to Lift "Reserve Forest", which connects the Olympic Village with all the heights of the ridge. I liked my place interior and friendly atmosphere, what is a great merit local staff. Inside is cozy, everything is stylized for something. mountain medieval, I don't even know how to call it direction in the interior. Used a lot of natural materials, heavy metal hoops-chandeliers hang under the ceiling, huge glass in the whole wall – inside is very light and cozy.
The content of the article
1 Bar Grill Alaska
2 Information to visit
3 On the map
Alaska Grill Bar
In general – well, a very pleasant atmosphere that does not have hurry and sit a little longer. Menu in Alaska at all small. Basically, everyone takes burgers, and there is even a choice vegetarian option, in fact, which I decided to try. A burger with a pea cutlet turned out to be not cheap at all, in the same "Mammoth" the price of juicy meat "classic" is much more pleasant.
To order issue gloves to eat a burger as a gentleman and not get dirty Pea cutlet instantly fell apart after the first biting, then from the burger start methodically to fall out all rest. Tasty, no doubt, but there was no such lively burger very comfortable.
On the outdoor area Alaska bar & grill is equipped with a summer veranda with sun loungers and tables. As I understand it, this is a favorite Riders place because just in this place ends track, and all at once go to hang out on the terrace of Alaska. Plays here modern dance music, and the contingent of the institution is in mostly youth. There is good wifi, in some places you can see 220V sockets, and in two places even special five-volt sticks out wires for charging phones. This is a handy trick for those who love big phones, but does not carry powerbank to the mountains. how I.

Alaska Bar in the Olympic Village, Rosa Khutor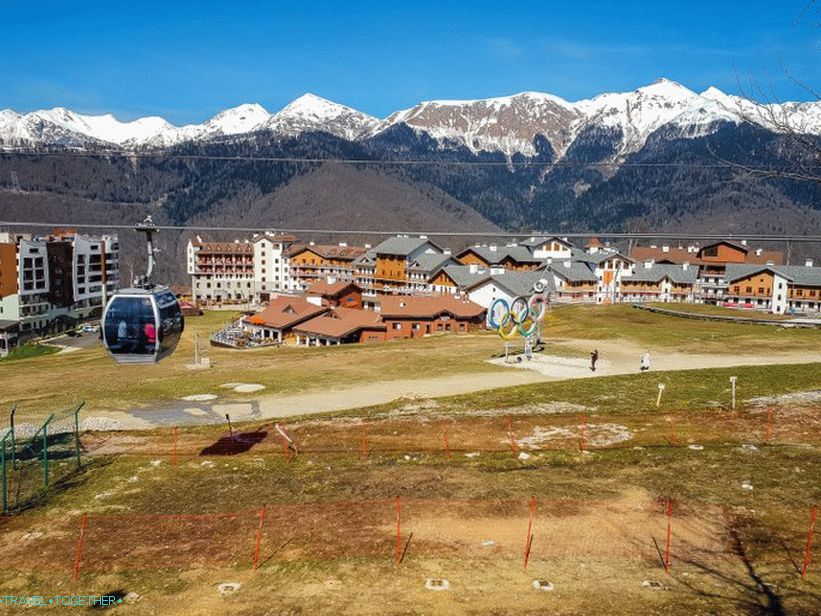 Information to visit
The institution is open daily from 10 am to 23 hours.
There is free wifi and charging for phones.


On the map